Is your cleansing oil causing your skin problems?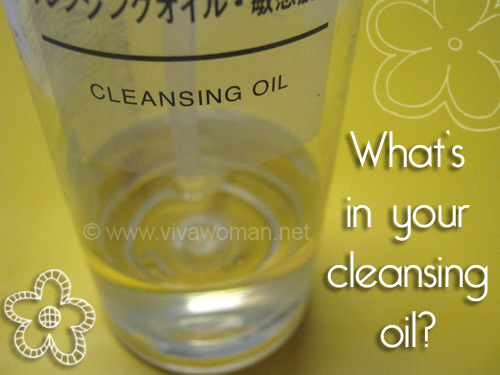 Although I'm pretty tardy in replying to emails, I'm always thankful that readers take time to send me their questions or concerns as I find myself learning something new in the process each time. Like last week, a reader by the name of Alexandra asked me about the usage of cleansing oils. She was keen on double cleansing and had bought a bottle of cleansing oil to replace her cleansing milk. However, she wasn't sure if she should use the oil daily as her beautician had advised her against using cleansing oil too often due to her slightly dry skin. Additionally, the sales representative who sold her the bottle of cleansing oil also recommended her to use the product only three times a week, which sounds kind of odd.
Depends on formulation
Anyway, my reply to her was that cleansing oils can be used daily but it depends on the formulation. I suggested her to go with the recommended usage of three times a week as my personal experience with cleansing oil is that certain formulations can sometimes cause breakout. And I guessed the reason why Alexandra's beautician had suggested that cleansing oil is unsuitable for her dry skin is because it provides very thorough cleansing.
Oil drawing out more oil
Here's what Alexandra's new cleansing oil contains: Jojoba Oil, Rice Bran Oil, Grapeseed Oil, Castor Oil, Avocado Oil, Vitamin E with essential oils of Petitgrain, Carrot Seed, Lavender, and Palmorossa. Interestingly, Alexandra mentioned that she chose this formula, which is for dry skin because of the lower percentage of castor oil as she had learnt that higher the percentage of castor oil in a product, the more it will draw out oils. And that brought to my memory about reading many bad reviews about using castor oil for the oil cleansing method in the forums.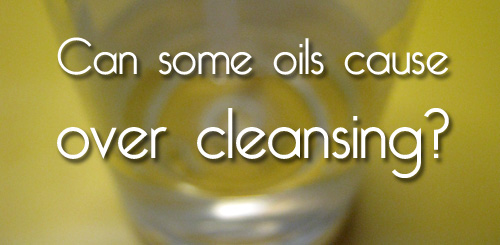 Castor Oil
First off, castor oil is popularly known to be anti-toxin that draws out the impurities deep in our skin. This means that even though castor oil is an oil, it will help with the removal of the other oils because it really sinks deep into the skin pores and draw out the dirt and grime to the surface. And we've just discussed last week that our skin shouldn't be too squeaky clean, devoid of its natural lipids as it'll cause imbalance. In fact, that was what happened to the girls who used too much castor oil in their cleansing – they broke up big time and their skin condition took a turn for the worse. It was not a simple case of a 'healing crisis'! So what they should do is to reduce the amount of castor oil but even then, I still think the oil cleansing method is not for everyone and not to be used daily as hot water can also dry our skin in the long run.
Coconut Oil
Besides castor oil, I also found a few other oils yielding somewhat similar results on certain skin types. One is coconut oil. While said to be good for healing and repairing plus providing protection against free radical formation, coconut oil contains powerful anti-bacterial, anti-fungal, and anti-toxin properties within its oil structure, and so it also penetrates deep into the skin to push the toxins up to the surface, resulting in breakouts for some users. But I also learnt that extra virgin coconut oil is better than refined coconut oil so some people have problems with this oil because it is only refined and that will clog pores.
Emu Oil
I've raved about the healing properties of emu oil but according to some of my readers and also acne sufferers, emu oil caused a lot of problems for them. For a number of them, what turned out to be good became a nightmare later when their acne re-surfaced. I believe it's because while emu oil has antioxidant properties, it also helps to remove toxins from the skin and if someone has a lot of toxins beneath, applying such an oil will inevitably cause breakouts. I don't see many commercial cleansing oil containing emu oils but I know some ladies using it neat under the oil cleansing method.
Jojoba Oil
Okay, this one is a tricky one as many are going to disagree since iojoba oil is non-comedogenic and is supposed to mimic the own skin's sebum. In fact, this oil is often said to be beneficial to oily skin because it dissolves sebum and limits oil production by rebalancing the skin condition. However, in achieving this, it could be the reason why some skin types experience breakout with initial usage. Personally, I don't like this oil much because I find it makes my skin oilier.
Tea Tree Oil
While tea tree oil is commonly known to be great for curing acne, I've also read some users suggesting that tea tree oil has caused their skin more breakouts. I suspect it could be the synthetics within some of these formulations that disagree with the skin or it could be the 'purging' theory at play again. However, tea tree oil is pretty drying and so if a cleanser has this ingredient, the concentration should be low with other moisturizing ingredients to buffer the dryness.
Purging is not across the board
Having pointed out the 'purging' qualities of some of these oils, let me qualify by saying that these are all good oils with their respective benefits. The problem of 'purging' really depends on skin type and the actual combination used, bearing in mind the formulation may also contain other synthetics. But if your skin is acne prone or dry, you might want to use such oils with more care. Personally, I've stopped using oil cleansers for quite sometime already as I seem to prefer cream cleansers and foaming cleansers now. But I didn't have much issues with cleansing oil as a whole like major breakouts or dryness and they were truly effective in cleansing my skin. So I might go back to using them if I chance upon an ideal formulation that is free from synthetics.
So ladies who use cleansing oils – do you have any problems with them before?
Comments