Quality beauty sleep with memory foam pillows?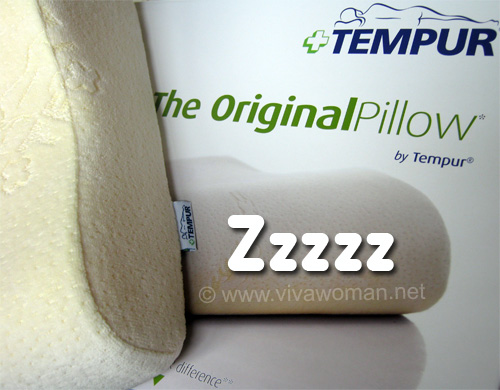 Many of you have indicated that it's impossible to sleep on your back even though that is a good position to prevent sleep wrinkles. If that's the case, have you tried sleeping on a memory foam pillow? Apparently, such pillows work with your body weight and temperature to mold to the shape of the face and neck. They are also contoured to relieve pressure on the neck area to improve blood circulation. As a result, this will allow more oxygen to flow and bring about a renewed vitality to your skin, making you look more refreshed after a good night's sleep. Plus because of the way the pillow molds to your face, you will avoid bed face wrinkles. Personally, having slept on one of these before, I also believe that the forward-tilting edge takes some gravity off our face.
Tempur Original Pillow
Yes, what you see in the picture is a Tempur pillow but it's not mine. It belongs to my hubby. He's very particular about his pillows and what nots and he swears by Tempur pillows, which he has been using for more than 10 years now. They're expensive no doubt. The Tempur Original Pillow cost S$299 but it'll last at least 5 years or more, depending on how well you care for it. In fact, he just took advantage of the 20% discount at Metro recently and purchased a new one as a replacement.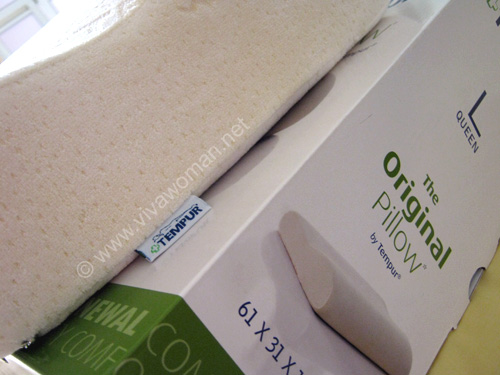 Therapeutic pillow to improve sleep posture
Tempur Original Pillows come in different sizes and so it's best to get the consultant to confirm that prior to your purchase. The pillow is said to have been developed with physiotherapists "to ensure that it moulds perfectly to the exact contours of your neck and head, giving excellent support and relief to the neck and shoulder muscles". And such pillows are often referred to as therapeutic pillows as they're supposed to improve your sleep posture and give you a perfect night's sleep. The pillow also comes with a soft, velour cover that I find is good for our skin as it is not rough or stiff.
My pillow preference
The reason why I am not sleeping on a foam pillow is that I don't think I need it as I sleep very well mostly on my back on my soft pillow. I'm not too particular about pillows as a whole but I do prefer mine to be flatter and softer. So what I use daily is a normal pillow that only cost me S$9.90. But there were times I slept on my hubby's Tempur pillow and did find it rather comfortable. The fit is not for me but because he was sleeping on it for so long, the pillow has flattened quite a bit over the years.
Check your pillow
There is little doubt that a good night's sleep will affect how you feel and look the day after. If you're having trouble sleeping, perhaps it's time to look into some bed matters. Start with the smallest and that's your pillow. Is it comfortable and giving your head and neck sufficient support? Or perhaps you need a change of pillow to get better quality beauty sleep?
Comments