Gentle REN cleansers to soothe & freshen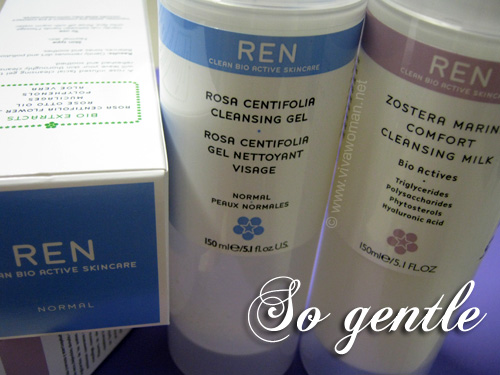 I've decided that a combination of cleansing cream or milk with a gel or foaming cleanser is best for my skin type when it comes to double cleansing. That revelation came about when I was using the Kimberly Sayer Light Cleansing Lotion. So after I was finished with that bottle, I was undecided if I should get another bottle of that or try another brand. Well, I love the Kimberly Sayer one but trying another brand would, heheh, give me the opportunity to write a new review. Anyway, to cut a long story short, I decided to give REN products a try and bought two of them at Beauty Emporium – REN Zostera Marina Cleansing Milk and Rosa Centifolia Cleansing Gel – and here's my review of them.
A focus on natural, effective ingredients
The range of skin care products under REN is described as free from synthetic fragrance, petrochemicals, sulfate detergents, synthetic colours, and parabens. In addition, they do not contain potential irritants including: glycols and diglycols (such as propylene glycol), PEG's, PPGs, urea, D.E.A, T.E.A, PABA and other synthetic sunscreens, aliphatic alcohols/hydrocarbons, phthalates, fumarates, amines, alkanolamines, synthetic AHAs/BHAs, polyacrylamide, metacrylate, elastomer, poloxamer, styrene, vinyl, polyquaternium, synthetic chelating agents, nylon, nitriles, nitrates, nitrosamine releasers, bromates, fluor, aluminum and alumina etc. Quite a long list there isn't it? Well, let's just say they free of the dirty dozens and they are against animal testing, avoiding using animal ingredients as far as possible. Perhaps more importantly, the company believe in using the latest hi-tech bio actives to address customers' skin needs.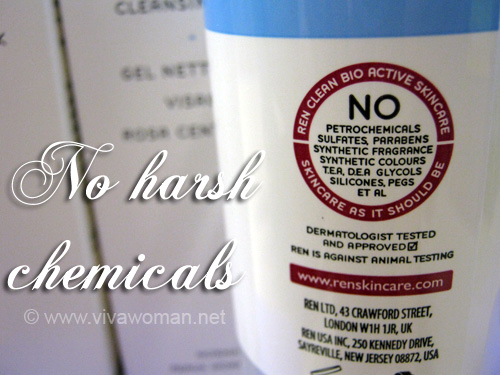 REN Zostera Marina Cleansing Milk 150 ml S$53
Ingredients: Rosa Damascena (Bulgarian Rose) Flower Water, Cetearyl Octanoate (Source Palm Oil), Cetearyl Alcohol (Palm), Capric/Caprylic Triglycerides (Coconut), Sesamum Indicum (Sesame) Seed Oil, Cetearyl Glucoside, Glycerin (Source Coconut Oil), Olea Europaea (Olive) Fruit Oil, Butyrospermum Parkii (Shea Butter), Myristyl Myristate (source Palm Oil), Zostera Marina Pectin, Hydrolyzed Glycosaminoglycans (source Corn), Phenoxyethanol (Source Aromatic Ether), Rosa Canina (Rose Hip) Seed Oil, Camellia Sativa (Green Tea) Seed Oil, Oryzanol (source Rice), Sodium Hydroxymethylglycinate (source Amino Acids), Parfum (100% Natural Fragrance), Citric Acid (source Citrus Fruit), Tocopherol (Natural Vitamin E), Xanthan Gum , Linalool, Limonene.
Bio Actives. Triglycerides. Polysaccharides. Phytosterols. Hyaluronic Acid.
Described as a soothing formula designed to leave dry skin cleansed, comfortable and refreshed, this cleansing milk contains triglycerides from coconut and palm oils. I use this as my first step in my double cleansing routine at the end of the day and while it does remove dirt and make-up rather well (I didn't need a separate cleanser for my light eye makeup), it leaves a slightly oily film and so it's best to follow this with a cleansing gel. Although it is called a cleansing milk, the texture is more thick and cream like. It has a very light, pleasant smell and I'm good with it, after using it for about three weeks now. But I may not repurchase this due to the high price point.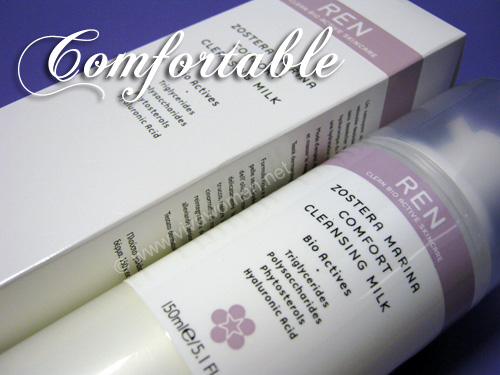 REN Rosa Centifolia Cleansing Gel 150ml S$53
Ingredients: Rosa Damascena Flower Water, Aloe Barbadensis Leaf Juice, Glycerin, Coco Glucoside, Xanthan Gum, Polysorbate 20, Panthenol, Phenoxyethanol, Sodium Lauroyl Oat Aminoacids, Rosa Centifolia Flower Juice, Rosa Damascena Flower Oil, Pelargonium Graveolens Flower Oil, Cymbopogon Martini Oil, Eugenia Caryophyllus (Clove) Flower Oil, Myroxylon Pereirae (Balsam Peru) Oil, Geraniol, Sodium Hydroxymethylglycinate, Lactic Acid, Ethylhexylglycerin.
Okay, this one I love because of the lovely rose scent. It is really very gentle and I understand that the polyphenols and tannins from centifolia rose petals reduce oxidative damage and tone facial muscles. Well, I can't notice too much difference in that aspect but I do find my skin soothed and refreshed by this cleanser after every wash, without leaving any tightness and dryness. It's a gel formula that does not foam, and I find it performs best when I rub the gel between my hands to create some lather before massaging into my face. I use this morning and evening; less in the morning as my face is relatively cleaner and more in the evening before more lather is needed to get rid of the oily residue left by the cleansing milk. I would love to repurchase this item again but I have to admit the price point isn't making it so appealing too.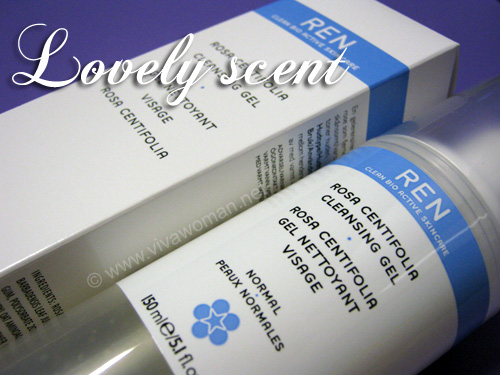 Overall summary
I am quite happy with how these two cleansers have performed. I would love to move on to try some of their other products in due course but like I mentioned, the prices are not that attractive. I do find their prices steep, considering that they are not even organic. However, having said that, I do like their philosophy of making their products modern, effective, and pleasurable to use plus suitable for sensitive skin. REN products are made in UK and in Singapore, they are available at the Beauty Hall in TANGS Orchard, L1 and Beauty Emporium at Dempsey.
Comments