DIY Beauty: how to make pH level of water > acidic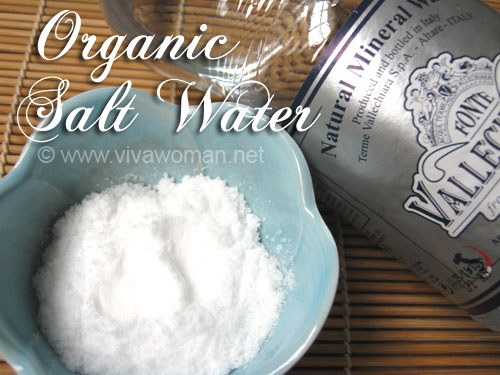 Since going for my facial at Living Nature, I've been experimenting with water. Okay, more specifically, how to change the pH level of our water. I even went out to purchase different brands of mineral water just so to feed my curiosity. In the end, I found out that adding some ingredients in the water will change the pH level and these ingredients include vinegar, lemon and salt. The reason I wanted to change the pH level is to see how different water of a lower pH level can cleanse my skin and so I settled with using sea salt.
Sea salt for exfoliating
Sea salt is actually great for exfoliating. However, I only use it on my body but don't use it for the face because I find the texture kind of coarse. Yet, I like the after effects of using salt on my skin and so mixing it with water will allow me to enjoy some of the benefits.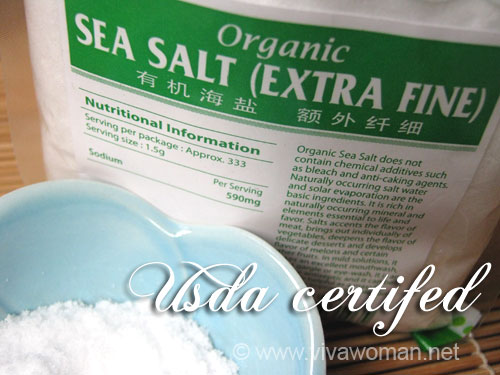 Easy recipe of salt + water
I use a brand of organic sea salt that is USDA organic certified for cooking and it's actually quite fine. So when added into water, it dissolves very well too. I use quite a generous amount of sea salt for this experminent – one tablespoon to 50ml of water.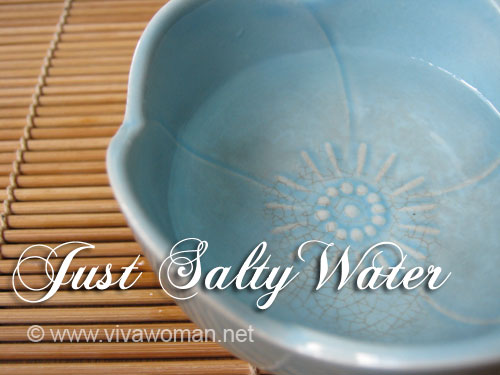 Slight smarting
So after washing my face of any traces of makeup and dirt, I pat some of the salty water onto my skin and start massaging. Sometimes I use my bare hands, other times I use a cotton pad. I'll feel a stinging on my face after massaging for around 5 minutes and when the smarting sets in, I'll wash my face again with water and then moisturize as per normal.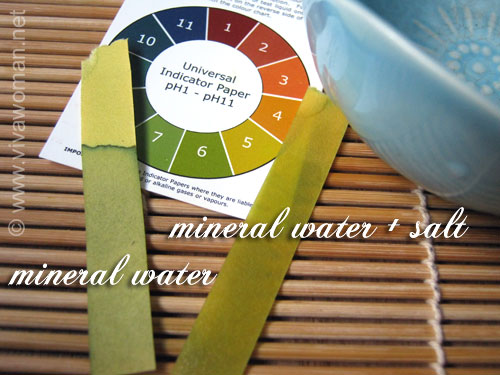 pH level of sea salt water is acidic
This is the result of the pH level testing I've done on normal mineral water and one added with the sea salt. I've also tested with normal tap water and the results are actually the same. Now a pH level below 7 is considered acidic and in this case, mineral water added with sea salt has a pH level of 5.5. According to my understanding, acidic water works as a natural astringent and removes dirt and oil on our skin quite well. Additionally, acidic water can also relieve dry and itchy skin, as well as expedite the healing process of cuts, scrapes, insect bites, rashes, and minor skin irritations. I was also surprised to find that many acne sufferers have been using salt water to wash their face, claiming that the water helps to calm down their acne.
Aside from providing a deeper level of cleansing, I can't say for sure what other benefits this sea salt water has given me. But in this experiment, I was just being curious about changing the acidity of the water level and am thrilled I managed to do so with this simple salty ingredient.
Comments