DIY Beauty: herbal bath for postnatal recovery
I've been wondering if I should put this post under DIY Beauty as I did not have to mix any of the ingredients. But as you see, I did because well, I've had to boil this stuff and that definitely qualifies as do-it-yourself! Heh. Anyway, I thought this is very interesting to feature because I used this during my confinement period years ago; not the same brand, but similar herbal bath for postnatal recovery. I was told that while it is traditionally used by women during confinement, this herbal bath can also be used to promote blood circulation, relieve pain, ease gassy and bloated abdomen, and strengthening the abdominal muscle.
Used up to two packs each time
In fact, it's okay for us to use this herbal bath once awhile and that's what I recently did. It's only $2 per pack (from Hock Hua) but granted, you've got to boil the pack in a big pot of water and wait for the herbal water to cool down before using. During my postnatal period, I used two each time. So yeah, I had one big bag of these back then, which lasted more than 30 days. Okay, for those who are not familiar with the Chinese confinement period, it's a month long of postnatal recovery during when women are nursed back to health after childbirth.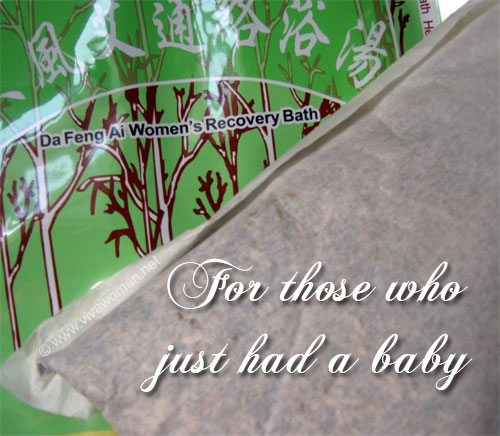 Easy to brew
You just need to brew the pre-packed herbal bag in a big pot of water for around 10 to 15 minutes. It's a bit hard to get enough water for a bath really and so back in my confinement days, I used two packs each time and added more hot boiling water. If you're not using this for postnatal recovery, you only need to boil one pack and use the herbal water as a final rinse in your shower. I guess it would be good if you can soak in the water but since I don't have a bathtub at home, this was out of the equation.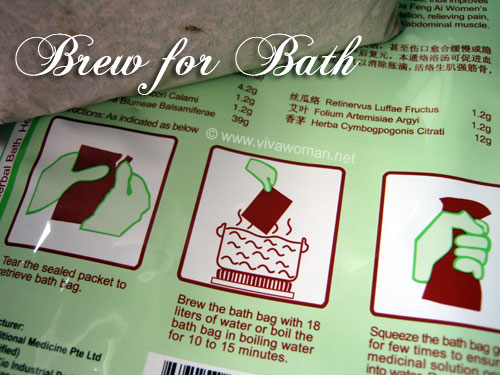 Improve blood circulation
The herbal smell is very strong but it does not stick. Back then, I was just thankful to have been able to bathe with the herbal water than not bathing at all. Honestly, I have no idea how effective such herbal baths are. They are said to improve blood circulation in meridians, expel wind, dampness and coolness in body, as well as abdominal wind. But when you've just delivered a baby, chances are, you're quite overwhelmed that you don't detect much of a difference. I felt fresh each time after bathing but that was about it and have no idea if I would have been worse off not using this.
So is this something new to you or have you tried it before?
Comments