YADAH: natural and gentle skincare from Korea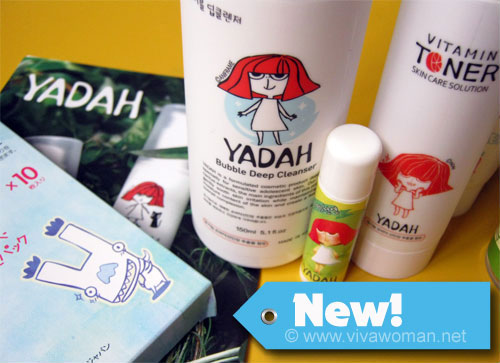 Okay, I fall for cute packaging! YES I DO! While I may not necessarily purchase them, but I will always gravitate towards them and at least check them out just because they look pretty. But I don't believe I'm alone in this. I bet some of you are already clicking through the link to check out this new Korean skin care brand that is featured here. YADAH! That's the name of the range and the packaging is enticing!
Formulated to be suitable for all skin types
This range is actually designed for teenagers and young adults but because the formulation is said to be gentle, they are therefore suitable for all most skin types and even those with sensitive or troubled skin. YADAH is certified by Korea Food and Drug Administrations and while not completely natural, the products are stated to be 100% free from artificial coloring, mineral oils, sulphates & animal extracts. Their cleansers, toners and emulsions are also free from parabens based on the website's description. I've seen some of their ingredient lists and they include natural plant extracts like essential oils, floral water, plant oils, barks, and traditional herbs with lesser chemical based synthetic ingredients. Some of the products are even indicated as using 99.9% pure vegetable natural materials, with selected ECOCERT authenticated ingredients chocked full of anti-inflammatory and antioxidant properties.
Wide range of products at affordable pricing
Apparently, YADAH Skincare range are very popular in Japan and Korea, and are being sold in various departmental stores and cosmetic retail chains in both countries. The range comprises as many as 20 products, ranging from cleansers, toners, moisturizers, masks, sun cream, BB cream, makeup, body, and hair products. Prices are very affordable, from as low as S$9.90 to the highest at S$26.90. So all in all, they are very appealing to those who do not wish to spend too much on beauty products. And do check out the cosmetic pouches, available in three different cute designs at S$21.90 each!
Based in Singapore but ships internationally
Personally, I am actually keen to try some of the products such as the cleansers but because I wanted a more objective review, someone else will be testing some of the products and providing a review on Viva Woman in the weeks to come. So do keep an eye for that! Meanwhile, go check out the YADAH range of natural skin care from Korea online (click through). By the way, the distributor of this range of products also operates Beauty Finest, whom I've been working with since last year. So yes, the webstore is based out of Singapore but ships internationally. I was also informed that the range will be made available in major Sasa stores beginning next week.

Comments