Hey what is this Azadirachta Indica in my product?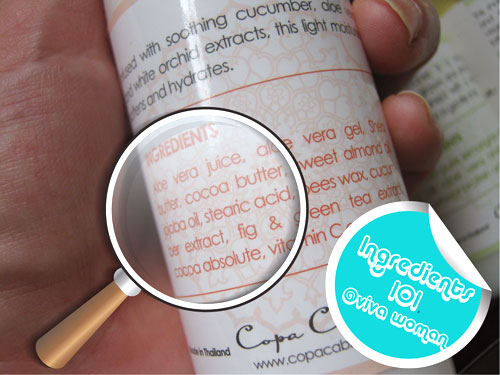 Some of you are probably well aware that Aloe Barbadensis Leaf Juice means Aloe Vera Leaf Gel, Simmondsia Chinensis Seed Oil is Jojoba Seed Oil, and Tocopherol is really Vitamin E in your skin care formulations. But what the heck is Azadirachta Indica, Cera Alba or Pterocarpus Santalinus Wood Extract? I don't think that many of us know what they are unless we look them up or someone tells us their common names. So why aren't the ingredients for most of our beauty products listed in understandable, commonly known names?
INCI names to conform to international regulations
Okay, before I answer that question, Azadirachta Indica, Cera Alba or Pterocarpus Santalinus Wood Extractwhy are really Neem Oil, Beewax and Red Sandalwood Extract, respectively. Well, listing them as Neem Oil, Beewax and so on are not allowed as most international regulations require that all cosmetics include a listing of ingredients using the standardized INCI (pronounced 'Inky') name for each ingredient. However, the assignment of an INCI name does not imply that the ingredient is approved, certified, or endorsed by any other organization or governmental body as INCI names do not imply standards or grades of purity. It's purely a naming convention. And you might have noticed that a number of natural brands selling their products online actually don't conform to this naming system.
Uniform scientific names for reference consistency
You can say that INCI names are uniform scientific names and their use minimizes the language barriers that often hinder consumer understanding and international trade. That's pretty ironical because for me, it hinders my understanding but I can see that the adoption of INCI terminology ensures that cosmetic ingredients are consistently listed using the same ingredient name from product to product. This is why water must be listed as Aqua and Paraffinum Liquidum is really Mineral Oil, and even some naturally derived ingredients are listed as if they were some unknown, complicated synthetic ingredients such as Butyrospermum Parkii, which is really Shea Butter. Good thing though that many ingredients are listed with their common name included, and so if you see a listing like Persea Gratissima (Avocado) Oil, you sort of figure out that it's probably Avocado Oil.
The INCI listing for fragrance
Additionally, the INCI ingredient labeling standard applied to European beauty products require that any product with a "scent" be labeled "Fragrance", "Perfume" or "Parfum". This applies whether or not that scent is from all natural essential oils, or from synthetic fragrances.
Things to know about skin care labels
There are quite a bit of information to learn about ingredient listing and you may also want to read my post 5 things to know about skin care labels where I covered why ingredients are listed in descending order, why some toxic ingredients within the product maybe insignificant, why only the top 33% of the ingredients matters, why active ingredients should have an effective concentration, and how some ingredients are spelled almost similarly but aren't the same.
Challenges in learning about skincare ingredients
I don't know about you but I like to learn about ingredients although I find it a challenge. Other than identifying what the ingredients in a listing means, I also find it difficult to determine the actual amount of each ingredient as most labels do not tell you that. So an ingredient may consist of 85 percent water, whereas another might only contain 50 percent and it's quite impossible to tell if a product will work for you by looking at the ingredient list although I wish I can. And oh, I absolutely hate it that I can't pronounce most of the ingredients.
© www.vivawoman.net copyright notice ☺
______________________________________________________________
Comments