Avoid sun exposure one week before your menses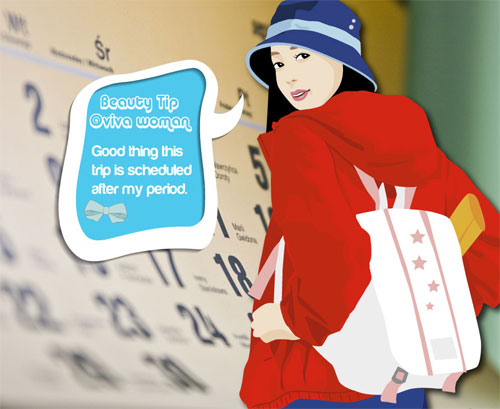 Do you keep a calendar of your menstrual cycle? I used to when I was younger; it was particularly useful when I was planning adventurous vacations because I normally avoid going for trips during that time of the month. It was really all for the sake of convenience and nothing related to my skin but now, there is a good reason to keep track of the cycle especially if you want to avoid pigmentation issues. Keen to know more? Then keep on reading!
Skin more vulnerable to UV radiation in premenstrual week
I've mentioned in one of my entries that our skin is vulnerable to UV radiation during PMS but I didn't say why. Well recently, I stumbled on some Chinese literature and I found out that we should avoid sun exposure as far as possible ONE WEEK prior to our menses to avoid developing skin pigmentation. This is because our female hormonal activity of estrogen and/or progesterone is causing melanocytes or the pigment-producing cells to produce and deposit excess pigments. Interestingly, I found a study that supports that the skin of women is more sensitive to ultra-violent light in the premenstrual week.  
Study done on women on skin pigmentation & menstruation cycle
From the study, about half the women questioned had some increase in skin pigmentation, which was noted in every case in the latter days of the menstrual cycle and in some cases during menstruation also.
A pigmentation of the skin varying in intensity in a constant relationship with the phases of the menstrual cycle has been recognized by clinicians for many years. The pattern of this variation and its occurrence in normal young women has been demonstrated by a simple survey technique. The occurrence of the skin condition appears to be related to the sensitivity of the skin to ultra-violet light, darkening of the skin always occurring in the premenstrual week. Although the explanation of this phenomenon is not clear it seems likely that changes in the secretion of the melanocytestimulating hormone by the pituitary are responsible for this interesting and probably common condition (source).
Avoid the hot sun in your premenstrual week
So ladies who are particular about developing skin pigmentation should take note of this information. You may want to avoid heading out for outdoor activities or adventurous trips a week prior to your menses. And if you really have to head out, then remember to slather more sunscreen, put on your sunnies plus hat, and keep a lookout for more trees!
Comments