Beauty Kitchen: grapefuits for collagen production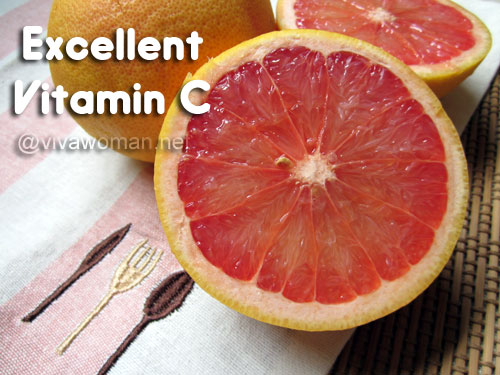 We all know how important collagen production is for our skin but did you know that vitamin C supports collagen production and help to keep our skin youthful looking? In fact, vitamin C is one of the most powerful antioxidants, which may help neutralize free radicals and is hence, vital for our health and beauty. There are plenty of foods that contain vitamin C and today, I'm going to share with your about grapefruits plus a really easy recipe to make the slightly bitter fruit more palatable to your taste buds.
Contains beta-carotene too
Fresh grapefruit provides a variety of vitamins and minerals such as vitamin A, potassium, calcium, and dietary fiber on top of vitamin C. In addition, the pink and red grapefruits are also rich in phytonutrients such as lycopene and beta-carotene that can help protect our skin against the sun. So you can say it's a great skin fruit. However, grapefruit isn't all that palatable because it has a slightly bitter taste so how can you make it more palatable?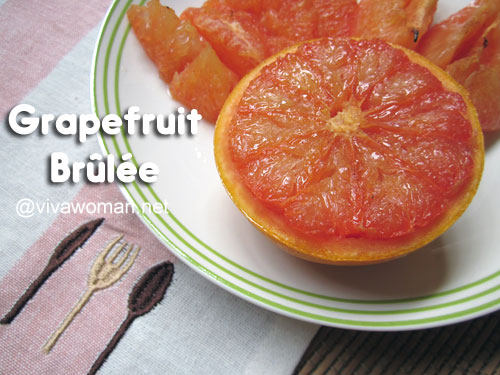 Easy grapefruit brûlée recipe
You can make a grapefruit brûlée! This is so easy to make and super delicious too! But there's a bit of work involved in preparing the grapefruit. Here, I show you two ways. One is to cut the fruit in halves and the other is to peel the grapefruit and remove by segments.
Peeling and removing by segment takes more time because you need to be careful not to crush the grapefruit but it is tastier because you get to remove the skin, which is really the culprit contributing to the bitterness. If you choose the easy way by cutting the grapefruit in halves, then you just need to use a small knife to cut all the way around the circumference of the grapefruit, until the skin has been completely detached but still leaving the fruit sitting inside the skin.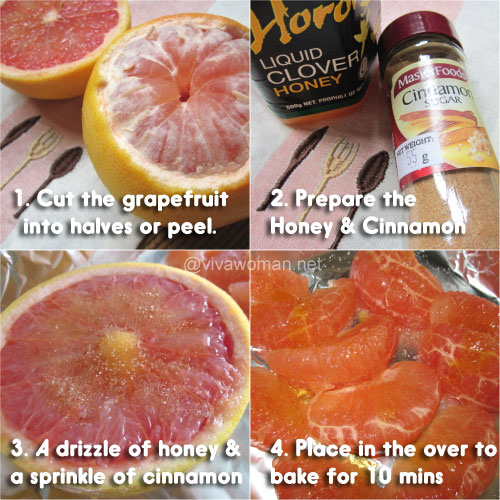 Baking enhances the juiciness
Next, place all the grapefruits onto a baking tray, drizzle honey and sprinkle some cinnamon or cinnamon sugar on top of the grapefruit and put the tray to bake in the oven at 180°C for around 10 mins or so. Some people like the grapefruits a little burnt but I prefer to just warm the fruit so as not to overcook them.
The thing about warming grapefruits is that they get soften and their juiciness is strongly enhanced. And that's doubly yummy! You'll find the honey and cinnamon compliments the tangy taste of the grapefruit extremely well and I'll say I prefer the peeled grapefruit without the skin. Served warm, the fruit with the mix of honey and cinnamon literally melts in your mouth!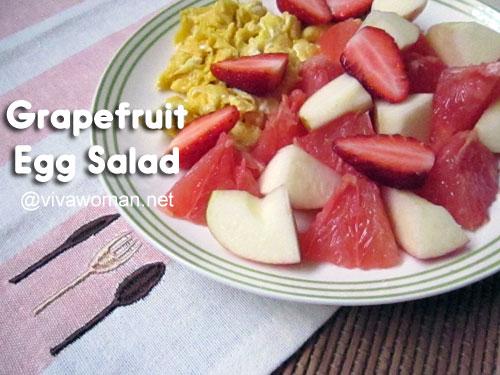 Grapefruit salad
Of course, there is always an easier way out to eating grapefruits and that is, to eat it in its raw form. Now, by cutting the grapefruit into halves and then further into sections and then removing the thicker outer skin is not too troublesome. But because the thinner skin within the grapefruit will still remain, so you'll still get that bitterness. If you mix with other sweeter fruits and add a dash of cinnamon to the fruit salad, the bitterness is sort of lessened in the mix.
So ready for some grapefruit goodness? And do share with us if you have other ways to eat grapefruits.
Comments