20% off + mystery beauty boxes from Paul Penders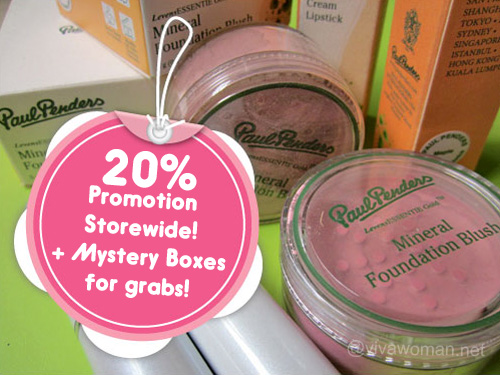 Hey ladies…here's a delightful promotion from Paul Penders Australia to beat your Monday blues. To celebrate the opening of their new online store, all products are going for 20% off from now till 31 October 2012! On top of that, a Mystery Beauty Box worth AUD100 is up for grabs EVERY WEEK when you subscribe to their newsletter! Whoo-hoo! Awesome much? And in case you're wondering, this promotion is open to ALL, no matter which country you reside. Yay, we're having an INTERNATIONAL promotion!
Products made with certified organic ingredients
Some of you may recall my review of Paul Penders' body care products and lipsticks (click through the links for my reviews) where I introduced the brand and mentioned that the products are made with certified organic ingredients and the brand is not only 100% vegan but also one of the very few to be certified halal as licensed by the Government of Malaysia. Besides body care products and cosmetics, Paul Pender also offers a wide range of products from skin care, hair care to products for babies.
Promotion code
As mentioned, this promotion and offer is open to ALL from now till 31 October. The discount code to use is 820002. And free shipping is available for orders above AUD50. Anything below, a flat rate of AUD15 applies. So what are you waiting for? Click here and shop away!
Comments