Garbanzo beans: beauty food for your skin and hair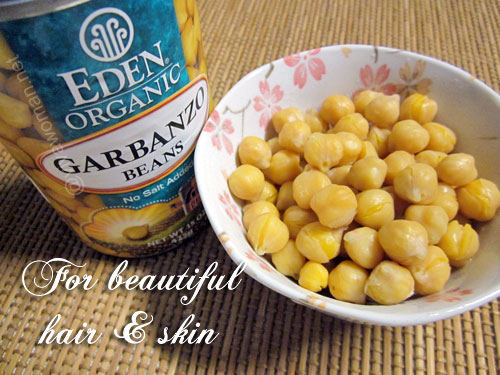 I didn't know that Garbanzo beans are the same as chickpeas until recently. Well, I was eating quite a bit of chickpeas at one stage and they were always in dried form, which required soaking and then steaming. These canned Garbanzo beans on the other hand, only require steaming and they're ready to be eaten. Some people use these to add to their salad but I like to eat it like a snack. They were great for me when I was undergoing a body detox to get rid of my acne as these beans are a high source of both soluble and insoluble dietary fibers. They definitely helped me to purge whatever toxic stuff that was dormant in my intestines! Haha.
For healthier skin and menstruating women
So yeah, Garbanzo beans or chickpeas make great beauty food because their high fiber content can keep your digestive system and hence your skin, healthier. In fact, I think they might help some of those with acne issues as they certainly helped me. And as Garbanzos contain high amount of iron, they are also said to be very important for menstruating women, as they help them replenish any kind of iron deficiency in the body.
For strengthening hair
In addition, I also learned that Garbanzo beans are great for our hair – specifically in terms of strengthening and preventing graying – because of their significant amount of protein and trace mineral manganese.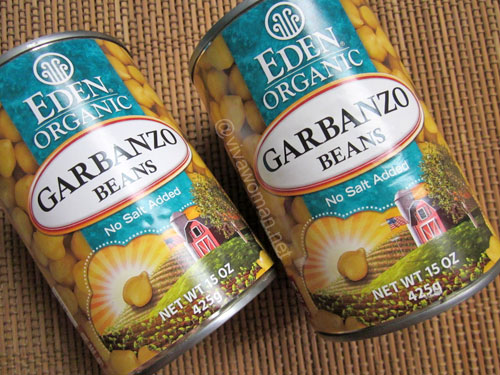 Do not eat excessively
However, these beans are also said to contain considerable amounts of the naturally occurring substance called purines. Hence, they shouldn't be consumed excessively because too much purines is associated with certain health problems, like gout and formation of kidney stones due to the accumulation of uric acid in the body.
For topical application to reduce age spots
Finally, for all the DIY beauty lovers, Garbanzo beans are apparently great to fade age spots. All you need to do is to mash the beans, make them into a paste with some water that you can smear on your face or hands. Well, I'll like to try using it but not with the beans because I'll rather eat them. I wouldn't mind using chickpea powder or chickpea flour instead. So if anyone knows where I can get hold of the powder in Singapore, do let me know in the comment box. For the others, maybe you want to tell me if you like eating Garbanzo beans.
Comments