Free worldwide express delivery from Shopbop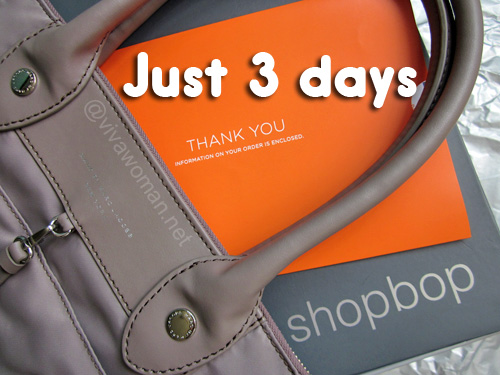 I ordered a bag from Shopbop at the end of Tuesday and received the item on Friday noon, from US. Nothing really surprising, considering it used a courier service but the speed and efficiency really put some of our local online stores that advertises heavily but takes five days to deliver items to shame. Seriously, these local online stores should learn how to improve their delivery lead-time.
But anyway, I am so pleased with my purchase this round. I scored a bag this time with a complimentary gift certificate from Shopbop and I managed to snap it up just a day before their Friends & Family event. I'm also glad that the item arrived so quickly, at no shipping charges because the online store offers free worldwide express delivery for purchases above US$100. And given the price range at Shopbop, it would be difficult not to buy above that amount.
The good thing is that Shopbop offers sale almost all the time and some of the items are really worth checking out when they're discounted. If you want to avoid paying GST, then it's best to order under S$400 or break into two different shipments if you're ordering a few items.
I understand that Shopbop has a no fuss return policy but I haven't given it a look considering I'm not planning to return anything. I mean, why bother to look through those details unless I need it? But one thing I do know is, return shipping isn't free and so, you really only want to use it when you absolutely need to.
Oh, my kinda smallish tote bag arrived in a rather huge box because I ordered a gift box and it turned out to be quite bulky. It's a nice box at US$5. Kinda of a waste of money but yeah, I was curious and I wanted to round up the number. But I do wonder what kind of gift box would have turned up if I had ordered a watch or some smallish accessory.
So this is my new Hazelnut Marc by Marc Jacobs Preppy Nylon Dakota Bag. I had originally wanted to order the La Mer watch too but I changed my mind. Perhaps another time because this is a bag season for me. So everything else is kinda secondary.
© www.vivawoman.net copyright notice ☺
______________________________________________________________
Comments