MyChelle Dermaceuticals cleansers reduce sun spots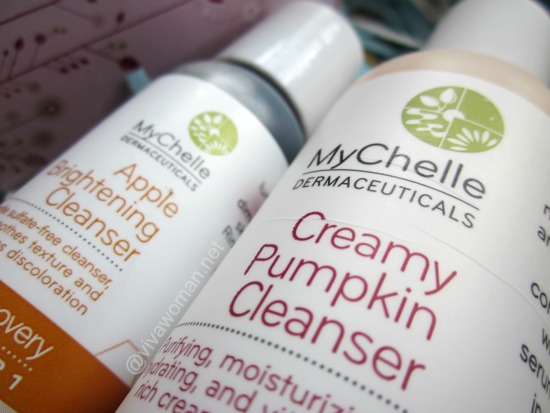 Facial cleanser is one skincare product I can afford to change very frequently. I mean, my face certainly doesn't insist on befriending just one cleanser and has no issues playing host to different cleansers even in a single day. I guess that makes me quite a liberal huh? So somewhere last month, I switched products and got started on the MyChelle Dermaceuticals facial cleansers, after having read some of your comments about the brand in my posts. I usually don't repurchase my facial cleansers just because I like to try new ones to review them for the blog but you know what? I am quite likely to repurchase this set again.
Okay, before I tell you why I'm thinking of repurchasing this set of cleansers, let's take a look at the brand first. Very quickly, MyChelle Dermaceuticals is a natural brand founded in Colorado, USA, 12 years ago. The focus of the brand appears to be their belief in developing non-toxic but effective formulation using mostly phytochemical ingredients. They have a full range of skin care products, from facial products, sunscreens to body products for every skin type, including sensitive and blemished skin. I also see that they have quite a number of makeup products in their slate, which I probably won't mind trying.
I first spotted the brand at iHerb and then at Guardian Pharmacy in recent months. They're quite clever to position the price points such that the products look really affordable. But it's a bit deceiving in the sense that their bottles are all quite small. This is actually one reason why I am thinking of repurchasing them already…because I do have to replenish the stocks very soon.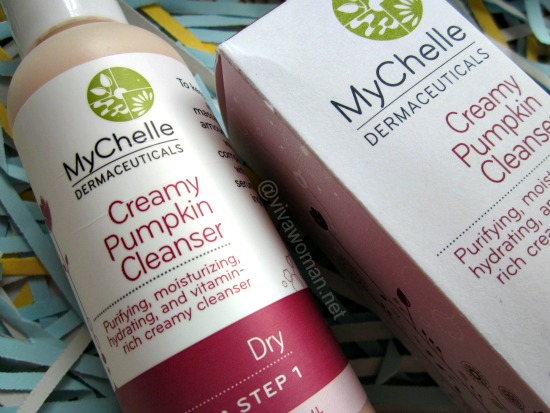 MyChelle Dermaceuticals Creamy Pumpkin Cleanser | 130ml, US$13.82
I've always like creamy cleanser especially as a pre-cleanse and I picked this one which is loaded with vitamins and exfoliating enzymes, as well as hydrating ingredients like pumpkin fruit and honey. Interestingly, it also contains Astaxanthin, an antioxidant and the blue green algae, which is supposedly rich in minerals and antioxidants to fortify skin tissues and help soothe redness and irritation.
Ingredients
Aqua (Water), Glycerin (Vegetable)*, Caprylic/Capric Triglyceride (Coconut)**, Behenyl Alcohol (Non-GMO Rapeseed), Hydrolyzed Starch Phosphate (Vegetable), Dicaprylyl Ether (Vegetable)**, Cucurbita Pepo (Pumpkin), Sucrose Stearate (Sugar), Sodium Stearoyl Glutamate (Coconut), Honey*, Astaxanthin (BioAstin®), Aphanizomenon Flos-Aquae (Blue Green Algae) Powder, Eugenia Caryophyllus (Clove) Leaf Oil, Cinnamomum Cassia (Cinnamon) Leaf Oil, Myristica Fragrans (Nutmeg) Kernel Oil, Vanilla Planifolia Fruit Oil, Lonicera Caprifolium (Honeysuckle) Flower Extract, Lonicera Japonica (Honeysuckle) Flower Extract, Citrus Aurantifola (Lime) Oil*, Potassium Sorbate, Phenethyl Alcohol (Rose), Caprylyl Glycol (Coconut), Trisodium Ethylenediamine Disuccinate (Green and Biodegradable), Polysorbate 20 (Plant).
Texture, scent & effectiveness
I like this cleanser a lot. It's really thick and creamy and removes my makeup thoroughly. But I also like it in my morning cleansing routine because it's gentle. The smell is pleasant with a hint of tangy fruity edge. Very pleasant to use and very effective for my combination skin. I don't use a lot of it each time but the 130ml can probably last me two months at most.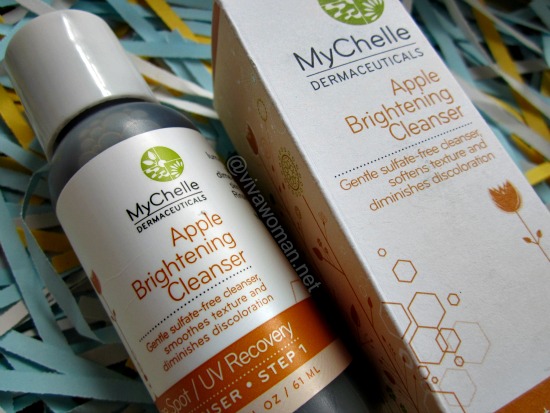 MyChelle Dermaceuticals Apple Brightening Cleanser | 61ml, US$10.67
I was totally enamored with the description of this one. "Gently cleanse away the look of discoloration and sun damage, while refining and smoothing the surface of the skin". Just what I need! The product also contains malic acid and polyphenol-rich apple said to help maintain healthy elastin, while reviving youthful tone and texture. Belides daisy flower, apple fruit extract, plant-derived gallic acid and lactic acid help brighten the complexion, alleviate discoloration and support skin's self-repair. It is also an excellent wound healer and effective in the treatment of bruising and brightening of scar tissue.
Ingredients
Aqua (Water), Sodium Laurylglucosides Hydroxypropylsulfonate (Coconut/Palm), Sodium Methyl Cocoyl Taurate (Coconut/Palm), Polyglyceryl-4 Caprate (Vegetable), Sodium Cocoyl Hydrolyzed Amaranth Protein, Bellis Perennis (Belidesâ"¢) (Daisy) Flower Extract, Hibiscus Sabdariffa Flower Extract, Pyrus Malus (Apple) Fruit Extract (Applephenonâ"¢), Euterpe Oleracea (Acai) Fruit Extract*, Yogurt Extract, Lactic Acid (L) (Glucose), Gallic Acid (Plant), Yucca Schidigera Leaf/Root/Stem Extract, Camellia Sinensis (Green Tea) Leaf Extract*, Polygonum Cuspidatum (Giant Knotweed/Resveratrol) Extract, Morus Alba (Mulberry) Bark Extract, Glucosamine HCI (D) (plant), Citrus Grandis (Red Grapefruit) Peel Oil*, Citrus Aurantium Dulcis (Orange) Peel Oil*, Fragrance/Parfum (Natural), Gluconolactone**, Sodium Benzoate, Glycerin* (Vegetable), Sodium Decylglucosides Hydroxypropylsulfonate (Coconut), Citric Acid. (*Certified Organic)
Texture, smell & effectiveness
This is a foaming cleanser that doesn't foam that much. I find myself having to squirt a bit more just to get more lather out of it. I didn't like the smell initially because it was a tad off-putting but it got better after awhile. Although I liked the description of this cleanser, I wasn't really expecting it to do anything for any of my spots. But you know what? I think one of my sun spots faded quite a bit after I used this cleanser even though I only use it once a day. I say I think because I'm not sure if it could be due to other products I'm using simultaneously. But based on it's promises, I'll like to think it did something for my skin. So I'll probably go for the 130ml next round!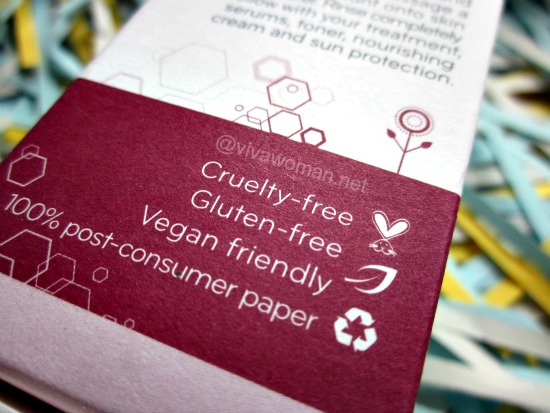 Overall summary
So given the effectiveness of the cleansers, I'm planning to repurchase again…quite soon. Although I did not see a lot of reviews, those who reviewed the products on iHerb had good things to say about these cleansers and they actually contributed to my purchase decision.
Availability
You can get both the MyChelle Dermaceuticals Creamy Pumpkin Cleanser and MyChelle Dermaceuticals Apple Brightening Cleanser at iHerb. If you're in Singapore, you can find some of MyChelle Dermaceuticals products at selected Guardian Pharmacies. I didn't take note of the retail prices but I suspect the prices won't be cheaper than what's listed at iHerb.
Comments