Actress Maggie Cheung stays slim with sea salt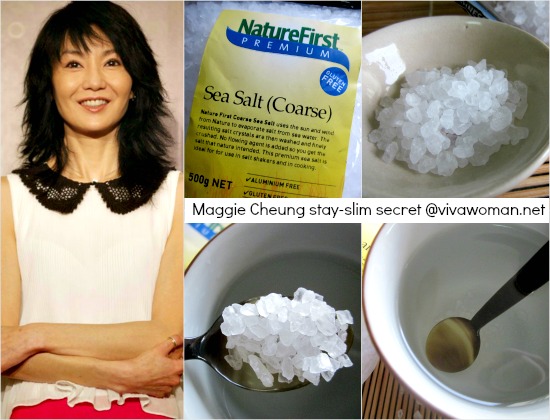 I was reading the papers the other day and caught a glimpse of the beauty secret of Maggie Cheung, an ex-Hong Kong beauty queen and a rather famous actress. Some of her more memorable movies include In The Mood For Love and 2046. Anyway, according to the article, she jumpstarts her day with a glass of warm water every morning. Well, I got curious and tried to find out more and it seems the news isn't exactly right because various sources are reporting that it's not just warm water she's drinking but it's really warm water with sea salt every morning on an empty stomach. Don't ask me how she can drink salty water but apparently, this daily morning routine has been keeping the 49-year-old actress slim.
A form of detox
It looks like this method promotes bowel movement because sea salt is not digestible. So drinking a cup of sea salt water can help to clear your waste from your colon to help you poop. This is why this is popularly known as the sea salt flush or sea salt cleanse, which is really a form of detox. According to some, you can do a sea salt cleanse continuously for 7 to 10 days. Thereafter, you can maintain by drinking sea salt water once a week.
Sea salt cleanse recipe
To make the concoction, add two teaspoons of natural sea salt (not table salt please) to a litre of warm water. Stir the mixture until the sea salt is dissolved and then drink immediately. I don't know about exact measurement really because I think your tongue will make a good gauge of how much sea salt to add.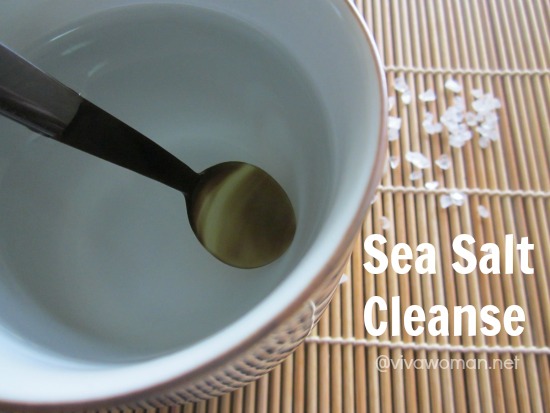 Drink with caution
Okay, before some of you get all excited about this and go gulp down buckets of sea salt water, do note that this method isn't suitable for everyone. Please be aware of your own medical conditions before attempting this. Also note that drinking sea salt water can be mildly laxative. Some people reported mild discomforts after drinking the solution.
My personal experience with sea salt
I'll own up and tell you I've not tried this method because I have other ways to detox. While I do down a cup of water on my empty stomach first thing every morning, drinking salty water is quite another experience. I can drink a cup of vitamin C water every morning and I might be able to go with lemon water too. But seriously, a cup of salty water? Really? The only time I drink that is after eating durians or when I went swimming in the sea. LOL.
Benefits of drinking sea salt water
But according to the supporters of sea salt cleanse, this method not only helps one stay slim, it also keeps one energetic and has positive effects for our skin. I believe that's true since these benefits come with every detox anyway. Still, I'll let this sea salt idea sit for awhile before I consider taking it up. Yeah, let the salt settle. Heheh. Or maybe I'll drink it when I get constipation. (o.O)
Share your experience
So has any of you tried drinking sea salt on an empty stomach? Why do you drink it and has it worked for you? Do share your experience!
Comments