Apivita Women's Tonic Shampoo For Thinning Hair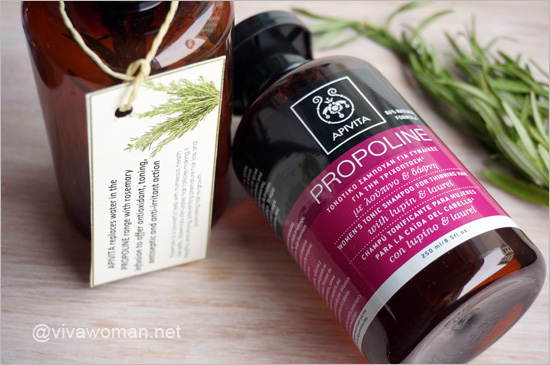 While I love my hair and would go to the ends (hair ends that is) to care for them, I hate to address some of the issues I face about them. Like hair loss. Am I suffering from hair loss? No, I reject that. But I could certainly do with more hair growth. It's just a very hairy issue that I don't really like to discuss in detail although I still do some things here and there to encourage the hair follicles. Anyway, I'm not blogging about the things I do to my hair today. Instead, I want to direct your attention to the Apivita Propoline Women's Tonic Shampoo For Thinning Hair that I recently received from the brand.
I wasn't expecting this coming at all and so I was pleasantly surprised when I saw the lovely kit. You gotta give it to the Apivita PR folks for making their media kit picture worthy. I was even excited about trying the product just looking at the presentation but unfortunately, that excitement ended prematurely and you'll see why in a bit.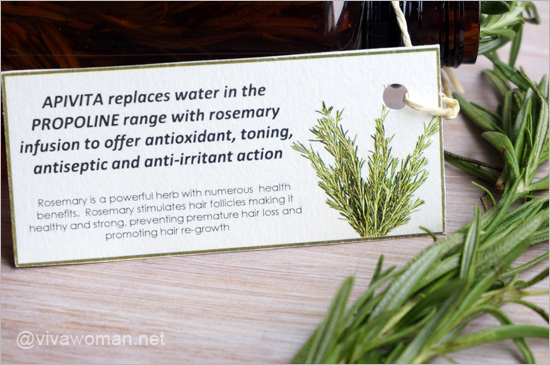 Unique selling points
The Apivita Propoline Women's Tonic Shampoo For Thinning Hair is part of the brand's Propoline line of treatment products against hair loss for men and women. Besides the inclusion of honey, propolis and the essential oils, the product strengthens and nourishes thinning hair with lupin, laurel, ginseng, vitamins, trace elements, neroli and clary sage. It also contains the Bio Cotton Protection System (cotton honeydew + prebiotic oligosaccharide + arginine), which is an exclusive innovation of Apivita laboratories to strengthen hair texture, improve elasticity, and defend the scalp against external environmental attacks and thermal stress. In addition, another unique selling point about the shampoo is that water has been replaced with a rosemary infusion for extra antioxidant protection.
More natural formulation
According to the company, the shampoo is 86% natural and free of parabens, silicones, mineral oil, propylene glycol, ethanolamines, colorants, phthalates, polycyclic musks and nitromusks. It sure looks good until I took a closer look at the ingredient list and found an ingredient I have issues with listed third on the list.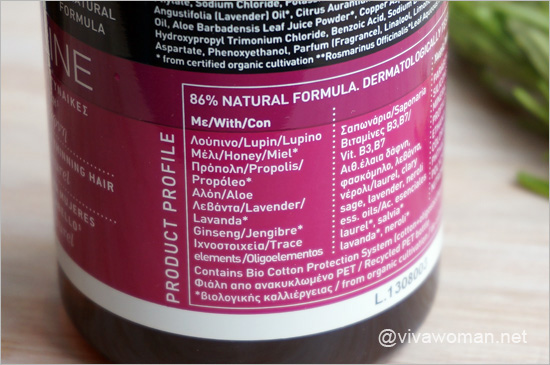 Ingredient list
Aqua** (Water**), Aqua (Water), Sodium Laureth Sulfate, PEG-4 Rapeseedamide, Cocamidopropyl Betaine, Lauryl Glucoside, PEG-60 Almond Glycerides, Coco-Glucoside, Hydrolyzed Lupine Protein, Cinchona Succirubra Bark Extract, Panax Ginseng Root Extract, Lavandula Angustifolia (Lavender) Flower* Extract, Rosmarinus Officinalis (Rosemary) Leaf*, Mel* (Honey*) Extract, Thymus Vulgaris (Thyme) Flower/Leaf* Extract, Propolis Extract, Saponaria Officinalis Leaf Extract, Gossypium Herbaceum (Cotton) Extract, Glyceryl Oleate, Panthenol, Butylene Glycol, Citric Acid, Hydrolyzed Wheat Protein, Niacinamide, Glycerin, Arginine, Alpha-Glucan Oligosaccharide, Dehydroacetic Acid, Phytantriol, Hydrolyzed Wheat Starch, Sodium Phytate, Sodium Chloride, Potassium Sorbate, Biotin, Salvia Sclarea (Clary) Oil*, Lavandula Angustifolia (Lavender) Oil*, Citrus Aurantium Amara (Bitter Orange) Flower Oil*, Laurus Nobilis Oil, Aloe Barbadensis Leaf Juice Powder*, Copper Aspartate, Sodium Hydroxide, Guar Hydroxypropyl Trimonium Chloride, Benzoic Acid, Sodium Benzoate, Zinc Aspartate, Manganese Aspartate, Phenoxyethanol, Parfum (Fragrance), Linalool, Limonene
**Rosmarinus Officinalis* Leaf Aqueous Infusion = Rosemary water
* from certified organic cultivation
Can you spot Sodium Laureth Sulfate or more commonly known as SLS? There's nothing gentle about this ingredient. In fact, it is widely considered to be a caustic cleansing agent and having it in a shampoo formulated to beat hair loss is incongruous IMO. Seriously, I cannot understand why it cannot be changed to something gentler. Afterall, they omitted this ingredient in their shampoo for sensitive scalp.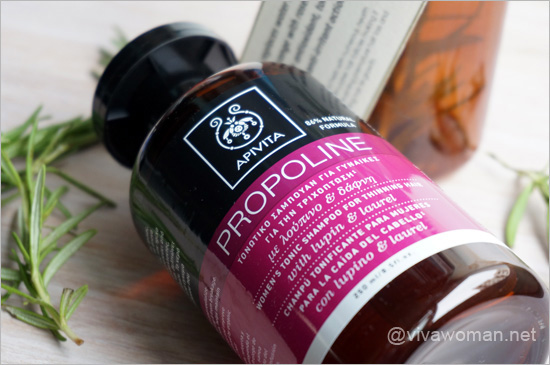 My impression after a one-time usage
This is why I cannot bring myself to use the Apivita Propoline Women's Tonic Shampoo For Thinning Hair even though I really want to. Granted, I did test it out and found it to come with a very strong scent due to the combination of the rosemary infusion along with the various essential oils. I'll also admit that my hair looked and felt lightweight after washing with the shampoo, which by the way foams very well. My hair also did not come across drying even though I did not use a conditioner.
But unfortunately, this is not a shampoo I would use and that's such a pity because it looks so promising. But if you're looking into shampoos for hair loss and do not mind SLS, then you might want to check the Apivita Propoline Women's Tonic Shampoo For Thinning Hair out at the Apivita stores at ION or Vivocity. The price of the 250ml bottle is S$30.
Comments