HABA Moist White Beauty Drink Review & A Giveaway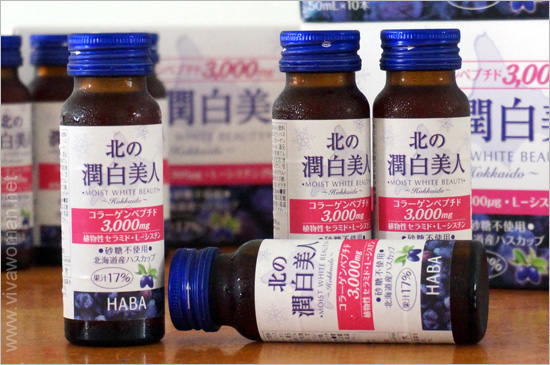 Some of you may recall that I gave a very glowing review on HABA Moist White Beauty. I mentioned how I had experienced instantaneous effects, waking up to visibly firmer and bouncy looking skin on my face when I drank a bottle of this. Well, since then, I've drank 30 bottles and if you read on, you'll get my final verdict on the product plus how you can get to sample this collagen drink and also possibly win yourself a box of them.
If you've missed my last post about HABA, then you may not know that HABA is a leading Japanese brand that advocate the Mutenka philosophy and offers a wide range of skincare products, beauty supplements and makeup items that are additive-free.
Award-winning collagen drink
HABA carries a few types of beauty supplements but Moist White Beauty, a 2-in-1 beauty drink that can replenish collagen levels and whiten skin at the same time is their bestseller. It has also just won the Best Beauty Supplement award at Cleo Beauty Hall of Fame 2014.
Powerful whitening and anti-aging properties
What's unique about this collagen drink is that it contains Haskap (blueberry honeysuckle) found only in Hokkaido, which is known as the "longevity fruit" among the indigenous Ainu people and has long been coveted for its powerful whitening and anti-aging properties. Each bottle also contains 3000mg of collagen, which is the maximum amount our body can absorb daily and the entire content is just 21 calories. Besides Haskap and collagen, this product contains ceramide to lock in your skin's moisture and L-cysteine to reveal translucent skin that glows with health.
Ingredient list
Juice (Grape, Haskap Hokkado, Collagen, Peptide, Erythritol, Reduced Malt Sugar Syrup, Beet Extract Containing Ceramide, Acidifier, Stabilizer (Polysaccharide Thickener), Flavor, Cystine, Sweetener (Aseculfame Potassium, Sucralose), Syclodextrin (Contains: Soy, Gelatin)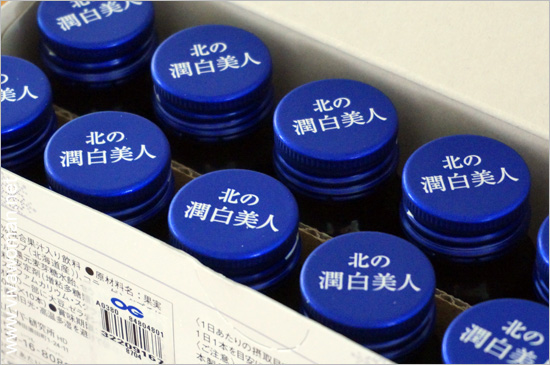 Taste and temperature
HABA Moist White Beauty can be drank cold or at room temperature. I love the taste although I'll also say it's very sweet because it contains both malt sugar syrup (reduced) and sweetner. Still, I look forward to drinking this every night. I keep the bottles in the fridge but I usually remove one and leave it out in the open, consuming it about 15 to 30 minutes later when it's not as cold.
Best drank daily
This collagen drink can be drank daily and I understand that they are better consumed continuously for a period of 30 days. After that period, you can continue to drink a bottle daily or on alternate days if you want to save some cost. So having drank the HABA Moist White Beauty for 30 days, did it make my skin all plump up and translucent?
Skin looking clearer
Well, unlike the first time, I don't seem to get that WOW factor this time around. My skin didn't look more plumped up than when I was taking the AFC collagen supplement. But I did notice that my face is looking clearer although I'm not entirely sure if it's due to drinking HABA Moist White Beauty or it's due to topical application of products.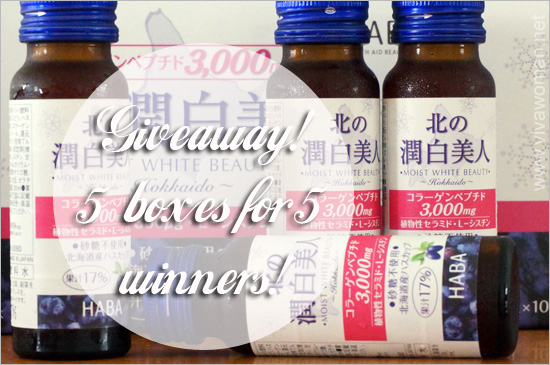 Sample Moist White Beauty at HABA Collagen Beauty Bar
I don't mind drinking this though but the cost of a box of 10 bottles is S$49, which is much more expensive than my AFC supplement. In addition, this collagen drink is only available at HABA stores and hence, I pretty much can't get it off the pharmacies as and when I like. (Correction: was informed they offer it for sale online with free delivery in Singapore!) But if you're in the market for a collagen drink or your regular supply of collagen drink from other brands is no longer available, you might want to give this a shot. In fact, HABA will be giving out free collagen and placenta mocktails from a pop-up bar in BHG Bugis on July 12 and 13, where guests will be served by cute maids and dashing butlers. So you may want to head down to sample the drink. Aside from the free mocktails, HABA will also have makeup artists on site to provide free makeovers with HABA's mineral makeup. You can get to participate in other fun activities and also a chance to win HABA beauty supplements.
5 boxes of HABA Moist White Beauty For 5 winners
But if you're not free to head down to Bugis next week, you can still get hold of the HABA Moist White Beauty. How? Just participate in this Viva Woman/HABA giveaway, where 5 of you will each receive a box containing 10 bottles of HABA Moist White Beauty. To participate, follow these 2 steps:
1. Tell me why you want to try the HABA Moist White Beauty.
2. Be a fan of the HABA Facebook Page.
(Remember to include your Facebook name in your answer to #1.)
Example of a valid entry:
I want to win HABA Moist White Beauty because I want my skin to be firmer and fairer. Btw, I'm a fan of the HABA Facebook Page and my Facebook name is JiaJia.
This giveaway is open to all readers with a local Singapore address. It will close next Tuesday, 8 July 2014 and the 5 winners will be picked and announced on the Viva Woman Facebook Page. So want to get your hands on HABA Moist White Beauty? Then enter right away!
Comments