Over 400 choices of lippy fun at My Lip Stuff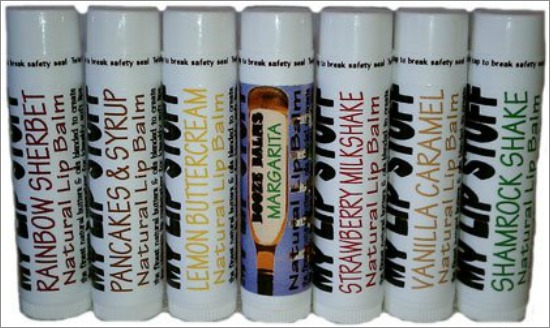 This is too awesome!  An online store promoting environmentally friendly natural lip balms made with natural butters, oils and beewax with choices of over 400 flavours!  That's an incredible range of flavors and options for some serious lip care.  Simply overwhelming!
In fact, I had quite a hard time choosing the flavours for the Pick Your Own 6 Pack because all the flavours sounded too delicious.  In the end, though not after quite a bit of deliberation, I settled for Raspberry Lemonade, Blueberries & Cream, Tropical Fun, Healing Lip, Mixed Mystery and Rainbow Sherbet.  Can't wait to get them on my lips!
And I tell you why they're so irresistable, apart from the fact that I'm slightly lip balm crazy.  The prices start at US$2 for a 0.15oz standard twist tube and US$3 for a 0.25oz finger dipping pot!   Even with the shipping cost factored in, every tube only cost me S$5!!!  For something that is chemical-free and natural, this is a superb buy!  Even Jennifer Garner said she loves their texture and colour.
Besides the 400 flavours, My Lip Stuff also offer fun labels like Booze Balms, Mood Lip Balms, Days of the Week Lip Balms, Horoscope Lip Balms, Voodoo Lip Balms, and many more. They even have a Lip Balm of the Month club and sell DIY lip balm kits. These folks are really dedicated to giving some fun to lip care!
Reviews will be up in time, I promise.  Meanwhile, check them out at www.mylipstuff.com.  Don't expect the usual glossy website though.  There are very few pictures and even then, their quality aren't great.  But hey, I think they're hip. 
Comments