Neal's Yard Remedies Wild Rose Beauty Balm A Wonder?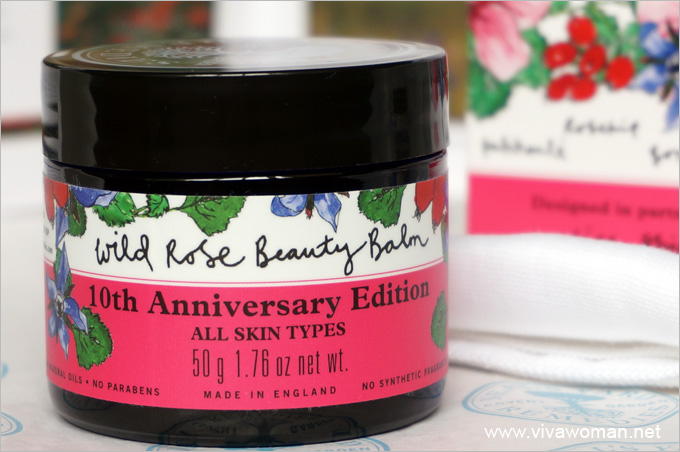 Rarely do I write my introduction after I've written everything else but I did for this review. I had originally planned to share my thoughts about a couple of products sent to me by Neal's Yard Remedies but turned out, I have so much to talk about their Wild Rose Beauty Balm. No wonder this is an award-winning, one-jar, multitasking product! Even a review about it can become so effortlessly prolific! LOL.
For those new to Neal's Yard Remedies, this one-jar wonder balm is their all-time customer favorite that has won some award and gone on the list as editor's choice. The product is packaged in their iconic blue screw-top jar and usually comes with their standard blue label. But what you see here is a limited edition packaging designed in collaboration with British Illustrator, Alice Shields, as part of Neal's Yard Remedies 10th Anniversary celebration. Beautiful eh? But is what's inside this beautiful jar as wondrous as acclaimed?
If you are somewhat familiar with balms, you will know that most balms are a hardened mix of different oils held together by beeswax. So while they look hard, they melt upon contact with our warm skin. What makes them unique is that they are formulated to be used in different ways on our skin–mostly to soothe, moisturize and nourish.
Cleanser, Exfoliant, Mask
According to Neal's Yard Remedies, their Wild Rose Beauty Balm can be used as a rich cleanser, gentle exfoliant or deeply nourishing balm and is suitable for all skin types. It contains wild rosehip oil, a potent antioxidant proven to help repair, firm and smooth the skin. And it's combined with geranium, starflower, hemp and rosemary oil to help decongest and enrich the skin, promising to restore its natural radiance.
Here's the full ingredient list: Rosa canina (Wild rose) seed oil*, Simmondsia chinensis (Jojoba) seed oil*, Cera alba (Beeswax)*, Butyrospermum parkii (Shea butter)*, Cannabis sativa (Hemp) seed oil*, Borago officinalis (Starflower) seed oil*, Pelargonium graveolens (Geranium) flower oil*, Rosmarinus officinalis (Rosemary) leaf oil*, Boswellia carterii (Frankincense) oil, Cymbopogon martini (Palmarosa) herb oil*, Pogostemon cablin (Patchouli) leaf oil*, Ascorbyl palmitate, Tocopherol, Citral, Citronellol, Farnesol, Geraniol, Limonene, Linalool. *Organically produced ingredient. Natural constituent of essential oils listed.
Like all other Neal's Yard Remedies' products, this one contains no synthetic fragrances, no silicones, no mineral oils, no parabens, no GM ingredients, no phthalates, no propylene glycol, no animal testing, no DEA, no EDTA, no acrylates, no nano, and no BHT. In fact, green beauty lovers would be pleased to know this balm is made with 99% organic ingredients. In addition, each full-sized jar comes with an unbleached, organic muslin cloth made from organically grown cotton for use as part of the cleansing and exfoliating.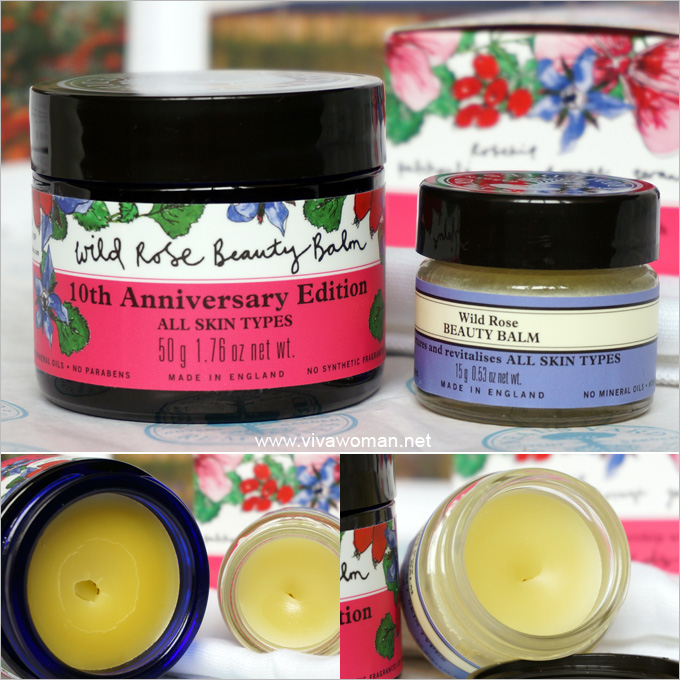 How to use
So how exactly do you use this as a cleanser, taking into consideration that the balm melts on contact with warm skin?
Just scoop a small amount (2 pea-sized works for me) that you can use on your face and massage in while your skin is dry (or massage with both hands to melt the balm before applying all over your face). Depending on your comfort level, you can use it as a makeup remover or after you have used one. Rinse the muslin cloth with very warm water and pat around your face to rid the skin of the balm.
If you want to use it as an exfoliant, just use the muslin cloth to wipe your skin in circular motions. Or on a cleansed face, apply a thicker layer of the balm and leave on for 10 minutes as a mask. Wipe in circular motions with the muslin cloth drenched with very warm water. This way, you are using the beauty balm as a mask cum exfoliant.
Oil cleansing in a balm
Well, after reading all that, did you find the cleansing method familiar sounding? Yes, it's really the oil cleansing method just executed in a slightly different style and if you are an avid reader here, you may recall I am not fond of this cleansing technique. Using oil that does not emulsify means you need very warm water or should I say almost hot water.
Despite all the claims and raves over this cleansing method, I still think it is not something you should use on your face daily simply because excessive hot water is drying for the skin in the long term. You can choose to disagree with me but I am convinced about using more skin friendly ways to cleanse my face daily.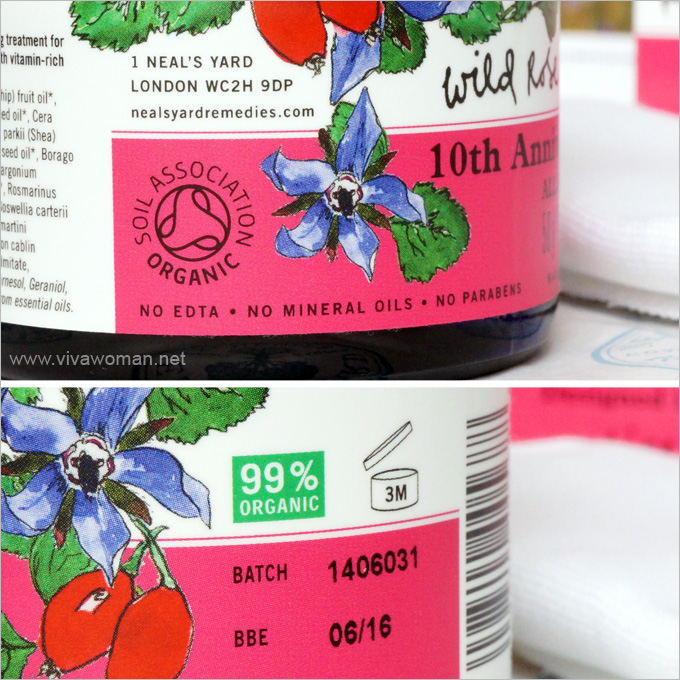 So you can guess by now I am not keen on using the Neal's Yard Remedies Wild Rose Beauty Balm as a cleanser, or even as a mask or exfoliant. I did try but I did it just for the sake of knowing how it feels on my face. Let me say that without almost hot water, you are going to feel like you've got an oily residue on your skin. It could work for those of you who don't mind the oily feeling. But I do agree with most reviewers that when the method is correctly executed, this balm will help contribute to soft, smooth skin. I also find that it was able to dissolve my foundation (I don't use much eye makeup) and it's great for facial massage.
As a moisturizer
But I've been using this balm in other ways and they've worked extremely well for me. How? In the evenings, I use this as a moisturizer. Just a pea-sized rubbed on my palm with my fingers and then pressed on all round my face. I was initially hesitant, worried that the balm might be too rich for my skin. When I woke up to find no adverse reactions, I began to use a bit more and even over Neal's Yard Remedies Beauty Sleep Concentrate. Again, no negative reactions by morning and I began to like it better.
I also like using it to moisturize my dry cuticles, my lips, my hands and even my heels. It also works to soothe skin rash caused by insect bites. And for times when I use eye makeup, I use this balm to gently remove my eye makeup with the help of a cotton pad. Actually, there are more ways to use the balm and that's why Neal's Yard Remedies published these top 10 uses to celebrate their 10 radiance-boosting years:
Cleanser: Massage a small amount onto the face, and remove with the muslin cloth rinsed in warm water.
Moisturizer: After cleansing and toning, apply a small amount to the face, massaging in with an upward motion.
Mask: After thoroughly cleansing and exfoliating, apply the balm over the face. Cover the face with a warm washcloth, and relax for 10 minutes. Remove any remaining traces of balm with the muslin cloth, and apply your usual moisturiser.
Lip Balm: Apply a small amount to the lips to prevent dryness and chapping. Can be used over lipstick to add extra shine.
Complexion Enhancer: Apply a small amount to the cheekbones for a healthy glow.
Nail Balm: Massage a small amount of the balm into the cuticles every night to encourage strong nail growth.
Heel & Elbow Softener: After washing and exfoliating the feet, massage some balm into the heels.
In-flight Intensive Moisture Boost: During a flight, wear as a moisturiser to lock in moisture, so you arrive with a fresh glowing complexion.
Eyebrow Tamer: After shaping the eyebrows, apply a small amount of balm to smooth and control.
Summer Skin Glow Enhancer: Dab on in the evening to nourish holiday skin & maintain your sunkissed glow.
My thoughts on the balm
Using Neal's Yard Remedies Wild Rose Beauty Balm is an experience. You can't be functional and go through the motions or try to speed up the application or cleansing process because if you do, you are just going to miss the whole aromatic benefit that it delivers. But I also don't want to give you the impression that this balm smells awesome. It does smell good to some extent but I won't say the smell is lovely or divine because the patchouli smell is rather strong, and that overpowers the wild rose scent once the balm comes into contact with the skin. It doesn't smell awful to me but neither do I get why there are so many raves about the scent.
Maybe it's because I'm not new to beauty balms and I have used one that is very similar in texture but smells so much closer to heaven (in my own definition) so my standard of assessment is a notch higher, also in part because this is a well known brand. To me, this balm is above average in terms of ingredients and quality but it's not something I want to use on my face long term.
First off, I dislike the idea of using too much beeswax on my face and this happens to be the third ingredient on the list. I much prefer to reap the benefits of all that oil without the beeswax. There's been some disagreement even within the skincare industry on the benefits or harmful effects of beewax but whatever it is, I just don't like the idea of using too much of it on my face. Second, I couldn't see much of a benefit using this as yet– unlike some who claimed it has given them glowing, radiant skin almost overnight. Third, I'm quite sure I won't be able to finish using the big jar in three months because I'm not going use it as a daily cleanser. Finally, the 50g jar retails at S$88 and to get it just for my lips, my hand, my cuticles or my heels just doesn't make sense. I could get some premium oil for that price.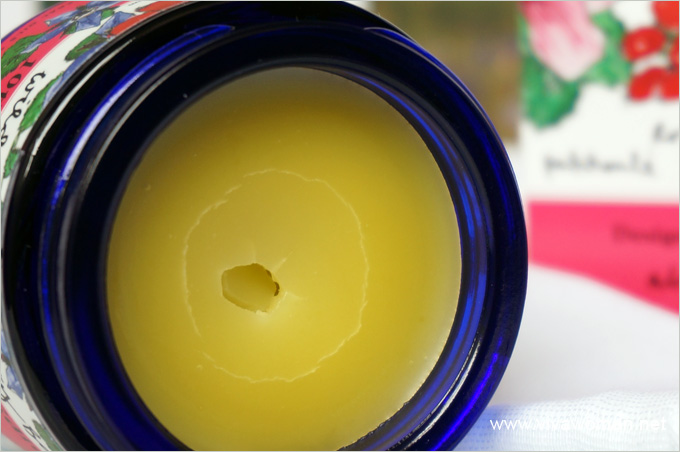 A smaller jar is ideal
But the Neal's Yard Remedies Wild Beauty Balm is not without merit. So I would recommend getting the smaller jar (unless you like the idea of using it as a cleanser, exfoliant or mask) but apparently, that size only comes with the Award-Winning Skincare Kit which I'd originally planned to review in this post until I realized I'd almost written a thesis on a balm! But I promise you the review will be ready shortly and I can just tell you now that it is a positive one for I love the entire range in there, in particular the White Tea Facial Mist, the White Tea Enriching Facial Mask, and the Beauty Sleep Concentrate.
Oh, don't ask me why the color of the balm in the 10th edition is so intense. It has the same ingredient list but perhaps the variation is due to fact that all Neal's Yard Remedies products are handcrafted.
Those of you from Singapore can pop by Neal's Yard Remedies' outlet at #01-75 Millenia Walk to check out their products. You can also find out more at their website. If I'm not wrong, they're currently running a 10% discount promo for the month of October.
By the way, if you've tried their Wild Rose Beauty Balm, do share your thoughts about it with me. I'm curious if I'm the only one feeling lacklustre about the product. Afterall, being an award-winner must mean it has done wonders for many right?
Neal's Yard Remedies Wild Rose Beauty Balm
Comments