Review of Everyday Minerals Foundation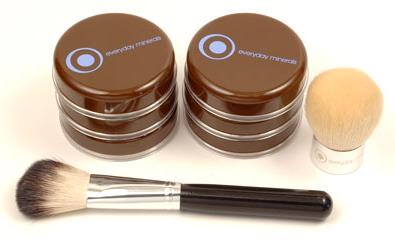 I haven't really touched my Everyday Minerals Foundation since it arrived like three months ago.  I mentioned during my last review of their Everyday Minerals Multi-tasking Concealer that I didn't picked the right shade.  But a few days ago, I decided to mix all the three shades of foundation into an empty container and voilà , I got a much closer shade to my skin tone.
And you know what?  I love Everyday Minerals Foundation!  The silky texture offers excellent coverage and gave me a smooth and porcelain-like finish.  I didn't even use any concealer except for a dab of the Everyday Minerals Multi-tasking concealer under my eye and I actually received a compliment from the SA at The Face Shop who told me I don't have any blemishes and didn't need their BB cream.  The foundation didn't sink into my pores to make them more obvious.  In fact, it stayed on the whole day and my face wasn't exceptionally oily looking afterwards either.  
I've been pleased with Erth Mineral Foundation that I've been using for the past six months but I have to concede that my face does look a tad shiny by midday when the weather is exceptionally hot.  To address the problem, I have to use a finishing powder.  I'm not sure if Everyday Minerals Foundation will give me the same problem as the weather is currently cooler but I noticed that they offer four formulas of foundation for different weather conditions.
Original Glo for that added touch of dewiness and long lasting coverage, and is ideal for normal to dry skin.

Semi-Matte for a more subtle glow, formulated for normal to combination skin.

Matte for a silky smooth matte finish that is ideal for normal to oily skin.

Intensive for a silky near-matte finish and controls oil where needed without drying your skin and is suitable for all skin types.
But I need to figure out which will work for me as I have mixed three different formulations based on Fawn Matte, Fawn Intensive and Golden Fair Original Glo.  The shade is also still a tad fair so I need to pick a darker shade the next round.  Picking the right shade is always a headache when it comes to choosing mineral foundations but the good thing is that Everyday Minerals has made it easy with their free sample makeup kit.  All is required is that you pay for shipping and you can get 3 foundations, 1 face color and 1 concealer.
And if you intend to order full kits from them, you may like to know that you can use discount code 7oukyM in your cart to get 7% off your order before December 24th.  In addition, all orders over $32 (after discount and minus shipping) receive Eve Dual Fiber Brush, as well as two exclusive full size eye shadow colors in Mistletoe and Tinsel Time.  While stocks last of course.
For me, I'll probably be ordering more Everyday Minerals Foundation soon.  The quality is good and the price is reasonable.  And I just read that they're going to launch their oil-free pressed powder soon! 
Comments