Review: Organic Surge Refreshing Toner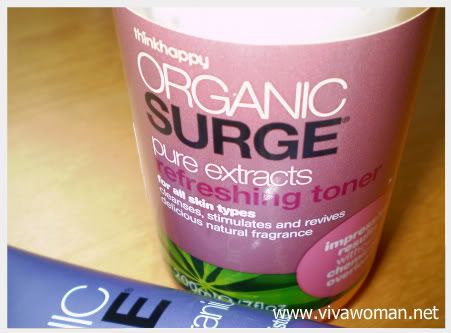 I was actually quite hesistant in getting the Organic Surge Pure Extracts Refreshing Toner.  But because I've already ran out of my usual toner and couldn't find an alternative quickly, so I got it eventually even though I was uncomfortable with the long list of ingredients, many of which don't look familiar to me.  But thank goodness this toner has not given me problems so far.  
Organic Surge Pure Extracts Refreshing Toner combines skin-calming chamomile and energising green tea, supposedly to stimulate and brighten complexion.  I was quite intrigued that it contains Absorbic Acid and apparently, the citrus ingredients can also help to provide antiseptic and balance acidity although I wonder if some of these are potentially skin irritants or drying for some skin types.  But I have to say with the combination of the various extracts, the smell of this toner is truly uplifting.  It's definitely a great pick me up!
Ingredients:
Aqua (water), Glycerin (vegetable), Peg 40 Hydrogenated Castor Oil (naturally derived), Ascorbic Acid (Vitamin C from fruits and vegetables),Citrus Bergamia, Citrus Linonum, Citrus Aurantifolia, Citrus Aurantium Dulcis, Cymbopogon Martini,Rosmarinus Officinalis, (Organic essential blend), Phenoxyethanol, Tocopherol (Natural Vitamin E), Camellia Sinensis Leaf (Natural plant extract),Anthemis Nobilis (Natural plant extract), Mentha Viridis (Natural Plant Extract), Disodium EDTA, Citral, Geraniol, Limonene, Linalool
On the whole, it looks like Organic Surge Pure Extracts Refreshing Toner has got an entire list of natural goodness but I found out that Disodium EDTA is actually toxic (source) and so I'm not exactly sure how true their claims that this toner contains no nasties or obscure chemicals is.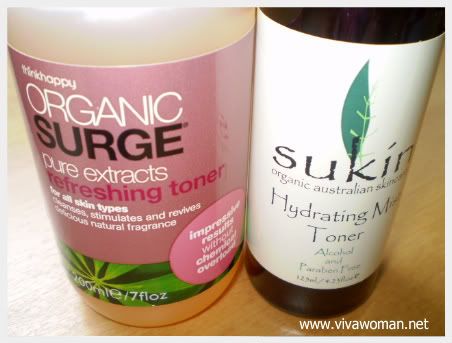 Seriously, I'm still uncomfortable with the fact that this toner has to be packed with so many ingredients.  I compared Organic Surge Pure Extracts Refreshing Toner to Sukin Hydrating Mist Toner which is also another affordable natural skin care product and I have to say that I much prefer the latter in terms of its ingredient listing which only states: Purified Water, rosewater, chamomile extract, Glycerin, Sodium Hydroxymethylglycinate (sutocide) vegetable and Citric Acid.  Smell wise, Sukin's also quite good too, although Organic Surge's outperforms with a more refreshing scent.  In terms of price, both seems comparable.  The 125ml Sukin Hydrating Mist Toner cost S$12.95 while the 200ml Organic Surge Refreshing Toner cost about S$20 or so.  (I got it cheaper at S$18+ so I don't know the exact retail price.)
Overall, I'll rate this toner 3 out of 5 but I'll tell you for certain that I won't be buying this again.  Natural or not, I'll stick to using Organic Surge products only on my body in future.
Organic Surge Products are available in selected Guardian stores.
Comments