Review: Yes To Carrots C Me Smile Lip Butter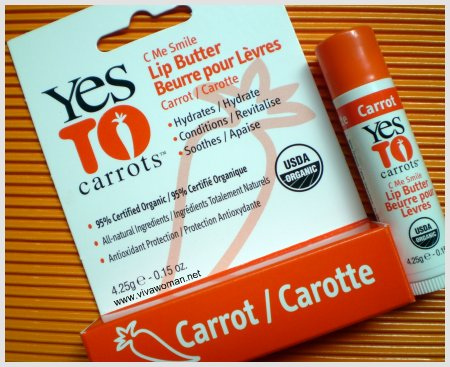 This is my new favorite lip balm of the moment! The super nourishing and conditioning Yes To Carrots C Me Smile Lip Butter in carrot flavor! It smells and feel delicious! And the best part is that it is 95% certified organic by the US Department of Agriculture (USDA).
Retail price is too attractive
Actually, this is my first purchase from the Yes To Carrots range. Somehow, I have not been keen on their products even though I like their packaging; probably because they don't offer a normal foaming facial wash. But their C Me Smile Lip Butter caught my eye with their organic certification plus their retail price of S$5.90 each! YESH! Just compare this price to the $12 Lavera organic lip balms.
Lovely smell and perfect texture
I love how the light scent of this lip butter smell. And because the main ingredients of this lip butter are coconut and olive oils, it feels super rich immediately upon application. However, the rich ingredients are absorbed after awhile, leaving my lips sufficiently hydrated and comfortably nourished. Works as a perfect base for my lipstick too!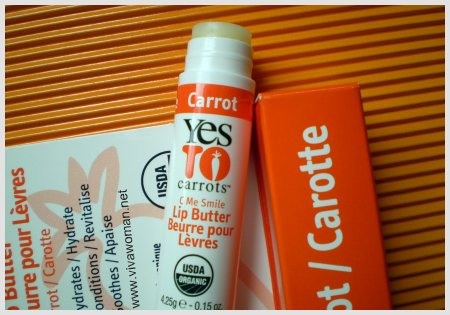 The lip butter also contains vitamin E and that is great stuff to protect our lips against all the free radicals. No parabens, no petrolatum but only natural ingredients.
Carrot ingredients
Cocos Nucifera (Coconut) Oil*, Olea Europaea (Olive) Fruit Oil*, Cera Alba (Beeswax)*, Simmondsia Chinensis (Jojoba) Seed Oil*, Flavor, Helianthus Annuus (Sunflower) Seed Oil*, Butyrospermum Parkii (Shea Butter)*, Limonene*,Tocopherol, Citral*, Linalool*, Geraniol*, Citronellol*, Citrus Aurantium Dulcis(Orange) Peel Extract*, Cucumis Melo Cantalupensis (Melon) Seed Extract*, Cucurbita Pepo (Pumpkin) Seed Extract*, Daucus Carota Sativa (Carrot) Root Extract*, Eugenol*. *Organic
Available in five flavors
According to the website, Yes To Carrots C Me Smile Lip Butter comes in five flavors – Carrot, Berry, Mint, Melon & Citrus. However I only saw three at the Watsons I visited and they were Carrot, Berry and Mint. I was tempted to get the berry flavor too but had to stopped myself because I already have too many lip balms that are barely used. But knowing me, I'll probably go and grab another soon.
Summary
So you can tell that I really love this lip balm. Because it does what it says and that is to hydrate, condition and soothe. Plus at $5.90, it's such a steal for an organic lip butter. In fact, I'm starting to think about trying their other stuff. Or maybe I'll just wait till the new Yes To Tomatoes and Yes To Cucumbers become available here.
Comments