Viva Shop Feature: Yours Essentially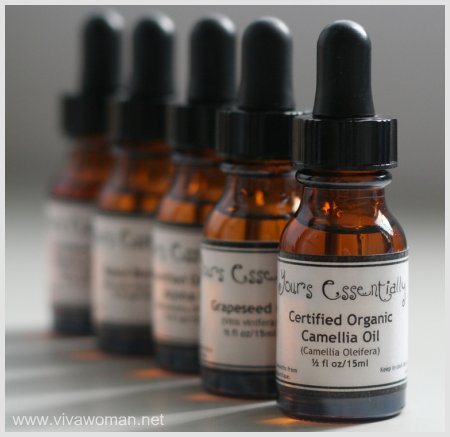 I'm really excited about today's shop feature on Yours Essentially, an online store from Singapore that offers natural skincare ingredients like carrier oils, essential oils, hydrosols, clays and some body butters.
With more women increasingly interested in DIY beauty, I hope to use this feature to give a glimpse into the behind-the-scene operations of such online stores. And I have Jess and Louis to thank for agreeing to participate in this feature, and at the same time, giving me more insights on how they run their business. They even had a video made, to show us how they prepare their products.
Inspiration for selling natural skincare ingredients
Jess told me that Yours Essentially really started out of an interest to share the benefits of using natural skincare with others. "We do see more people who are interested in natural skin care and looking at simple, basic ingredients for their skin care regime."
Hence, since their operations in March this year, Yours Essentially has been offering mostly preservative-free natural skin care to their customers. House blends such as creams and lotions are limited though. "It isn't difficult for us to concoct a cream or lotion by adding preservatives and put it up for sale, but unless we can be completely sure that synthetic preservatives will not cause any ill-effects, we will not even be using paraben-free preservatives in our house blends."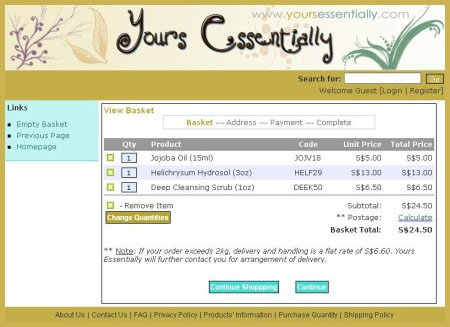 New website to improve order processing
Customers of Yours Essentially would have already known that they've recently launched a new website. Compared to their old blogspot site, the new website is not only aesthetically appealing, but comes with an online shopping cart which improves the processing of all orders. I have ordered products from the company before the new website was up and was already impressed with their speed of delivery plus the effort taken in packaging the bottles.
Thorough follow through with complete delivery information
Because Yours Essentially is a home-based small operation, they try to improve their efficiency by consolidating customer orders and limit packaging to twice a week. The company also makes an effort to notify customers of the registered article number when their orders are sent or in cases of normal mails, an image of their package will be sent to the customer for their reference. I also learnt that Yours Essentially have also hand delivered packages for orders that were too heavy.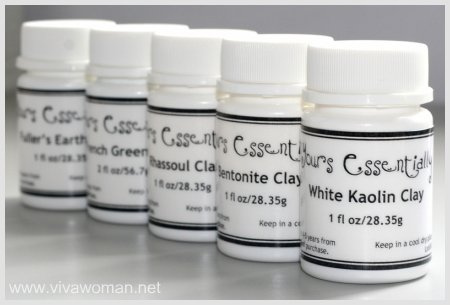 Proper adherence to cosmetics regulations
As a customer, I was interested to find out how Yours Essentially go about ensuring the quality and freshness of their products especially since theirs are natural ingredients proned to contamination. I was assured that all the products that the company bring in are notified with the Health Science Authority which regulate the local cosmetic industry. In addition, Yours Essentially does not bring stock in big volumes to ensure freshness, and those products that do not sell as well would be taken off and replaced with new stock once they are near expiry.
Proper evaluation of product soure
The company also ensures a proper system of evaluation prior to bringing in their supplies. On top of testing the product quality themselves, Yours Essentially also ensures that their suppliers are able to provide proper certification if they are offering ingredients of certified organic variety. "As we are also natural product end users, we are particular about the cultivation methods which would provide us a clearer picture whether the product is organically grown, ethically harvested, or if they are pesticide free." The certificate for certified organic products are also readily available upon customer's request.
Stringent hygenic standards in handling natural ingredients
I was quite impressed after watching this video which shows how Yours Essentially goes about preparing the products. As you can see from the video, Yours Essentially exercises stringent hygenic standards in handling their natural ingredients. Thorough care is made in terms of cleansing the bottles, pouring the mix and packing the end products. I say I feel a lot at ease knowing that the ingredients I use on my face are properly packed and safe to use.
Expanding product range
Naturally, Yours Essentially started first by bringing in a range of common products as well as products they have used before. While they hope to expand their product line with new products, but it will take them some time as they need to source and evaluate the products before putting them up for sale. "We do get requests to bring in certain products, and if we think that they are good enough for personal use and get enough requests, we would source for them and put them up on the site. We also do our own research to find out which products are good and worth bringing in."
Strong passion and commitment
Well, I hope customers of Yours Essentially have a better idea of what goes behind the website now. It's certainly an interesting learning point for me and I applaud Jess and Louis for their passion in natural skincare as well as commitment in bringing in only quality ingredients and making it available to us here in Singapore. I have enjoyed using their products so far and certainly look forward to them expanding their product line to bring us more excellent natural ingredients!
Comments