DIY Beauty: making Korean BB Cream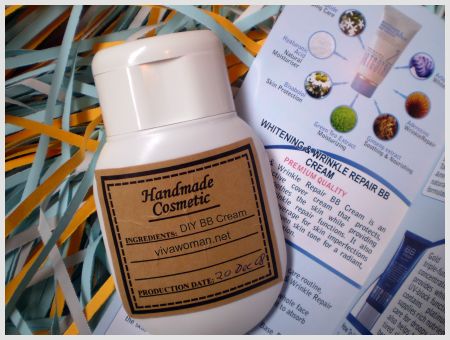 I've always wanted a BB cream but have stopped short of getting one because I wasn't very keen on the long list of ingredients seen on the packaging. So of course I was elated when I finally had a chance to make my own BB cream during the DIY natural skin care workshop at Jayeon Miyin.  It was the most interesting of the three products we made that day, and it was also the most challenging.  Here I'll share with you the recipe but unless you're pretty well versed in making skin care products already, I'll suggest you make this with some sort expert guidiance or attend the DIY workshop.
What you need
Oil ingredients
rosehip oil 5g, jojoba oil 5g, olive wax 5g, cetyl alcohol 1g, vit E 2g
Powdered ingredients
cinnamate 4g, diethicone 1g, IPM 1g, silver pearl 1g, color powder 14g, titanium dioxide 5g
Water
chamomile water 70g (distilled water can be used in place)
Essential oil
rose geranium essential oil 10 drops, lavender 5 drops
Additional ingredients
herb preservative 4g, hyaluronic acid 5g, whitense 3g, placenta 2g
How to make
1. Measure the oil wax and emulsifier and warm up in a double boiler to about 65 – 70 degree C, then add powdered ingredients and mix well.
2. Measure water and warm up to about 65 – 70 degree C.
3. Pour warm water to oil mixutre slowly and blend with a blender.
4. Add essential oil and additional ingredients.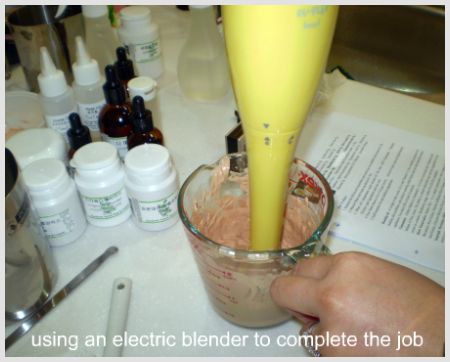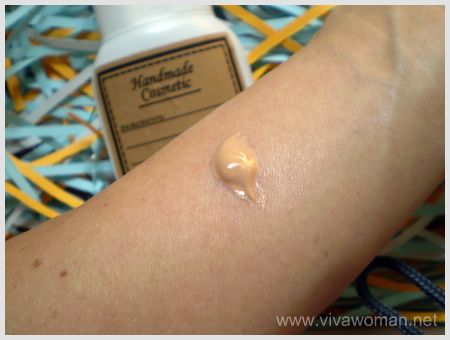 Mixture and temperature must be consistent
The reason why I said this BB cream should be made with expert supervision is because some of the mixtures need to be concocted simultaneously.  In addition, the temperature and consistency must be correct.  Even the blending skills ought to be right.  In fact, we had to throw away the first set of the oil ingredients because the weighing scale wasn't registering the weight of one of the ingredients.  Without the trainer, we would have continued adding not knowing what was the right amount.
Natural BB cream with natural preservative
The end result was a natural BB cream that looks like a liquid foundation and smells delicious with the rose geranium and lavender scents.  Although it contains dimethicone, the content is very small at 1g so I am happy to use it.   I forgot the amount of BB cream in the tube but was told that the formulation will expire in 6 months.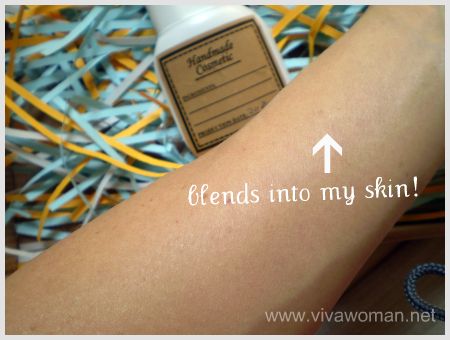 How it measures up
Although I've not used BB cream before, but based on those that I've sampled, this DIY BB cream is quite light and provides a sheer coverage.  In fact, it sounds very close to the BRTC Cover BB Cream that AskMeWhats had reviewed recently.  I could not cover my blemishes with this cream but it did give me a somewhat even tone and so I'm using it as a liquid foundation instead.   I think it is possible to make a thicker BB cream depending on the mixture of the ingredients as well as the way it is blended.  Tthe trainer also told us it's possible to make the cream more shimmery by adding more silver pearl.
DIY workshop promotion
If you're based in Singapore and you're keen to try making your own BB cream, then you may want to take advantage of the special promo that Jayeon Miyin is offering to 10 readers of Viva Woman.   Instead of the usual price of S$98, you'll only need to pay $78 by quoting the promo code "Vivawoman".   Just check their website on the workshop details and call 6536 2908 to make your appointment.
Comments