Get Broad Spectrum SPF30 Sun Protection From Juice Beauty Stem Cellular CC Cream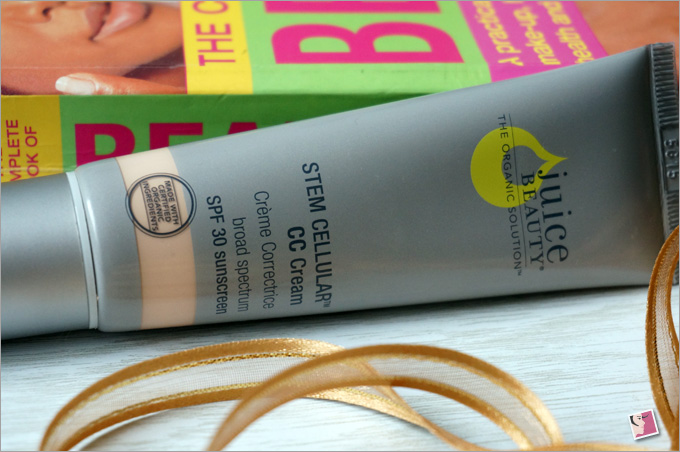 Hey sunscreen buffs! Keen to try a CC cream with a whopping 20 percent non-nano, micronized zinc oxide? YES? A CC cream that offers full spectrum SPF30 sun protection? YES? A 12-in-1 multitasker? YES? Then you need to check out Juice Beauty Stem Cellular CC Cream.
Some of you may recall my heads up on this CC cream in my recent post about the Juice Beauty Stem Cellular Anti-Wrinkle Collection. I'd briefly mentioned that I was won over by the product but what I didn't share were my initial conflicting thoughts about it.
You see, I'm always game when it comes to trying CC creams from natural or organic brands. I just can't wait to try them. Juice Beauty Stem Cellular CC Cream was no different. I wanted to try it once I knew it was available in Singapore. In fact, it was the first product in the stem cellular collection that I picked up to use.
Unfortunately, I wasn't too impressed. It did a fair job in terms of color correcting but I couldn't help but compare it to two cheaper CC creams in the natural category which I've used. Not only did they cost lesser, they performed better!
I was sorely disappointed and promptly put this product away, wanting nothing to do with Juice Beauty Stem Cellular CC Cream again. But something happened later…something that caused me to give it another chance. As I began using the other skin care products in the Juice Beauty Stem Cellular collection and liked what I saw, I decided to take a second look at Juice Beauty Stem Cellular CC Cream.
Contains 20 percent zinc oxide
I was still very hesitant given my mediocre experience until I noticed that this CC cream contains 20 percent non-nano, micronized zinc oxide. Wait a minute. This is not just a CC cream…this is a broad spectrum sunscreen! And that's what it says on the packaging: this is a broad spectrum SPF30 sunscreen! How did I miss that? o.O
Woah…that got me really excited because I have always preferred sunscreens containing 20 per cent or higher zinc oxide. And this works out to be a perfect sunscreen that doesn't leave a white cast or or an oily slick on my face. I almost let a good sunscreen slipped from my fingertips.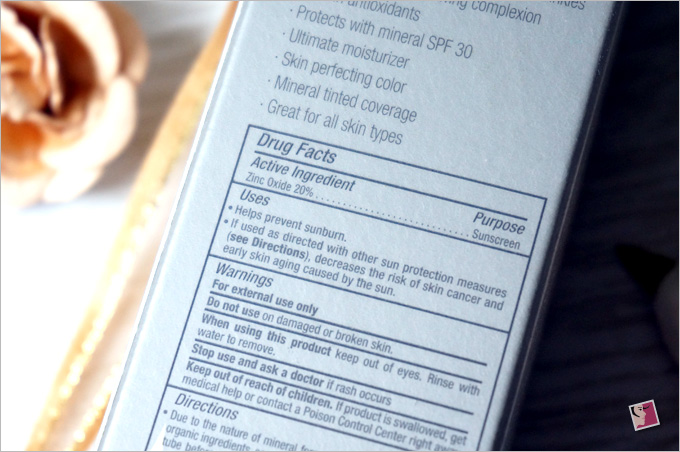 Powerful age-defying ingredients
Here's what's inside the Juice Beauty Stem Cellular CC Cream:
Active Ingredient: Zinc Oxide 20%
Inactive Ingredients: Juice Beauty proprietary blend of fruit stem cells: apple buds, grape buds & lemon bark. Organic juices of pyrus malus (organic apple juice)*, vitis vinifera (organic white grape juice)*, aloe barbadensis (organic aloe leaf juice)*, cocos nucifera (organic coconut oil)*, caprylic/capric triglyceride, sorbitan stearate, ricinus communis (castor seed oil), polyglyceryl-10 laurate, magnesium sulfate, helianthus annuus (organic sunflower seed oil)*, simmondsia chinensis (organic jojoba seed oil)*, tocopherol (Vitamin E), magnesium ascorbyl phosphate (Vitamin C), sodium hyaluronate (vegetable hyaluronic acid), malus sylvestris (apple buds), vitis vinifera (grape buds) & citrus limonum (lemon bark), iron oxides, phenethyl alcohol, ethylhexylglycerin, citrus reticulata (mandarin) & citrus aurantium (petitgrain) pure essential oils.
* = Certified organic ingredient
Like the rest of the products in the Juice Beauty Stem Cellular collection, Juice Beauty Stem Cellular CC Cream is formulated with advanced high potency ingredients including a blend of Vitamin C and fruit stem cells infused into an organic resveratrol rich grapeseed base. So this CC cream contains some powerful age-defying ingredients that are great to counter fine lines and wrinkles.
Is this an organic product? Well, not in the strict sense but it is made with some organic ingredients and it does not contain parabens, petroleum, propylene or butylene glycol, sodium lauryl sulfates, pesticides, phthalates, artificial dyes or synthetic fragrances.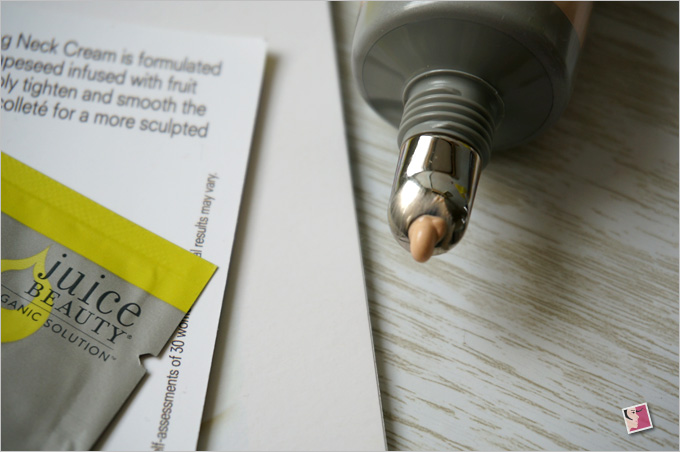 A multitasker
Juice Beauty calls this product a 12-in-1 multitasker because the product is supposed to deliver the following benefits:
-Reduces appearance of fine lines & wrinkles
-Broad spectrum sun protection
-Evens skin tone
-Smoothens uneven texture
-Creates a radiant, glowing complexions the
-Rich in antioxidants
-Protects with mineral SPF 30
-Ultimate moisturizer
-Skin perfecting color
-Mineral tinted coverage
-No chemical sunscreen
-Non-nano natural sunscreen
When I first read the words "12-in-1 multitasker", I had to do a double take. I thought it was a typo. Seriously? 12-in-1? While many of the benefits are real, some are a bit of a stretch and comes across more like marketing fluff to me. Keeping it to a CC cream with SPF30 broad spectrum protection is already a good selling point IMO.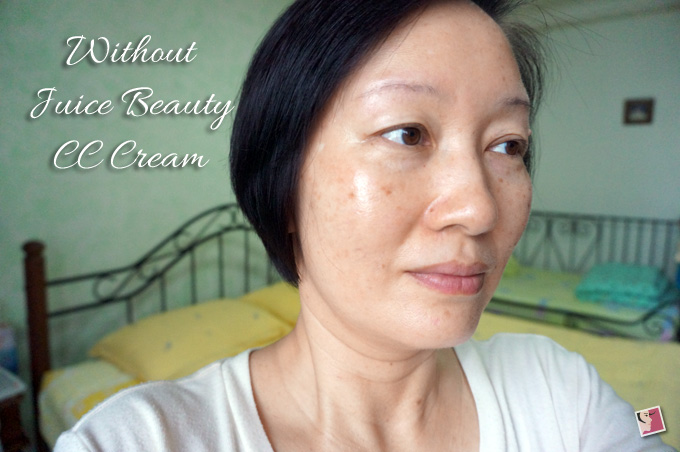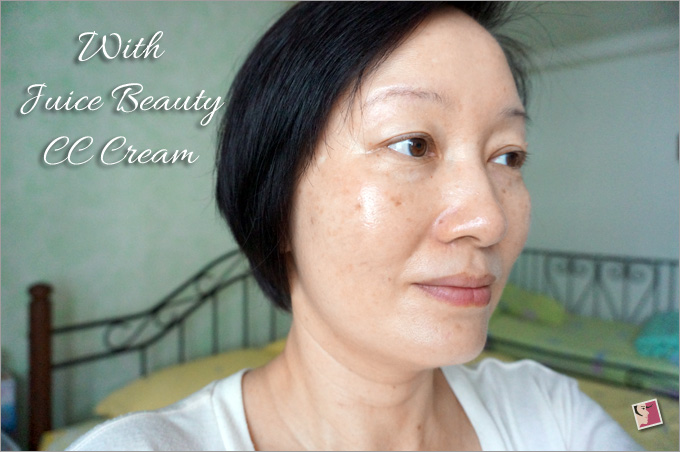 Overall thoughts
As a CC cream, I feel meh about how I look in it. But as a sunscreen, I think I look great. The coverage is natural and rather sheer. Yet, it gave my complexion some glow and radiance.
But I'll credit the brand for formulating different shades for different skin tones especially when most CC creams in the market are made with very limited shades. I'm using the lightest Natural Glow. If your skin is darker, you can consider Desert Glow, Warm Glow, Sun-kissed Glow or even Deep Glow.
Would I purchase this 50ml CC cream for S$70? Yes…the price is high but I would pay for it because I can't find that many good zinc oxide based sunscreens that apply well and this formulation is superior. I like it as a skin care product. After experiencing positive results from the other Juice Beauty stem cellular range, I believe using this CC cream long term would benefit my skin.
But don't expect too much from it as a CC cream. This product works best for those who can handle a sheer coverage. If you don't have flawless complexion, then use this CC cream with a foundation.
Interested to give Juice Beauty Stem Cellular CC Cream a go? Check out more details at Bud Cosmetics. Those outside Singapore should check out Juice Beauty's website to find the nearest availability.
What do you think about using CC cream as a sunscreen? Nay or Yay? Would you give Juice Beauty Stem Cellular CC Cream a go?
Product highlighted is a media sample and this review is in line with my disclosure policy.
Juice Beauty Stem Cellular CC Cream
Pros
Offers SPF30 sun protection
Applies well
Contains superior ingredients
Cons
Coverage is very sheer
Expensive
Comments