DIY Beauty: cooking oil for dry hands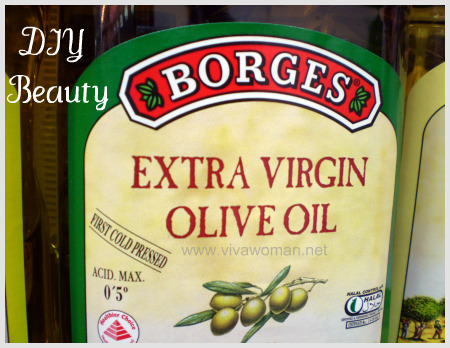 Due to changes in the domestic front, I've to do more household chores and as a result, my hands have become rather dry.  It's not practical to keep putting on hand cream when I have to use my hands all the time plus I'm concerned about the hand cream getting in the way during food preparation.  As such, I've been thinking about what I can use on my hands from the kitchen.  Then it struck me that the extra virgin olive oil that I use for cooking is probably ideal.  And it is!
I read that organic is best because it is the least processed and retains the highest nutrient value.  However, we don't use the organic formula for cooking and so I just make do with the normal version. 
Protect with a pair of disposable plastic gloves
Because it is oily, I decided to use this in the night at first.  I pour about a tablespoon and rub the oil liberally on both my hands, massaging into my fingertips and cuticles especially.  After which, I put on a pair of disposable plastic gloves and leave it on for half an hour.  The gloves aren't thick and so I could continue to use my hands in performing normal tasks.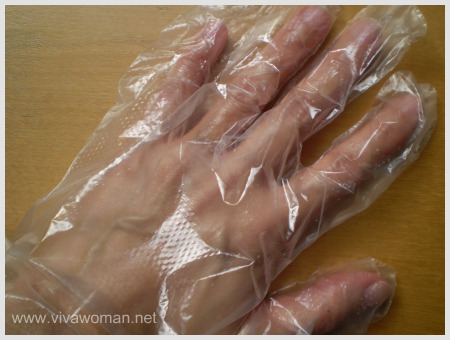 Pat off the excess oil with a paper towel
After half an hour, I removed the gloves and my hands still feel oily.  Instead of washing them, I just used a paper towel to pat off the excess oil and continue massaging my hands until they don't feel so oily.  What's really amazing is that after about 10 minutes or so, the olive oil absorbed into my skin and they felt so soft and smooth!  My fingertips which were the driest were evidently less so.  I also noticed that my cuticles look much better the morning after.
Perfect for moisturizing hands too
After the delightful experience, I've started to use the extra virgin olive oil on my hands nightly now.  In fact, I not only use it at night but during the day too to moisturize my hands.  I use about a teaspoon each time and rub the oil into my hands and then pat off the excess with a paper towel.  This is great because my hands are nourished and yet I don't have to worry about the oil especially when I'm preparing food for the family.
Extra virgin olive oil is great for moisturizing skin
If you're keen to try this, please make sure you're using extra virgin olive oil and not any other normal cooking oil because the former is great for moisturizing skin.   In fact, I know many ladies use EVOO to moisturize their face.   As I've mentioned, organic is best but if you can't get that, then the normal will do too.
Comments