DIY Beauty: fix your beauty with that cooking oil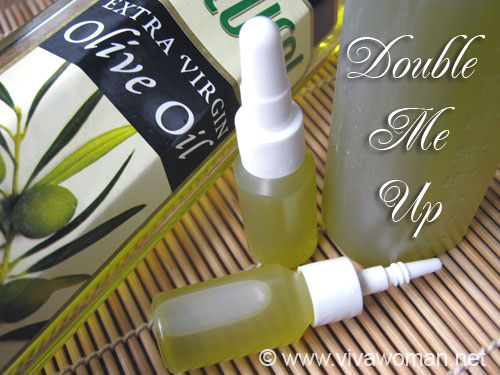 Some readers had responded to my post of yesterday on my Facebook page instead and amongst them, Hui Hui, who was sharing her must-have beauty item in her bag mentioned something interesting about using extra virgin olive oil as her lip balm.
…try using extra virgin olive oil as lip balm.. it is natural, effective and it is not harmful even if you swallow it! Cheap & effective! It cured my REALLY dry chapped lips last time.
Yes, truly. Extra virgin olive oil or EVOO for short, is not just good for cooking, it is great as a beauty fix too! And there are so many ways you can use this kitchen oil, just straight from the bottle!
Lip balm and cuticle moisturizer on the go
Other than being used as a lip balm, you can also rub some into your dry cuticles. Some people may find it a chore to use this, thinking it's difficult to carry it around. Well, it's a chore if you're thinking of carrying the entire big bottle around but you can transfer some of the oil into those small plastic dispensers, like what you see in the picture, which makes it easy to bring the oil around. I got mine from Sasa and it's so handy.
Dry hands savior
I wrote a post (click through to read) about using extra virgin olive oil to moisturize dry hands. Granted it's a little messy but it's really effective. And all you need are just EVOO and a pair of disposable gloves.
Smooth silk hands
This is my simple recipe to keep your hands silky smooth:
– 5 teaspoons of brown sugar
– 2 teaspoons of honey
– 3 teaspoons of extra virgin oil
I found this really great for exfoliation and moisturizing as I don't need to use a separate hand cream afterwards. Because I didn't want to attract ants, I only used it on my hands. You can increase the amount made and use it as a body scrub too. And if you can get really fine granulated sugar, you can use it as a lip scrub too.
Emergency makeup remover
Okay, I don't always use this but it's during emergency when I run out of stuff to remove my eye makeup. Just pour a little onto a cotton pad and wipe. However, it is really oily, and so you'll need a foaming cleanser to wash off. I don't recommend using this for the entire face as it is too oily. It'll work if you're into the oil cleansing method where really hot water is used.
Other ways to use extra virgin cooking oil
I think there are tons of ways you can use the oil but I'm only sharing those I know or have tried personally. The oil can also be used to tame frizzy hair, soften cracked heels or hardened spots on your knees or elbows. You just need to think beyond cooking!
Comments