Can we use men's skin care products?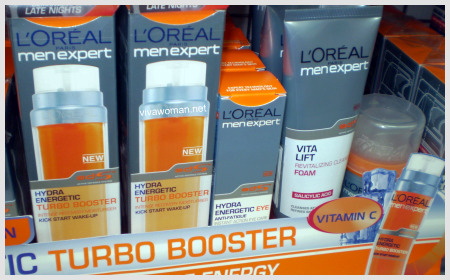 I think it's pretty normal that our partner or spouse share our skin care products. For example, my husband is always a prime candidate for stuff I don't want to use anymore and these include facial cleansers, toners, moisturizers and even sunscreens. However, with the development of more skin care products targeting men specifically, is the reverse true? Can we use their products on our skin?
(Though I can't find any reason why we would want to do that really…)
Most of us probably think that women's skin are more delicate than men's and that men have thicker skin. Well, you're right! According to L'Oreal who have developed a line of skin care for the guys under Men Expert, "men have thicker and oilier skin, more prominent pores, and their faces truly suffer from regular shaving."
Men's skin produces more oil than women's. This is the reason why most men's skin are oily to very oily. This is also the reason why men's skin is more acidic in pH. Men's skin is also 24% to 32% thicker than women's due to higher collagen…Men's skin is firmer than women until around the age of 30. But men's skin loses firmness faster than women after that age. (source)
So if you're thinking of using your partner's or your spouse's skin care products, think again! You can loan them your products but you don't really want to borrow theirs…
Anyway, we probably need to spend some time to educate our men about proper skin care if they're serious about taking care of their skin. I was a tad concerned that my husband wanted to try the L'Oreal Men Expert serum containing vitamin C but not knowing anything with regards to sun sensitivity and sun care. It didn't help that there are no proper warnings on the product either. Hence, in their case, I think it's probably better for them to use the entire line of products which would compliment and enhance one another. Anyway, they don't have as many choices as women so this really makes things a lot easier. Heh.
Comments