Grapeseed oil for better skin collagen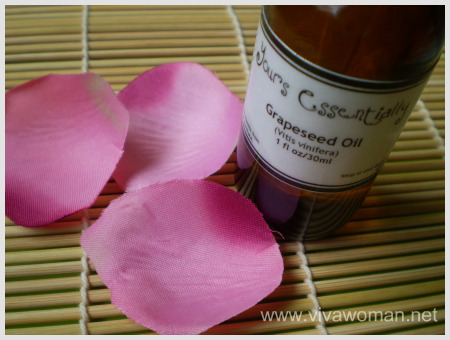 Some weeks ago, I wrote that Margo Marrone recommended women to use an oil underneath their moisturizer in her new book The Organic Pharmacy. If you would like to heed her advice and are looking for a suitable natural carrier oil to apply, I would highly recommend you to try Grapeseed oil.
Light texture that penetrates easily into the skin
I've been using Grapeseed oil daily now instead of my vitamic C serum which I only use in the night. I only need about 3 – 4 drops of the oil for my entire face and it is so light, it absorbs into my skin quite quickly, providing a satin finish without a greasy residue. I like it very much because it is much lighter than Jojoba oil, is slightly astringent and is the perfect oil for me to apply underneath my sunscreen or moisturizer.  
Powerful antioxidant for anti-aging benefits
And what I found best about Grapeseed oil is that is is a powerful antioxidant that protects the skin from premature aging, is effective in fighting acne and it can even shrink varicose veins. In fact, I read that it helps to protect the skin from sun damage and this is why I find it a great oil to use along with my sunscreen.
Contains more antioxidant power than vitamin C & E
In addition, I also read that scientific studies have shown that the antioxidant power of proanthocyanidins found in Grapeseed extract is 50 times greater than vitamin E and 20 times greater than vitamin C. The following is what I've picked out from Lush's website about the oil.
Biochemists and medical scientists researching the health benefits of grapeseed oil have found it to contain oligomeric proanthocyanidins (otherwise known as OPCs); a class of flavonoid complexes that act as antioxidants (free radical scavengers) in the human body. Sea Buckthorn oil, Grapeseed oil and the skin of the grape are all good sources of OPCs.

One of the fascinating elements of OPCs activity in cosmetics context is the role they play in the stabilization of collagen and maintenance of elastin (proteins in connective tissue that support organs, such as our skin).
Looks like the improvement in my skin's texture is not just due to the Sea Buckthorn oil I've been applying in the night but also the Grapeseed oil I've been applying in the day!
Comments