Is Sea Buckthorn Oil a miracle worker?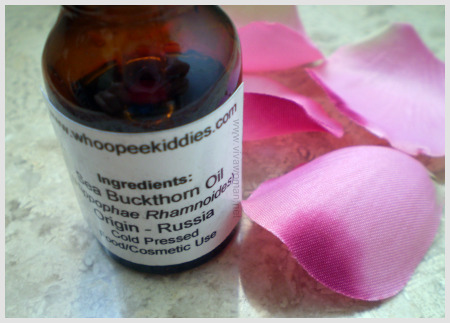 I first learnt of Sea Buckthorn oil from Leon at her beauty forum Glowing Diva where she posted about how the oil can help combat wrinkles. And because it was available at Whoopeekiddies, I ordered a bottle to try out.
Sea Buckthorn Berry Oil has higher vitamin C
There are two types of Sea Buckthorn oil – one is the Sea Buckthorn Seed oil and the other is the Sea Buckthorn Berry oil and each is supposed to have their own benefits. The one I bought is the Sea Buckthorn Berry oil because it is the only one available at Whoopeekiddies.  This version is apparently higher in vitamin C and has Vitamins A, B1, B2, E, and other mixed Tocopherols and Phytosterols, Flavonoids plus numerous other essential fatty acids. It is a rich amber color and can stain our skin albeit temporarily and hence, can only be used in the night because it makes me look like a "huang lian po" which is literally translated to "brown face lady" in English.
Topical application great for skin conditioning and repair
Because of its high antioxidant values, Sea Buckthorn Berry Seed Oil makes for great skin conditioning and repairing. Many sources have stated that topical application of the oil has produced significant improvement in the symptoms of dermatitis, eczema, psoriasis, burns and other inflammatory skin conditions. However, what attracted me was that Sea Buckthorn oil has also shown successful improvement in skin pigmentation conditions, freckles and prematurely aging skin. In fact, I found out that Sea Buckthorn berry is second only to Rose Hip and Acerola in vitamin C content.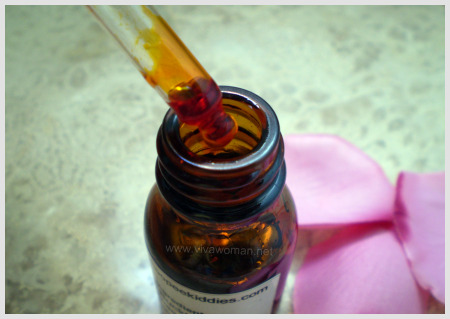 Sea Buckthorn Berry Oil has a rich staining color & distinct smell
Besides the color, the oil has a distinct smell which isn't very appealing.  So as a whole, it isn't a pleasant oil to begin with.  However, don't be misled by its appearance and smell.  I'm so thrilled that this oil has helped lightened some of my pigmented spots!  It has also helped to reduce some of the fine lines around my eyes though the extent is below my expectations.  My suspicion is that the Sea Buckthorn Seed Oil may do a better job with wrinkles and fine lines because it has a balance of Omega 3 and Omega 9.
Fairly light texture easily absorbed by the skin
Inspite of its rich color and smell, Sea Buckthorn Berry Oil has a fairly light texture.  I only need about three drops for my entire face and it is quickly absorbed into the skin and doesn't leave a greasy film.  In fact, I was even able to apply a moisturizer on top of using this oil.  The only problem is that it does leave a yellow stain on my shirt and bed sheet if I'm not careful.
May bring out toxins contributing to an inital breakout
I'm also not sure if using this oil has contributed to a breakout because some of the websites that sell this oil indicated that it will bring out the toxins from our skin but our skin will get better with continued usage.  Perhaps that could be one of the reasons contributing to my cheek acne although they have very much subsided now.
Overall summary
I've seen some products like those under Aubrey Organics containing this ingredient.  However, I prefer to stick to the original oil.  I'm almost done with the bottle of my Sea Buckthorn Berry oil and am rather pleased with the results.  I will continue using it but I may switch to getting the Sea Buckthorn Seed oil provided I can find a suitable source of supply within reasonable cost.  Hopefully, it can help eradicate my annoying pigmentation in time!
Comments