Korean beauty tips on how to cleanse your face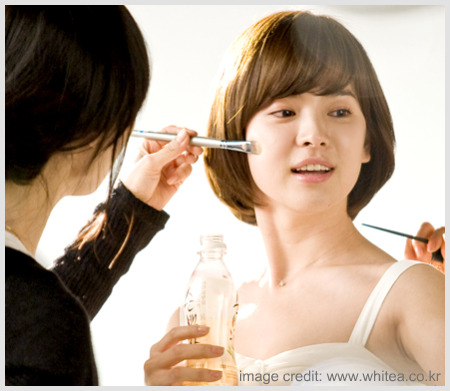 I just came across an article from Bangkok Post featuring world-renowned Korean make-up artist Lee Hyun Ah who has worked on various Korean celebrities including Rain to television series princess Yoon Eun Hye. In the article, Lee shared the secrets behind Korean divas' beauty and I particularly found her comments on the cleansing routine worth highlighting.
Final rinse with cold water
Like all other beauty experts, Lee said that cleansing was the most important step in a beauty regime.  She recommends using eye make-up remover on a daily basis, followed by a cleansing cream and then a gentle facial foam.   And check this she said:
 Start with warm water or room-temperature water and finish with cold water to close the pores. 
While I don't necessary agree with using a separate eye makeup remover and cleansing cream since it depends on your skin type and if you're already using a cleansing oil, but her tip on using a cold water rinse definitely answers my question Is it good to wash our face with cold water? and addresses the water temperature concerns some of you may have.
Keeping separate bath and facial towels
I've taken a whole new perspective on facial cleansing these days.  In the past, though I was pretty diligent on ensuring that I remove my facial makeup properly at the end of each day, I just gone with the motion when it comes to facial cleansing without giving it much thoughts.  But after my recent breakout, I started to review my cleansing routine completely to ensure I've got the process correct such as washing my face after shampooing my hair during my shower.  I even got myself a new face towel just to pat dry my face because I've always used my bath towel as an all-in-one!  Like Lee mentioned, "you can't be lazy if you want to be beautiful!"
Using a facial mask consistently twice a week
This is why Lee said that even though Korean girls have naturally beautiful skin, but they do not take it for granted and do put a lot of effort in taking care of their skin.  Besides thoroughly cleansing their face, their daily beauty regime include moisturising, eye cream, applying serum and using a facial mask at least twice a week.  Again, I concur with this because I've seen how my skin condition has improved with using a facial mask frequently.  In fact, I even found that it's possible to use a gentle facial mask daily if the my skin condition is poor.  The trick is to choose the right mask which works for your skin and meets your concerns.   My current love definitely goes to herbal clay masks!

Use of minimal liquid foundation for hot climate
If you want to find out more tips from Lee, check out the article here where she also suggested using minimal liquid foundation rather than a creamy texture for the gals in Thailand due to their hot climate.  
Matte foundation works better in hot weather because it doesn't make the face look too shiny. The moisturiser should also contain as little oil as possible.
This definitely applies to us in Singapore given our oppressively hot weather!
Comments