10 Beauty Benefits Of Taking Cold Showers That Even Celebrities Swear By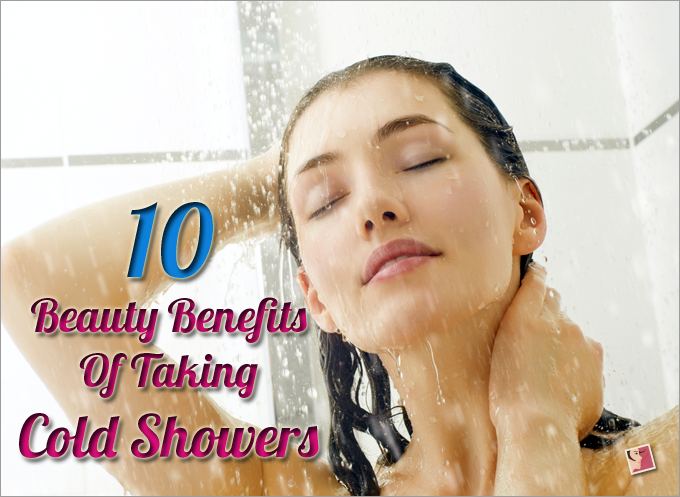 I embraced a new beauty routine in the new year. I ditched the water heater for cold showers.
No big deal in tropical Singapore? Well, with the current chilly weather due to rain, showering in completely cold water before 7 in the morning is no mean feat. Not especially after years of using warm water.
I'd tried showering in cold water some years ago but it wasn't too long before I reverted to the water heater. So why the sudden change in routine? Well, call it celebrity inspiration. Heh.
You see, I just found out that the cold shower therapy is popular with some celebrities for its anti-aging benefits. Not just celebrities, even dermatologists are corroborating. I'll tell you who these celebrities are in a jiffy but let's look at some of beauty benefits of using cold water in our shower.
1. Improves skin complexion
Showering in cold water will help bring blood to the capillaries and increase circulation for your skin and throughout the body. In fact, a better blood flow will improve the delivery of oxygen and nutrients to your skin and help you achieve a radiant, glowing complexion.
2. Prevents skin from drying out
Hot water is good to remove grease and grime but it tends to strip your skin's natural lipids, causing skin to dry out. Cold water on the other hand does not strip the skin of its natural lipids. In fact, cold water constricts openings of sebaceous glands and help moderate sebum production.
3. Alleviates skin ailments
Because hot water strips away your natural lipids, it can exacerbate skin conditions like acne, eczema, and psoriasis. So those with skin ailments may be better off using cold water (it may take some time though). Come to think of it, Gracie's skin condition has improved by leaps and bounds after I switched to using cold water to bathe her.
4. Tightens skin pores
While hot water opens up the pores, showering in cold water helps to tighten the pores temporarily, preventing them from getting clogged with dirt and oil.
5. Reduces swelling and puffiness
Showering in cold water help to constrict blood vessels, and aid to reduce swelling and puffiness as well as the appearance of dark circles under your eyes where the skin is at its thinnest.
6. Makes hair look shinier and less frizzy
Cold showers can make hair look shinier and less frizzy because the lower temperature helps to close the scales of the cuticle and flatten hair follicles.
7. Prevents dandruff
Using cold water on your head means your scalp is less prone to drying, a common cause for dandruff.
8. Slows down hair loss
Cold shower makes your hair stronger and prevents hair from being easily pulled out. So cold water also slows down hair loss. In fact, rinsing your hair with cold water at the end of your shower stimulates your hair follicles, which increases hair growth.
9.Aids in weight loss
Cold showers can aid weight loss because the body has to burn energy to keep your body temperature up. Apparently, cold showers also prevent the body from developing an extra layer of fat.
10.Promotes better sleep
Your body temperature plays a big role in getting a good night's rest and we know how important sleep is for beauty. If you're going to have a shower before bed, make it a cold one. Anyway, you simply can't get to sleep as easily if your body temperature is too warm. This is why you fall asleep faster in an air-conditioned room.
Exceptions
While cold water is great for the many benefits I've listed (as well as others I've not put down), there are some exceptions. One is when you're cleaning makeup off your face at the end of the day. The other is when you're menstruating. In both cases, lukewarm water is recommended. You may want to do a cold water rinse for your face after you're done cleansing.
Celebrities who favor cold showers
I'd mentioned that cold water showers are popular with various celebrities. So who exactly are these fans?
Katharine Hepburn
You may not be familiar with her but this beautiful actress began taking cold showers daily after being pushed by Dr. Thomas Norval Hepburn, a urologist and pioneer in social hygiene, The New York Times reported. Katharine would take ice-cold baths or showers during childhood and for the rest of her life. She swore by cold showers, and had a high energy level to support her claims.
Miranda Kerr
The former supermodel of Victoria's Secret and ex-Mrs Orlando Bloom, Miranda Kerr reveals her secret for better looking skin and healthier hair is to take cold showers. She recommends cold shower even in winter for beautiful skin and health.
Ha Ji Won
Korean actress Ha Ji Won, who acted as Empress Ki, was asked to explain how she has not changed in appearance in 10 years. Her answer? "I always take shower in cold water. I've always been doing that since I was a child." The hardcore fan added, "I take shower with cold water even when the temperature is -20°C." Wow. I'm impressed.
How to ease into cold shower
So how about trying cold shower in this new year? Embrace it as a new beauty routine like I did. Even if it does not yield beauty benefits, cold water invigorates you and freshens you up. It's an instant pick-me-up and completely doable!
If you've never tried a cold shower but are keen to try, here's a tip for the first-timer: start with a warm shower and gradually turn down the heat of the water heater till the water is completely cold. This way, it's less daunting as you won't shock your system by stepping into the shower completely cold.
But I'm not too confident about taking cold showers in winter. I'm not sure I can withstand the torture of dealing with the cold. I guess I'll have to wait for a winter holiday to try that. So not looking forward to trying it though.
So how many of you are already taking cold showers? If you are, do share your experience with us and how it has benefited you. 
Comments