Review of Zuii Organic Floral Green Makeup Range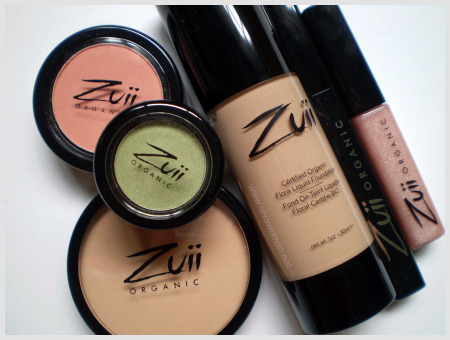 I was so happy to receive these from Zuii Organic recently for review. I was running out of my usual foundation and was thinking hard about what to get next when this came in my mail box. And by gosh, they're truly gorgeous. I say this not because I've gotten them free. I say this because this organic, natural cosmetic range has truly performed well for my skin.
Certified organic ingredients not tested on animals
Zuii Organic cosmetics are made in Australia and are positioned as a range of certified organic floral make-up range because the products are made from the petals and buds of certified organic flowers such as rose, chamomile and jasmine.  In addition, the range is preservative free and contains no talc, no synthetics, no petrochemicals, no parabens, no genetically modified ingredients and are not tested on animals.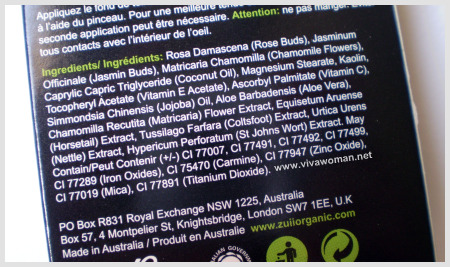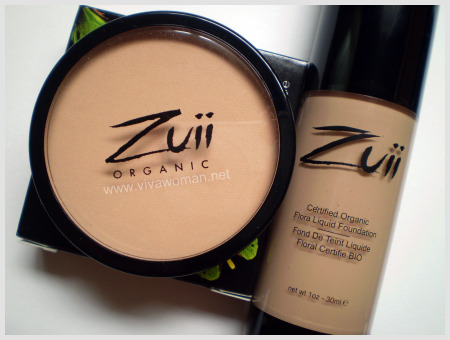 Liquid foundation with medium coverage
I've never been keen on using liquid foundation because I didn't want to overload my combination skin. Good thing that Zuii Organic Liquid Foundation is not rich and it works quite well as a makeup base with its medium coverage, giving my skin smooth silky finish. In fact, I also used this as an undereye concealer although the coverage isn't as great. This product is said to be suitable for sensitive skin because it contains Calendula, Aloe Vera plus vitamin E and C and is a moisturiser and foundation in one.
Organic Flora Foundation provides good coverage
When layered with the Zuii Organic Certified Organic Flora Foundation, my skin was almost flawless and my blemishes were fairly well concealed without the need to use an additional concealer. I didn't need to touch up and my face wasn't excessively oily or shiny by the end of the day. Some of you mentioned that I have great complexion in my post yesterday. Well, I say it's thanks to this foundation really.
Foundation contains vitamin C
This foundation is available in 10 shades. What I really like about this foundation is that I can use it on its own without the liquid foundation base and it still yields quite a fine full coverage. The best part is the look is all very natural and my face doesn't look cakey or heavy. It's better than the mineral foundations I've tested and also better than my current powdered foundation. Plus I learnt that the organic rose petals has vitamin C properties which is great to treat damaged skin and protect against premature ageing so this is definitely a keeper! The only problem I find is that I can't quite use a foundation brush because the powder is filled up to the brim. As such, I've been dabbing it on my face with a puff instead.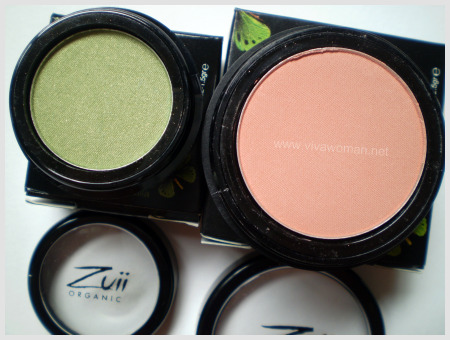 Eyeshadows come in 30 shades
And it was a stroke of luck that the company sent me the eyeshadow in Forrest, a lovely green which is my favorite color. It is a talc free formula blended with rose, chamomile and jasmin powders and is only a tad shimmery when applied as a base on the eyelids.
Blushes come in 5 shades
Zuii Organic has blushes in 5 shades. The one I received is Mango and is not shimmery. So even though I don't normally wear blush, I was happy to apply this for some face color.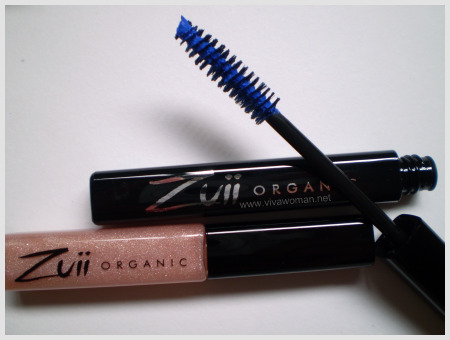 Lip tints come in 9 shades
It's true that Zuii Organic Lip Tint delivers a high shine finish. There are altogether 9 shades and the one I have is Jasmin. And like what is described on the website, the lip tint is a unique blend of Organic Rose, Beeswax and Aloe Vera that moisturisies and nourishes dry or chapped lips. The only thing I found strange is that it has a powdery texture when applied and I don't know why this is so.
Mascara comes in 3 shades
I was also happy to use the mascara although I usually don't apply any. Zuii Organic mascara comes in 3 shades and I received Lapis, a bright blue. It's a normal mascara but I like the fact that it is a natural formula containing plant extracts. I had no problems wearing it with my contact lenses and it was also easy to cleanse off with my normal oil cleanser.
Lipstick come in 18 shades
Apart from these that I have reviewed, Zuii Organic also has lipsticks which come in 18 shades. I didn't receive this product so I can't comment on its performance.
15% coupon code for Viva Woman readers
Zuii Organic Cosmetics ships from Australia to most countries and the price range from AUD$24.95 to AUD$59.95. And from now till April 9, 2009, Viva Woman readers can get a 15% discount by using coupon code TAR169XGO140 during checkout.
If you're in the market for organic cosmetics, I would urge you to give this product a try.  I like this range very much and am hoping that some companies like Bud Cosmetics maybe interested to bring this in for our market.
Comments