10 things to avoid when cleansing your face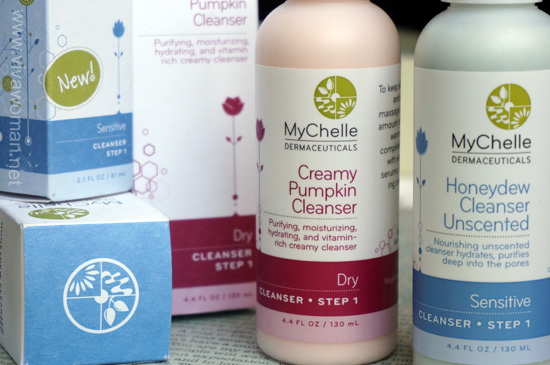 Of the beauty tips that you often receive, proper cleansing probably tops the list and I won't be surprised that you could be quite tired of hearing it. So much so that you may not even think much of it and may even wonder at the fuss over the topic. Well, like it or not, cleansing is the most important step in our beauty ritual and lays the foundation for fortifying our skin. And today, I'm going to discuss my take on what to avoid and how to cleanse our face properly based on my experience.
1. Avoid cleansers containing SLS
When I was a lot younger, I like the squeaky clean feeling of washing my face. However, in these latter years, I've started to be adversed to that idea and that is why I avoid cleansers contain drying and irritating surfactants such as sodium lauryl sulfate (SLS) or sodium laureth sulfate. Although I still like cleansers that foam, I much prefer those that use coconut-derived fatty acids or plant-derived cleansing agents as surfactants. My current favorite is Sukin Foaming Facial Cleanser but I only use it in the morning now. For other times, I'm using Yuan Organic Mung Bean & Joy's Tears Soap for treatment purpose although I don't really desire that squeaky clean feeling after using it.
2. Avoid over cleansing especially in the morning
I always wash my face during my shower in the morning but there are some days I don't and all I do is to wipe my face with my floral water.  And I'm happy to say that this is deemed fine because according to this interesting entry, studies show that people who wash their faces with soaps in the morning are about 50% less protected when they go out in the sun because soaps strips the lipid barrier on our skin.  Hence, the recommendation is that those with dry skin should wash their faces with tepid water only while those with oily skin can wash with a mild cleanser. 
3. Avoid stripping your lipids with your cleanser
The purpose of cleansing is to remove grime and oil so that our pores would not be blocked and breakouts would not occur. However, when you use a cleanser containing SLS, chances are the strong surfactant is going to strip away the beneficial oils of the skin along with the grime. In addition, a strong cleanser may alter the level of acidity on our skin which is supposed to act as a barrier to keep out bacteria. This is why you see some soaps are marketed as providing pH balance. Bottom line is if your cleanser is leaving your skin squeaky clean to the extent of it feeling taut, then you may want to think about changing it soon.
4. Avoid washing your face more than twice a day
Allow your face to maintain an adequate amount of oil.  This applies to those with oily skin as well.  Hence, try not to cleanse your face more than twice a day unless it is really very dirty.  And if you need to wash your face in the midday and evening, then avoid cleansing and use a toner or just water instead in the morning as I mentioned earlier.
5. Avoid over massaging your face when it's unclean
If you're using cleansing oil or cleansing cream to cleanse your face, my advice is to avoid over massaging for too long especially if your face is unclean with makeup.  I have a theory that the oil cleansing method could have contributed to my initial outbreak of cheek acne.  I can't be certain though but it wasn't so coincidental that my cheek acne broke out about the time I started experimenting with the method.  The thought came about during a conversation with the Korean trainer at my DIY skincare workshop.  She was very skeptical when I mentioned to her about the method which involves massaging oil into the skin for a good 10 – 15 minutes because according to her, this is almost equivalent to massaging the grime and dirt back into the pores!  Although I only had patience to massage the oil for about 5 minutes, I think her argument makes sense especially if we massage the oil into a face full of makeup!  Anyway, I don't use the oil cleansing method so frequently now and I certainly avoid massaging oil for more than a minute when my face is very unclean.

6. Avoid using hot water to wash your face
The oil cleansing method aside, I would always say it's best to start washing  your face with warm or tepid water and then finish off with cool water.  Hot water has a drying effect and this is why it is not recommended to use the oil cleansing method too often.  That aside, it's also very uncomfortable to wash our faces with hot water!  As for cool water, it will help constrict the blood flow and trigger a natural pumping action plus it really freshens us up!  Cold water is a no no because it can cause broken capillaries.
7. Avoid scrubbing and rubbing whilst cleansing
You skin is not a kitchen sink and there is no need to scrub hard at it.  In fact, you want to know that excessive pulling and tugging may contribute to premature wrinkle formation.  Hence, there is no need to use a face towel to rub your skin.  Instead, use an exfoliator once or twice a week to remove dead skin.  At other times, the general advice is to wash our faces using circular movements but if you can, follow the Korean's advice of using upward and outward movements (towards the ear) when washing our faces for that face lifting effect.
8. Avoid using your dirty hands to wash your face
Whilst it's pretty much common sense, we sometimes forget and may launch straight into washing our face without thinking about the state of our hands.  As a thumb of rule, wash your hands with soap prior to cleansing your face.
9. Avoid shampooing your hair after cleansing your face
As I mentioned in my entry, washing my face after shampooing my hair, your shampoos and conditioners may contain ingredients or even SLS that can irritate your skin and cause breakouts.   Hence, it's best to wash your face after you shampoo your hair.
10.Avoid using one bath towel to wipe from head to toe
Similarly, it would defeat the whole purpose of keeping your skin free from unwanted ingredients or residues if you're using one bath towel to wipe yourself from head to toe.  Hence, my recommendation is to keep a separate face towel to pad your face dry after cleansing.
Follow up cleansing with a toner
Finally, much has been said about toner being a useless product but I beg to differ. I like to use a toner after cleansing because it can help to correct the pH balance of the skin after cleansing. This is of course not necessary if your cleanser is already providing optimal pH balance but still, a good toner such as hydrolats or one containing essential oil will also deliver beneficial ingredients and help the skin stay balanced.
Comments