Istrilene Collagen Enriched Facial Cream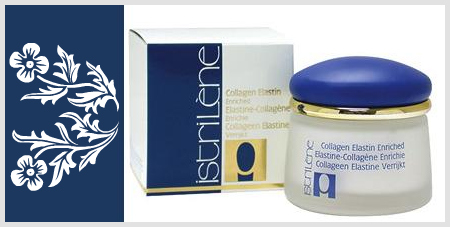 This is a guest post from Pei Fang who also goes by the nick pf1123 in the comments section. This time, Pei Fang reviews the Istrilene Collagen Enriched Facial Treatment Cream.
I would like to share my experience with the Collagen Enriched Facial Treatment Cream from Istrilene. I had a bad bout of acne when I was about 20. There were huge red bumps all over my face and I had to put on A LOT of concealer before I managed to look natural. I tried a lot of products to cure my acne, but they didn't work. Finally, I decided to visit a beauty salon to see if they can help me.
My first encounter
Besides recommending me a facial package, I was introduced to Istrilene products. I bought a facial gel cleanser, a toner and this Collagen Enriched cream. Upon trying for the first time, I was very happy at how nice the fragrance was and how soft my skin was after using the products. After a few months, my face was cleared. But not without heartache because the products were (and still are!) really expensive!
What truly amazed me was how the product changed my skin when I first used it. Before I even finished the 50ml jars of cream, my skin was changed from oil oozing to normal. Really normal. It's not dry or oily at all. When I touch my face at mid-day, my finger was not slick with oil. I do not have shine on my T-zone at all. For about 2 years, I did not have any breakouts at all. Best skin of my life!
After maybe a jar or 2 of the cream, the beautician said that I should change the cream. I was introduced a more expensive one (I supposed they have to make money…*sigh*)! My face was alright but slowly I had more breakouts. I went back to using the Istrilene Collagen Enriched Cream for a while, going through another 2 jars or so. But the effect was not as tremendous as before*. I was expecting that it could change my skin like the previous time. It could be I was complacent and too lazy to keep up with my skincare routine. Sometimes I even wash my face with just water and didn't put on any skincare. Now I know better than to do that.
*The beautician later told me that it's normal that the skin got used to the product and it would seem that they are no longer as effective as before.

The test
As the Istrilene products were so expensive, I began to cut back and use the facial gel cleanser and toner only. After finishing them, I started to experiment with various different types of skincare. Together with my adventurous trials in skincare and over-active hormones, my face broke out like crazy!
Finally, after trying various methods and more products to be rid of my acne, I remembered how Istrilene Collagen Enriched cream helped me when I had a terrible breakout many years ago. I went to grab the Istrilene Collagen Enriched cream again.
The beautician told me that this is actually a cream to keep skin firm and prevent aging. However, using that really calmed my skin down and provided my skin with the necessary hydration without being too rich for my skin. But come to think of it, I was told by numerous people that I don't look my age. They thought I'm in my early 20s when in fact I'm in my late 20s already. An SA did not believe me and wondered by I do not have any wrinkles when I told her my actual age. So, I guess this product really works to keep skin firm and prevent aging when used over a period of time!
Product Specifications
Haha…I know, the title sounds so geeky. This product comes in 50ml jars. Well, this cream is a very light but powerful cream. The texture is like whipped cream. I say this because it is firm in the jar; unlike other creams which move about easily if they are watery. It is just not as fluffy as whipped cream squeezed from a can like on a sundae.  It is also non-oily or greasy. The colour is white and it definitely has fragrance.
I think this will suit oily skin better due to its light nature and my experience with it. It does not state whether it is a night or day cream if I remember correctly. My beautician said it's a night cream but I previously used it day and night with no problems.
Ingredients
Alright, this might be scary to some:
Aqua, Glyceryl Stearate SE, Paraffinum Liquidum, Glycerin, Butyrospermum Parkii, Isopropyl Myristate, Cetyl Palmitate, Hydrolzed Elastin, Soluble Collagen, Sodium Benzoate, Phenoxyethanol, Imidazolidinyl Urea, Methlparaben, Ethylparaben, Propylparaben, Butylparaben, Isobutylparaben, Parfun, Benzyl Salicylate, Butlphenl Methylpropional, Hydroxyisohexyl 3-Cylohexene Carboxaidehyde, Hexyl Cinnamal, Alpha-Isomethyl Ionone, Hydroxycitronellal, Coumarin, Limonene, Benzyl Benzoate, Geraniol, Cinnamyl Alcohol, Evernia Prunastri, Eugenol, Citronellol.
Obviously, this product would not be suitable for the people who hate long lists of chemicals in their skincare.
Cost and Availability
Istrilene products are sold in bigger Guardian Pharmacy outlets. I heard from Sesame that she saw it in Watsons at Takashimaya as well.
It costs a whooping $S129 to S$130+ depending where you get it from. But there are often 20% discounts for this. I would either get it from Guardian or my beauty salon. However, I do not recommend getting it from beauty salon as they push sales rather hard. And don't believe the SAs at Guardian that 20% discount is huge enough to stock up for. There are several periods which they give discounts a year. Each tub last me at least 8 months as I use sparingly**.
** My beautician told me that I shouldn't put on too much product because the extra would either just go to waste as the skin can only take in so much at any one time or I would get clogged pores.
Conclusion
So, the morale of the story is:
Give the product ample time for it to work.
Some products are just worth that kind of money.
Start age prevention on your skin while you're young!
Well, what a lengthy review! I decided to do this when Sesame approached me because I can't find much reviews on Istrilene products. So, I hope that this review can help some girls out there. And if the company of Istrilene sees this, I wouldn't mind having some discounts on the products!
Comments