A sneak peek at my new mineral sunscreen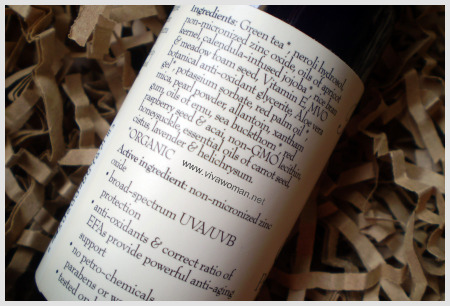 I've been struggling with myself if I should post this but I really find it hard to contain my excitement!  I'm dying to tell everyone about it but I'm afraid that it will end up like the UV Natural Sunscreen which had my hopes so high initially.  So instead of telling you the brand, I'll create a little suspense until I'm sure that this will not break me out.
But here are some highlights:
It contains 20% non-micronized zinc oxide and a lot of antioxidant goodies.  It contains natural and some organic ingredients; no chemical and synthetic stuff at all.  It is lotion like and applies really nicely so far.  A slight whitish overcast but sits underneath my makeup perfectly.  Has animal oil but is not tested on animals.  And it is listed as one of the top 10 sunscreens on the current list of at Environmental Working Group Cosmetic Database!
Please don't hate me for creating the suspense but I don't want to overhype this in case it disappoints.  So please give me a couple of weeks and I will give you a thorough review plus a special feature where I compare 5 physical sunscreens under the top 10 EWG sunscreen list.
I'm really hoping that this is going to be my PERFECT SUNSCREEN!
Comments