5 Tips To Select The Best Mineral Makeup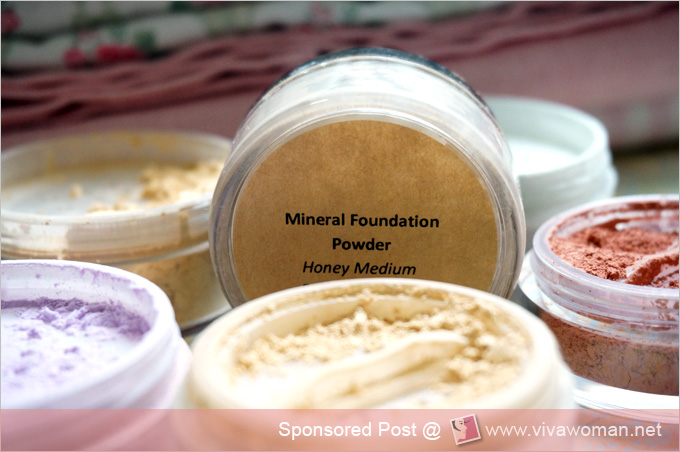 I remember mineral makeup created a lot of buzz about seven or eight years ago. Back then, the market was inundated with new brands introducing their line of mineral makeup and I remember receiving many pitches to review them. Although most of the brands were niche players, the trend proved so hot that even the big cosmetics giants wanted a bite of the pie by jumping onto the bandwagon to create their own line of mineral makeup.
Well, the market for mineral makeup seems to have quietened a lot more these years. At least, I don't see that many new brands of mineral makeup sprouting up every other week. But nonetheless, mineral makeup is still holding up quite well amongst many green beauty enthusiasts. I for one, still use them.
Ingredients aside, I find mineral makeup great for daily usage as it gives me a more natural coverage. I also know it's a favorite with those who suffer skin allergies or problems such as acne, eczema, extra sensitive, or irritated skin.
But while many have raved about mineral makeup and while I do like using them, I won't say they're faultless. Actually, I once had a bad experience with a mineral foundation—something in the ingredient list caused my forehead to break out with itchy rashes. It was so bad, it took three days for the rashes to subside.
That incident rattled my confidence for awhile and it took me about a year or more before I resumed using mineral makeup again. I still use mineral makeup, especially foundation on a daily basis, but understandably, I have been more selective in my choices of mineral makeup since.
So what is my selection criteria and how do I go about looking for my perfect mineral makeup?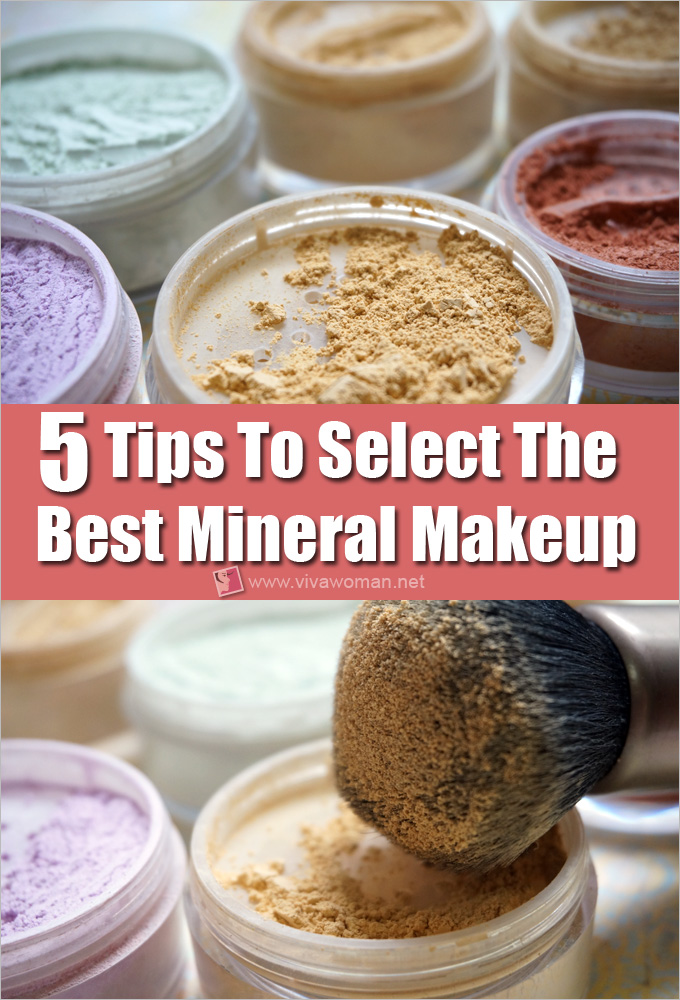 1. Look for a shorter, cleaner ingredient list
The first thing I look out for when selecting a mineral foundation is a shorter ingredient list, as that usually means the ingredients are cleaner with no unnecessary fillers or additives that may clog or irritate my skin.
I particularly avoid mineral makeup introduced by the big brands as part of their repertoire of cosmetics because their foundations typically contain 10 ingredients or even more, including Boron Nitride, Magnesium Stearate, Zea Mays, Talc, Bismuth Oxychloride, which are known to be skin irritants.
However, while these ingredients are reported to cause some amount of irritation, how your skin reacts to them really depends on your skin condition and the product formulation. For example, many ladies have no problems with Bismuth Oxychloride at all. It should also be noted that mineral makeup companies do not use the same product formulation and even with an ingredient like Mica, the quality used could differ for different brands.
But as a rule of thumb, I discovered that it'll be better that we pick mineral makeup with fewer ingredients. I guess less is really more in this case. So some of the better mineral foundations I've tried and are currently using only contain four ingredients–Mica to cover, Iron Oxides for colour and Titanium Dioxide and Zinc Oxide to give protection from the sun. They contain only pure cosmetic-grade mineral pigments and ingredients and have no fillers (like Talc) and no preservatives. Also, they contain no nano-size, micronized or ultrafine ingredients that might have the capacity to enter the cells of our body.
2. Check out brands that offer wider selections
I also appreciate brands that give me a wide selection of colors and shades to choose from; my experience tells me that I can usually find the right shade out of a wider selection.
Having a wider selection to pick from also saves me money. How so? Well, instead of spending money on a few shades or color correction bases to mix my perfect blend, I only need to spend money on one singular product. In fact, that's what I'm doing now and I save about $30 to $60 upfront because I no longer need to purchase one or two color correction bases.
3. Ascertain if the mineral makeup comes with proper certification
Very few makeup products are certified. Those that are are mostly in the organic category and I certainly haven't come across more than one in the department of mineral makeup. The thing with buying makeup online is, you don't know the origin of their ingredients. Are they from some dubious source?
Because of what I've raised about ingredients and formulations, I feel that a mineral makeup that is certified is likely to be safer because if the company is paying to get their products certified (which isn't cheap), chances are they would take more pains in their ingredient selection and product formulation.
But before we jump to the conclusion that a certified mineral makeup is definitely safer, considerations need to be made with regards to the credibility of the certification body and the certification process. Is the certification body recognized? Are their certification process rigorous? I mean, by certification, we are not just referring to having the product contain a certified natural ingredient but rather, the entire product must have been certified to have met a certain stipulated requirement.
3. Look out for swatches and help with shade selection
It's a tricky business to buy makeup online. How can we find the right shade of foundation for example? One way is to look at the swatches.
Swatches are good especially if they're true to their colors but sometimes, they're still not good enough to help us decide. In addition, I've always struggled with the daunting issue of choice when I have too many to choose from. Which shade of foundation should I pick for my skin tone?
So I particularly appreciate those brands that offer helpful tips and processes to simplify our search and selection at their web stores. These stores help you define your skin tones and undertones and then recommend something suitable based on your inputs. Personally, this process has helped me somewhat in purchasing mineral foundations but I must also say I don't always get it spot on.
4. Purchase samples before committing to full-sized items
But what if even with the swatches and tips, you're still hard pressed to find the correct shade? Or you're worried because you're not sure if you've got a warm or cool skin tone?
Like I mentioned, relying on the webstore's recommendation has worked for me somewhat but I still find it hard to committing to full-sized purchases.This is when samples are so useful.
I remember ordering lots of samples back in the early days when I started experimenting with mineral makeup. They're so useful because they've helped me determine what works and what won't before I committed myself to full-sized purchases. So I was ever grateful that the samples were available and shipping fees were low or sometimes free. Thankfully, some of the more established mineral makeup brands still offer low cost samples today.
5. Having accessibility to reviews
Finally, always read reviews of the mineral makeup you're eyeing. Not only will you get to find out what's great, you'll find out exactly what to avoid too. You'll be thankful for saving lots of heartaches as well as money.
So do look up reviews of the product you're interested in via search engines or you can read the reviews of the mineral makeup listed on the webstores.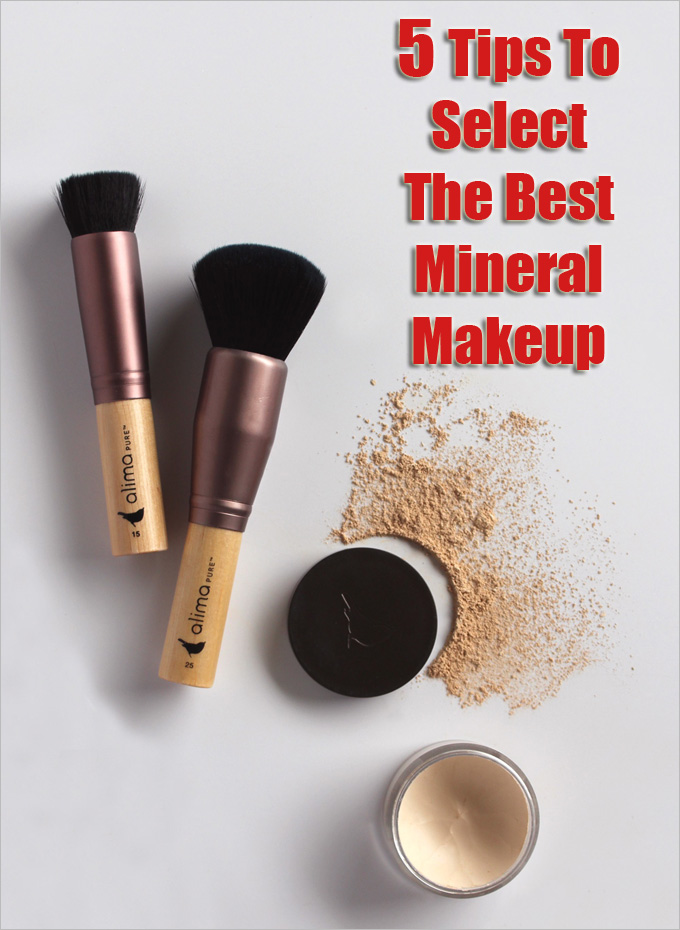 Get your mineral makeup from a reputable brand
After going through the five tips on selecting the best mineral makeup, you probably realized that it's so important to choose your mineral makeup from a reputable brand. As highlighted earlier, many mineral makeup brands sprouted in the market back in 2007 and 2008 when mineral makeup was trending. However, many of them came and went.
Of those that remained, only a handful are able to meet most of the selection criterias I have just listed out. But while most mineral makeup brands have certification for formulating cruelty-free products, Alima Pure is the only one that has BDIH natural cosmetics certification, a highly coveted German certification for natural cosmetics. The non-profit Association of Industries and Trading Firms for pharmaceuticals, health care products, food supplements and personal hygiene products takes the rigorous European Cosmetic Directive one step further by carefully evaluating the ingredients product seeking certification.
With Alima Pure, their products are free of parabens, talc, chemicals, gluten, dyes and nanoparticles. Their products are also cruelty-free, and all of their powder products, as well as their makeup brushes, are vegan. Apparently, their Natural Definition Mascara and Lip Tint are not vegan but are still cruelty-free.
For mineral makeup lovers, Alima Pure is a dream come true because you have a comprehensive range of products to meet your makeup needs—from face, cheeks, eyes to lips. No matter what your skin tone, you can most definitely find a shade that works for you because they offer as many as 61 shades of foundation!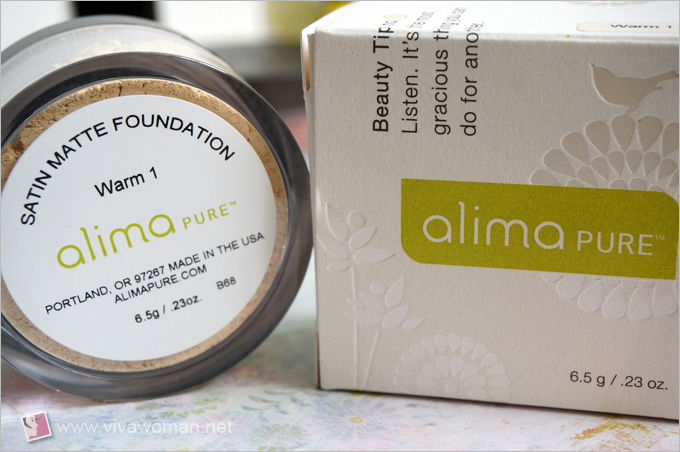 The gamut of choices also means you'll have a daunting time trying to figure out which shade works and which shade does not. But the good news, you have various options to try the products before buying. You can look up their 5-step foundation selector right at their website or if you're based in Singapore, you can test through their new Alima Pure Foundation Testing Station at Raffles City:
My Type Store
252 North Bridge Road
#B2-15 Raffles City Shopping Centre
Singapore 179103
Tel: 6338 5570
Ops Hrs: Mon to Fri (1030am to 9pm)
Sat & Eve of PH (930am to 930pm)
Sun & PH (1030am to 900pm)
My experience with Alima Pure
I first tried Alima in 2007 but it was only last year when I finally got down to using some products from the range. As I mentioned in my review, I used to wonder what was the fuss over Alima Pure but I can see why now. I'm completely sold on the brand and would highly recommend it if you're keen on mineral makeup. For one, there are so many products with sparkly, satiny and vivid colors to play with. Yet, they are made with no toxic ingredients. And at the heart of it, the mineral foundation gives a very natural finish, does not oxidize much at the end of the day and I don't need a heavy hand just to get sufficient coverage.
If you're in Singapore interested to find out more about Alima Pure, look them up at natureLova. You can get 15% off by using coupon code "ALIMA15″ when you check out. If you're based in Asia and can't find Alima Pure where you are, you may like to order from natureLova as they do ship internationally. For the rest of you living in US or nearer to US, I suggest you check out Alima Pure's website directly.

Comments