DIY Beauty: rice water for smooth fair skin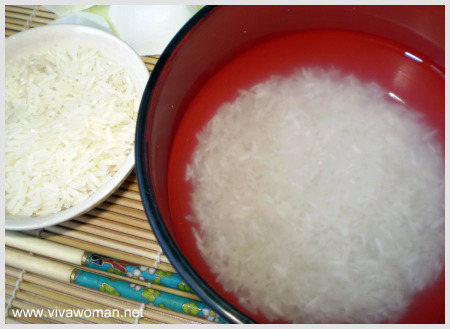 So I read a number of girls raving how water used to wash the rice is great for washing their faces. Apparently the benefits for them are smoother and fairer skin. I remember it was said that steam from cooking rice is great for the face when I watched Jewel In The Palace but I haven't learnt anything about the rice water though. However, I know that we should be washing our rice grains sparingly so as not to lose the nutrients. I suppose that's why the water used is beneficial.
I've tried using rice water a few times just for fun but I think I'll need to persist if I want to see some real results. Well, if you're interested to try this, here are the instructions I took from AsianFanatics.
Instructions to wash your face with rice water
First of all, wash the uncooked rice with any clean water – filtered water if possible – and collect the water in a basin or bowl. Wash your face clean with your regular cleanser and then rinse your face with the rice water before toweling dry. You can then proceed to moisturize as per normal.
If you're worried that the rice is unclean, then only keep the water after you've washed the rice the second time.  But like I've mentioned, this is something you need to persist if you want to see results like what some of the girls have reported.  Anyway, rice water is quite pleasant to use and you can pad the water on your face like a toner too.
Comments