The K-Beauty Tip To Getting Brighter Skin With Rice Water And Green Tea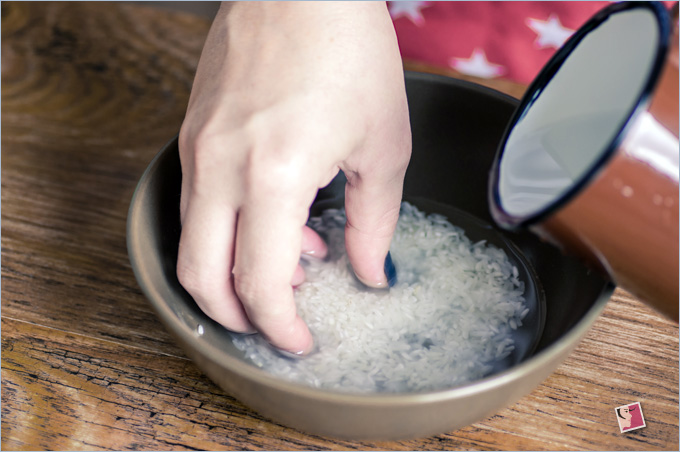 Here's a K-beauty tip anyone can follow: use rice water to cleanse your face daily if you want to brighten your skin. Does that sound familiar? Well, it was a tip I shared in 2009. And I'm sharing it again because I was reminded of the tip after watching an old episode of Get It Beauty.
When I last shared this tip in 2009, I'd mentioned how to collect rice water. If you've had missed that post, here are the instructions again:
First, wash the uncooked rice with any clean water–filtered water if possible–and collect the water in a basin or bowl.
Cleanse your face with your regular cleanser.
Rinse your face with the rice water.
Towel dry and moisturize as per normal.
Easy peasy right? But it looks like the Koreans do this a little differently:
Instead of using the rice water immediately, the recommendation is to let the rice water sit for two to three days before using.
Use the rice water as a final wash after you've cleansed your face.
Do this daily if you can, if not at least two to three times a week.
You don't have to rinse out the rice water after you've washed your face with it but you can use a green tea spray to get rid of the residue starch on your skin.
Spray the green tea on a cotton pad and gently pat onto your skin.
According to the host of Get It Beauty, both rice water and green tea contains lots of vitamin C and we know vitamin C is good for the synthesis of collagen. In addition, the peptide in the rice water makes the skin firm while the catechin in green tea prevents pigmentation. So this combination is good for anti-aging and skin brightening.
If you're worried that the rice is unclean, then only keep the water after you've washed the rice the second time. Anyway, if you use those rice that doesn't require washing (I still wash them), the water should be relatively cleaner.
Okay, here's the Get It Beauty video that shows how you can wash your face with rice water and green tea if you're still clueless as to how to .
I have used both rice water and green tea to wash and tone my skin but I've never used them together. But I will be…very soon, after watching this episode.
Anyway, I like K-beauty is because they also incorporate lots of DIY beauty tips. In fact, you'll be surprised that some of the tips are recommended by dermatologists or aesthetic doctors. They certainly do not snub at natural ingredients the way some so-called blogging experts (who have openly put down my posts) do. Most importantly, they have better skin to prove that these ingredients and DIY beauty tips work!
For more K-beauty tips, look up my dedicated Korean Beauty page.
Comments