Viva Challenge: apply skin care lying down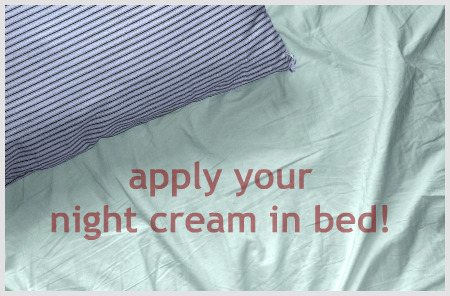 Sometime ago, I discussed about extrinsic aging caused by gravity and lately I've been hearing more experts talking about this; even Taiwanese celebrity stylist Kevin whom I met last week too. So one of the valuable tips I picked up from Kevin in his hands-on demonstration was to apply skin care products while lying down.   Yes, no kidding!
Effective for applying cream in an upward outward manner
We've been told again and again that we should wash and apply products on our face in an upward, outward fashion.  So lying down is a favorable position to get this act in place.  In fact, this is one thing we always experience when we visit the facial spas as the aestheticians will apply skin care products for us in an upward outward manner.  This is probably why we get a temporary facelift right after our facials.
Okay, I know some of you are probably sniggering and think this is quite impossible to do.  Well, if you're serious about skin care, I think this is one tip you don't want to ignore.  That is why I'm making this a Viva Challenge.
Use a pillow to help you
You can do this just once a day in the evening when you're putting on your skin care products.  What I do is to put a pillow right on my back so that my head is slightly tilted downwards.  Depending on what I use on my face, it maybe convenient to bring the products to the bed for application.  Otherwise, I just pour them into my hand before lying down and then proceed to apply on my face in an outward direction towards my ears and upward direction towards my crown for the forehead.
Facial oils allow for longer massage
I've been doing this whenever I can and I found that using an oil really allows me to massage my face for a longer time as it doesn't get absorbed as quickly as my face cream.  I feel good doing this and I'm thinking there must be some cumulative effects doing this long term!
So ladies, would you take up this challenge?  Or maybe we already have savvy ones amongst you doing this on a daily basis?
© www.vivawoman.net copyright notice ☺
______________________________________________________________
Comments