Share: do you have products lying at every corner?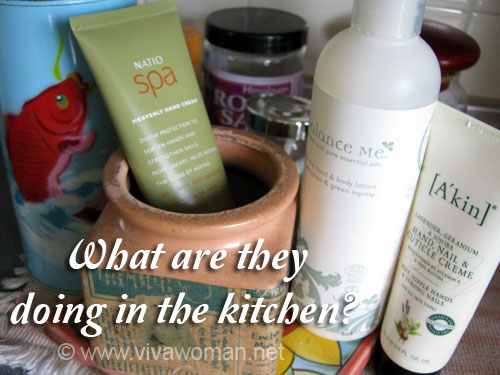 I just noticed that I have a ton of products lying next to my printer and they're mostly hand and body creams plus a couple of lip balms. The other place is the side table of my bed, where I found a foot cream, a cuticle balm and a sleep balm. Granted, these are the two areas I spend most of my time at so naturally, I would like to be able to reach out to the products I need. But I also found a moisturizer and a sunscreen in my kitchen! Well, actually those belong to my husband. They very far away from the stove and are placed in a safe, dark corner.
Kitchen counter?
I know some women are fond of placing hand creams at every corner of their home, especially in the kitchen. Kitchen is probably a favorite place because it's quite natural to want to moisturize our hands after washing the dishes. I don't place my hand cream there because one, I don't spend a lot of time at the kitchen and two, I use disposable hand gloves when washing the dishes. *Yeah yeah, that's just a photo story to grab your attention ;)*
So how about you ladies? Aside from your vanity table and bathroom, do you leave your products lying at every corner of your home?
Comments