Consuming diary products caused my acne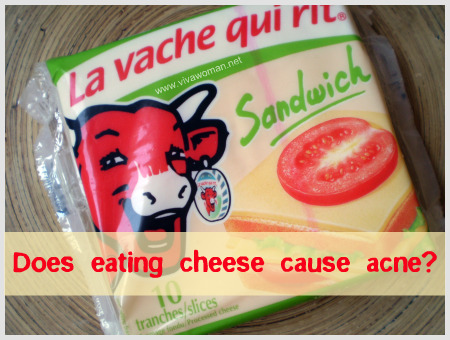 For a couple of months since last quarter of 2008 till about March this year, I was struggling with a stubborn case of cheek acne.  It was exasperating because I rarely had such a bad skin condition.  Initially I thought it was most probably due to the oil cleansing method I was trying out.  However, the acne did not really clear up even after I stopped using that cleansing method.  In fact, I started to develop a few more on other parts of my face. 
New diary product introduced into my diet
Then I started to think about my diet.  I knew that consuming diary products might contribute to developing acne but I had always associated that to teens.   Moreover, I had not developed any serious skin problems while consuming milk about two to three days a week for about three years now.   Yes, I had some pimples here and there but they've never caused me too much grieve.  But wait a minute…could it be my son's cheese that I've been eating for breakfast?  It was the only new dairy product introduced into my diet and as a matter of interest, I never took cheese prior to that.
Cheek acne subsided after I cut down diary intake
And so I stopped my cheese and even milk intake and in about two weeks, I noticed a vast improvement.  The cheek acne subsided without signs of returning.  I wasn't sure if it was entirely due to that but now I can almost confirm.   Why?  Because I started drinking milk again and also started binging on chocolates, and I can see some tell tale signs of an impending cheek acne – at the same spot!
Connection between diary products and acne
So what's the real connection between diary products and acne?  Apparently, from what I've read, it could be related to hormones and iodine.
     1.  Hormones from pregnant cows
Because about 75-90% of milk comes from pregnant cows (source) and drinking milk and consuming dairy products from pregnant cows expose us to the hormones they produced!  The hormones get into the milk, and then into our system! (source)
     2.  Iodine in milk
In addition, there is apparently also a link between iodine in diary products and acne for some people.  The iodine in milk is a result of iodine-fortified feed given to cows to prevent infection and iodine-based solutions used to sanitize cows' udders and milking equipment. Milk intake, and subsequently high iodine intake, may worsen acne in those who are predisposed to the condition of acne. (source)
HOLY COW!  In this case, any related products is going to cause the same set of problems for me.   No wonder eating too much chocolates has always brought on new pimples for me!  Lucky thing I'm not so much into ice cream and cakes!
So what does this mean? 
I would most definitely have to cut down on my dairy intake.  As it is, I'm trying to up my intake of evening primrose oil so that I won't have to completely rely on milk to alleviate my PMS although the former option isn't working too well for me.  In addition, I have to control my urge to binge on chocolates!  Definitely not so fun!
Comments