Eating too much salt can aggravate your acne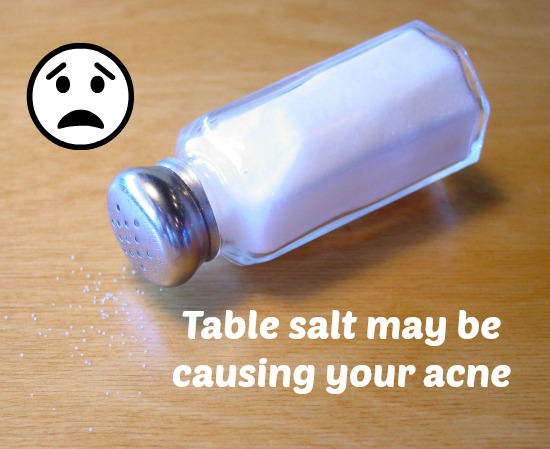 Seems that every week I'm posting something about acne. Unfortunately, it's a topic of concern to me currently so naturally, it'll get a lot of attention here. Anyway, I've been thinking real hard about the cause of my acne and while I think it's hormonal imbalance, I suspect that there could be other reasons triggering them.
I've pretty much eliminated the cause due to product usage so it's down to my diet.  Maybe because of my hormonal imbalance, certain food I take these days can aggravate my acne.  I've already eliminated diary products causing my cheek acne from my diet and so I was stumped when my acne returned, with a vengeance this time.  What could have caused the fresh and angry outbreak?  And it was not until recently that I suspected that it might be due to the preserved prunes I've been eating for the past few months!  Well, the reason is, I stopped eating them for a week and my acne calmed down. However, they returned as soon as I started on them again and then, stopped erupting when I did not munch on them!
Iodized salt can induce acne
It could all have been accidental but when I did a search on "salt intake and acne", I found out that salt, particularly table salt, contains iodine and high levels of iodine in the diet will induce acne in an acne prone person. We don't use a lot of salt in our cooking and even then, we use sea salt and not table salt. However, I have a bad habit of eating junk food and preserved prunes with its high content of sugar and salt, happens to be my favorite. The horrors of it all is that I can easily finished a pack very quickly and you can imagine the amount of salt intake there. The ingredient list mentioned salt and I don't believe they use sea salt.
Iodine irritate the pore lining
So in the course of my search, I found that dermatologists have suggested that iodine intake can exacerbate acne. In fact, according to Acne Research Institute, iodine found in food and vitamin supplements irritate the pore lining.  But iodine is not only found in very salty foods such as preserved prunes and chips, but also in diary products like milk, cheese and yogurt that I've discussed before. Seafood, especially oyster, is another culprit.
Too much salt is bad for our skin
Well, looks like I have more reasons to curb my habit of eating junk food. Hopefully, cutting out preserved prunes and any form of salty food will help to calm my skin finally.   Anyway, too much salt is not very healthy and as I've written earlier, salt is bad for our skin too. I know, I know…I don't practice what I preach where food is concerned!
Comments