Baby Blanklet Zinc Oxide Sunscreen Stick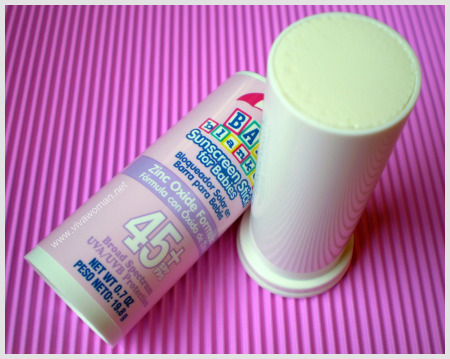 A few weeks ago, I received the Baby Blanklet Zinc Oxide Sunscreen Stick with SPF 45+ from Baby Blanklet Suncare and have been happily applying it on my son.  He hates sunscreen but he loves this and calls it glue!  So it makes it real easy for application because he doesn't resist.  Plus it helps that this is a non-sticky and non-greasy formula.  In fact, I rather like it for myself especially since I love sunscreen sticks in general because I find them handy and convenient.
In fact, I've been carrying the La Roche-Posay Anthelios XL Stick Protection SPF50+ in my bag and it's a godsend for my hands especially when I'm driving and desperately need to shield them from the oppressive sun! A pity though that it's a chemical sunscreen so I don't use it as much as I like to.  So The Baby Blanklet Zinc Oxide Sunscreen Stick is definitely something I welcome.
Contains 15% Zinc Oxide
It helps that this sunscreen stick does not leave much of a whitecast on our pale faces despite the 15% Zinc Oxide content. However, on our arms, which are darker, the whitecast is rather visible especially when I apply more of it.  It's also true that this formula is water resistant and I had to make sure I cleanse well for my son and myself after using this on our faces. 
Active ingredients
In addition, the Baby Blanklet Zinc Oxide Sunscreen Stick is said to be dermatologist tested, non-stinging, hypoallergenic, and para-free.  But besides the 15% Zinc Oxide, it actually contains other chemical sunscreen ingredients, though these are of a lower percentage – Octinoxate (7.5%), Octocrylene (6.0%), and Oxybenzone (3.0%).  I'm actually very uncomfortable with using suncreens containing Oxybenzone and I would avoid them as far as possible.  However, I gave this a shot since it's only 3% plus I only use this once in a while.  But I would definitely consider using this on a longer term basis if it only contains Zinc Oxide of a higher percentage.


Data extracted from Environmental Protection Agency
Inactive ingredients 
The other ingredients in this sunscreen stick include: Aloe Barbadensis Leaf Extract, C12 15 Alkyl Benzoate, Ceresin, Cetyl Lactate, Copernicia Cerifera (Carnauba) Wax, Dimethicone, Mangifera Indica (Mango) Seed Butter, Octyldodecanol, Beeswax, Octyldodecanol, Polyethylene, Propylparaben, Silica, Tocopheryl Acetate (Vit. E Acetate), VP/Hexadecene Copolymer.  Most of these ingredients don't bother me that much except perhaps dimethicone but I doubt the percentage is high enough for much concern.
Summary
Overall, I like the Baby Blanklet Zinc Oxide Sunscreen Stick with SPF45+ because it is a handy item to bring along outdoors.  I see a pro and a con with using a sunscreen stick – because it is a stick, you may not be applying enough of it to enjoy the SPF45+ protection but because it is in the form of a stick, it makes reapplication so much easier which is very important to get sufficient protection.   However, I really wish the formulation can be changed to at least omit the 3% Oxybenzone which could be an issue for some folks.  Actually, a 20% Zinc Oxide sunscreen stick would be wonderful in my opinion.
Availability
In Singapore, the Baby Blanklet Zinc Oxide Sunscreen Stick SPF45+ is available for S$17 at Mothercare, Mothers Work, Isetan and Singapore Zoo. Outside of Singapore, you can easily obtain this suncreen stick online for US$5.99.
Comments