Thinksport SPF 50+: The Almost Perfect Mineral Based Sports Sunscreen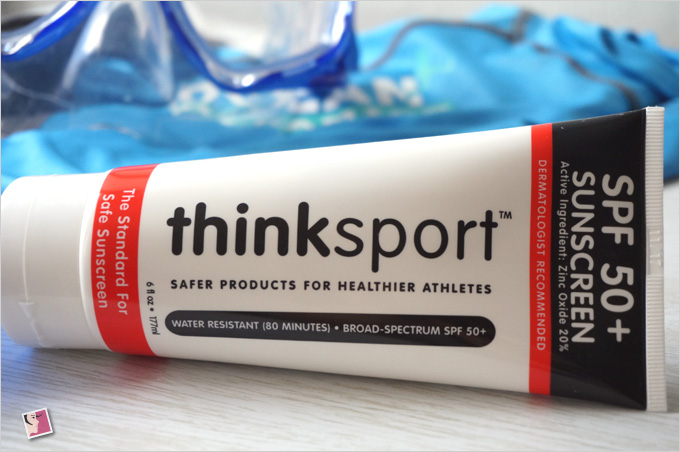 I thought I'd found the perfect mineral-based sunscreen in Thinksport SPF 50+ Sunscreen. It offers broad spectrum protection with 20 percent non-nano zinc oxide, is water resistant, and applies really well without me looking ghastly or feeling like an oil slick. It's perfect…well, almost.
Before I give you a review of the product, follow me as I give you a brief introduction on the brand.
About Thinksport
Thinksport is a US brand that was created to offer safer alternatives for athletes. Founder Kevin Brodwick, who has a keen interest in health and preventative medicine, wanted products that were safe after becoming aware of the extent to which harmful chemicals were present in everyday products.
In 2006, after unsuccessfully convincing several large companies to alter formulation, Mr. Brodwick took it upon himself to create an alternative line of consumer products.
The company first identified baby bottle, as 95 percent of the bottles on the market were made with Bisphenol A (BPA), a chemical that is suspected to disrupt the endocrine system.
They then proceeded to target other products within the baby feeding realm and when parents vocalized their needs, the company went on to design a sports bottle under Thinksport. The sunscreen was created as an extension of that need and based on the same safety principle.
So Thinksport SPF 50+ is formulated to be free of biologically harmful chemicals. It has no avobenzone, oxybenzone, paraben, phthalate, PABA and 1,4 dioxane or UV chemical absorbers. This sunscreen is also gluten-free and not tested on animals.
Contains 20 percent non-nano zinc oxide
Most importantly, it offers broad spectrum protection with 20 percent non-nano zinc oxide (average particle size >100micron) and is water resistant for up to 80 minutes. No wonder it is top rated by Environmental Working Group with a "1" rating since 2010.
So how did I stumble upon Thinksport SPF 50+ Sunscreen? I spotted it while looking for sports sunscreens at iHerb. As this is a relatively new offering at the online store, you won't find a lot of reviews there yet. But if you look up the product at Amazon, the product is very well reviewed. And I'm not surprised.
Most mineral based sports sunscreens are thick, oily and gooey but not this. Thinksport SPF 50+ Sunscreen is exceptionally wearable for a sports sunscreen–so much so that I can even use this as a daily sunscreen. No kidding!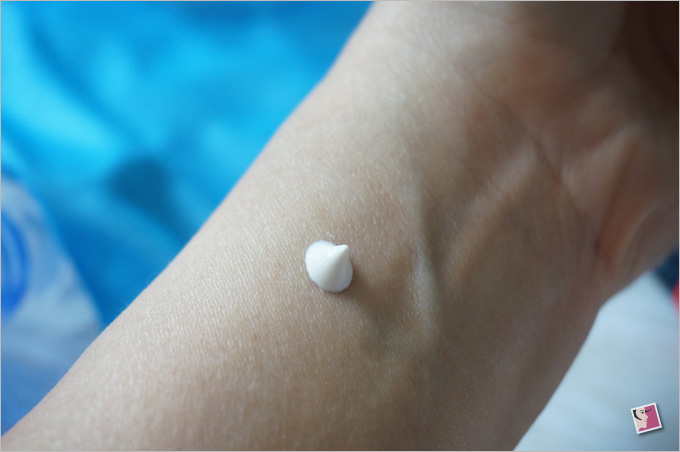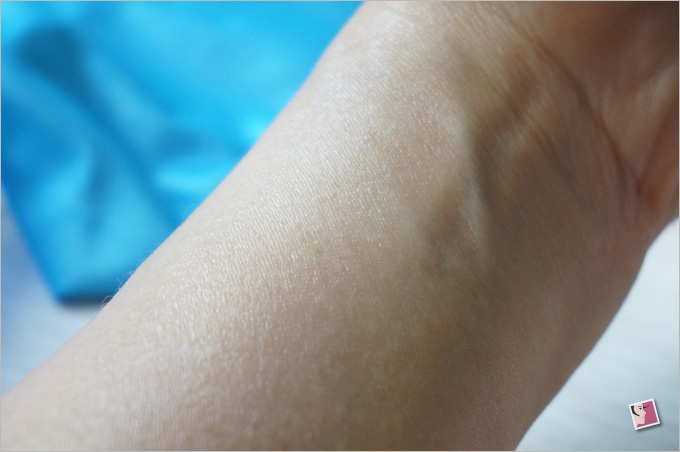 Texture and smell
This sunscreen cream spreads easily and does not leave my skin oily. The whitecast is visible on first application but disappears on my fair skin after blending. I can't promise no whitecast if you're a lot darker. Chances are you'll need to blend a bit longer to avoid that ashy look.
The sunscreen has a currant grapefruit scent–not too strong but it's there when you sniffed at it. The 6fl oz comes in an environmentally friendly tube that does not contain BPA, vinyl, or phthalates, and has a clear expiration date marked at the end of the tube.
Thinksport actually offers an Every Day Face Sunscreen (not yet available at iHerb though), presumably of a lighter texture than Thinksport SPF 50+ Sunscreen. Going by the ingredient list though, their Every Day Face Sunscreen could be tinted because it contains iron oxide.
Interestingly, I found the ingredient lists of the sunscreens under Thinksport and Thinkbaby to be identical. According to the company, the base formulations of their sunscreens are identical because it didn't make sense to make one safe for babies, and a harmful version for adults.
Identical ingredient lists
Here's the ingredient list of Thinksport SPF50+ Sunscreen:
Active Ingredient: Zinc Oxide 20% (Non-nano)
Inactive Ingredients:
Purified Water (0), Aloe Barbadensis Leaf Juice (0), Capric Caprylic Triglycerides(0), Sorbitan Stearate (Coconut Based) (1), Pine Wood Resin (0), Vegetable Glycerin (0), Cetyl Dimethicone (0), Hydrogenated Castor Oil (0), Magnesium Sulfate (Epsom Salt) (0), Sunflower Oil, Jojoba Oil (0), Ascorbic Acid (Vitamin C) (0), Tocopherols (Vitamin E) (1), Olive Oil (0), Raspberry Seed Oil (0), Cranberry Seed Oil (0), Hyaluronic Acid (Made From Vegetable) (0), Glucose & Glucose Oxidase And Lactoperoxidase (0),Currant Grapefruit
I thought the idea behind identical ingredient lists was very strange. Why purchase a different one for adults and kids then? I mean, let's just get one and use it across the different ages. Also, vitamin C in baby's formulation? Isn't that kinda much for little kiddos?
Anyway, when I first used the Thinksport SPF 50+ Sunscreen, I was highly impressed. It worked so nicely with my makeup too! My face didn't even turn oily at the end of the day and my foundation didn't even streak.
Contains silicones
But before I could do a happy dance, I realized that this sunscreen contains silicone. That explains why it is so wearable. I was so excited when I clicked my order, the words "cetyl dimethicone" completely went whoosh over my head.
Sigh. This could have been the perfect sports sunscreen that I can use daily. It just missed by a hair because I don't like to use skin care products containing silicones. While they make application smoother, silicones are known to coat the skin, making it impossible for the skin to breathe.
They are often described to be like a plastic wrap suffocating the skin and trapping anything beneath it. Prolonged usage can cause skin irritations and breakouts for some people. In addition, it also means it would be difficult for any of your skin care goodies to penetrate into your dermis layer effectively, which I believe causes products to become ineffective after a period of time.
I know some people have no issues with using silicones. If that is you, you will likely find this sunscreen perfect. As for me, I'm going to continue using it but not daily and more on my body than on my face. However, I'm unlikely to repurchase this unless they remove the silicones.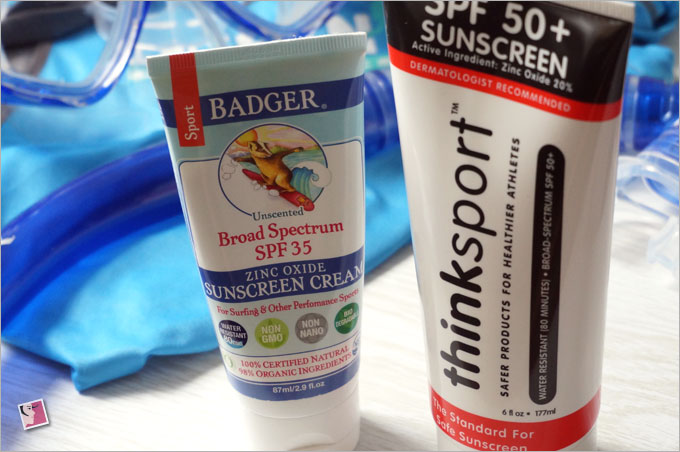 Used with Badger SPF35 Sunscreen
The thing is I don't do outdoor activities that much and so this will become wasted if I don't try to use it more often. I bought it because of my Krabi trip and I used it as a base sunscreen over which I applied the Badger Broad Spectrum SPF 35 Sunscreen for sports. That one was thick and gooey and the whitecast was visible even after blending.
But the combination was potent. I didn't get burned at all despite the blistering sun. In fact, I'm not even half a shade darker.
You certainly don't have to get this combination. I did it only because I am radical about sun protection and I explained why in my post titled 5 tips to get maximum protection at the beach.
Why buy from iHerb
Get the Thinksport SPF50+ from iHerb for US$23.99 or S$32.54. If you're shopping at iHerb for the very first time, you can enjoy US$10 off if your purchases are $40 and above (US$5 if below $40). Use my promo code OVO966 (affiliate). Shipping is speedy and free for orders above US$40. A tracking number will be issued and you can expect your order to arrive within a week.
Products highlighted were purchased and this review is in line with my disclosure policy.

Thinksport SPF 50+ Sunscreen
Pros
Offers broad spectrum protection
Non-greasy and applies well
Comments