Kiss My Face Treat Mint SPF15 Lip Balm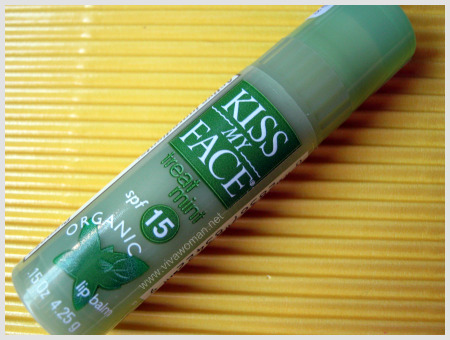 I was quite surprised to find Kiss My Face products at Vitakids, a place which I get vitamin supplies for my kid.  Kiss My Face is a range of natural beauty products from US and I saw a small selection at the Paragon outlet comprising of cleansers and lotions.  I decided to try out their Treat Mint SPF15 Organic Lip Balm.  It retails for S$8.20 but as a member, I received a 10% discount.
Strong minty flavor
Mint flavor is not exactly my favorite and this one is quite strong!  My lips felt an instant enlivening zing upon application but the feeling subsided quickly and the mint flavor lingers on but no longer bothers me.  I like the fact that this lip balm contains 72% organic ingredients and is an SPF 15!  Actually, it's very close to Eco Lips Organic Lip Balm with SPF15 that I've reviewed before.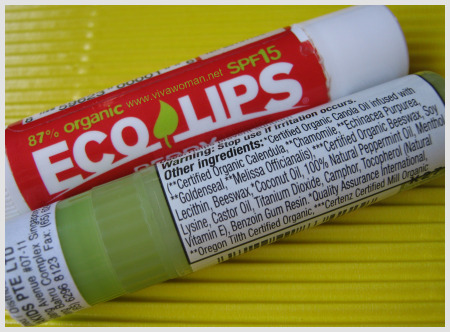 Softening and antioxidant properties
Kiss My Face SPF15 Organic  Beeswax is described as  skin softening with antioxidant properties.  It also contain Echinacea Purpurea, which is anti-inflammatory amd Goldenseal: anti-bacterial.   The ingredients are not totally natural though, especially considering the active ingredients used.  In fact, I purchased it thinking that this lip balm only uses titanium dioxide to provide the sun protection.
Ingredients listing
ACTIVE INGREDIENTS:Octinoxate 7.5%, Oxybenzone 4%
INACTIVE INGREDIENTS:Canola Oil*, Beeswax**, Lecithin*, Beeswax, Cocos Nucifera Oil*, Mentha Piperita (Peppermint) Leaf Extract, Menthol, Ricinus Communis (Castor) Seed Oil, Titanium Dioxide, Camphor, Tocopherol, Styrax Benzoin Resin Extract
Summary
Overall, I do like this lip balm in spite of the minty flavor.  While it's not as sweet as something like berry, it's still pleasant and more importantly, the lip balm does soothe my lips and keep it moisturized  The price point is not too bad so it's  definitely something to consider if you're looking for an affordable  natural lip balm which offers SPF protection.
For more information on the location of Vitakids, check out www.vitakids.biz.
Comments