All natural handmade shampoo bars & soaps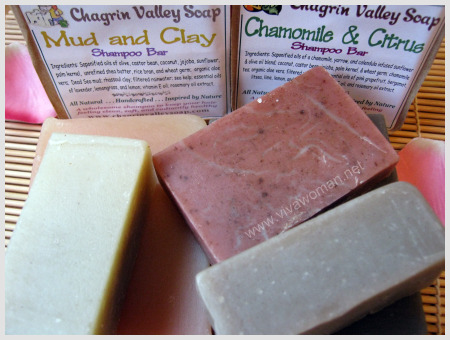 Except for my face, I'm all for using soaps. Handmade natural ones that is. I started with Yuan soaps for my body and while I do like them a lot, but they all come with a strong herbal smell. While I do not mind that, but I definitely prefer something more exciting especially while showering in the mornings. In addition, I was also on the lookout for a soap to use on my hair. I've had some luck many years ago with Lush soaps, but they're no longer available here. So I was quite excited to chance upon a spree for Chagrin Valley all natural handmade soaps and shampoo bars. The prices also seem reasonable – comparable to the Yuan soaps! Plus some of them smell really heavenly too!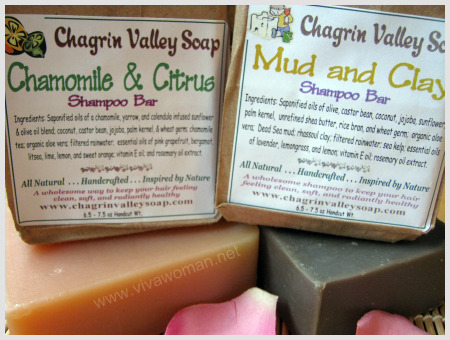 Mud & Clay Shampoo Bar US$6.80
I've been dying to get hold of a rhassoul clay shampoo bar for awhile and was happy to have found this at Chagrin Valley. This mineral rich shampoo is really great and I love it! I was so surprised how soft it made my hair and even gave it volume because it didn't foam that much. Okay, the volume is not as great compared to when I use Burt's Bees Very Volumizing Pomegranate & Soy Shampoo but I'm still happy with the results because it does keep my scalp relatively oil free. According to the website description, this shampoo bar absorbs unwanted residues and deposits natural beneficial minerals plus it also re-mineralizes the hair and scalp and helps rid the scalp of impurities. The full size bar is rather huge but because it's quite soft when it comes into contact with water, I'm not sure if it'll be very long lasting. However, I'll rate it 5 out of 5 for the results I got!
Chamomile & Citrus Shampoo Bar US$6.60
I haven't moved on to using this yet because I want to finish up my bar of Mud & Clay Shampoo Bar first. However, compared to the former which has a mild scent, this one has a has a yummy fresh citrus scent! I got it because it's described as being great for oily hair without drying the hair due to the astringent benefits of the citrus essential oils.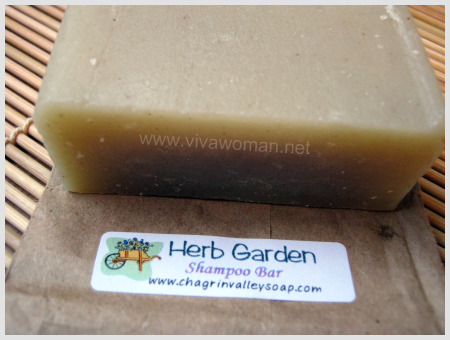 Herb Garden Shampoo Bar US$6.75
This shampoo bar is formulated to stimulate the scalp and curb potential hair loss with infusions of oils with nettles, rosemary, chamomile, sage, green tea, parsley, comfrey leaves, and comfrey root. The essential oil blend of rosemary, lavender, cedarwood, sage, thyme, and black pepper, was created to stimulate the scalp and creates a nice herbal scent. I haven't used it long enough to notice a difference but this doesn't give my hair volume nor does it keep my scalp relatively oil free so I don't think I'll be ordering this one again.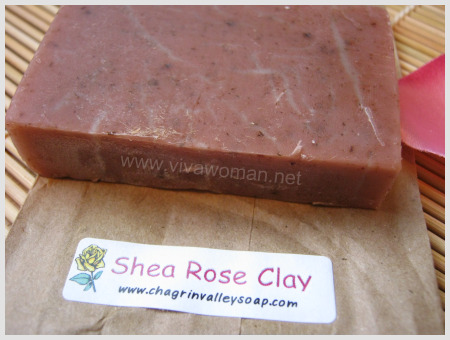 Shea Rose Clay Soap US$6.75
This is supposed to be used a facial and body bar but I don't like the squeaky feel after washing. So I only used it on my body instead and I love this! The rose scent is fantastic and it keeps my skin rather supple and soft. Ingredients include over 35% unrefined shea butter, enriched with mango butter, rose petal oil, rose hips, rose petals, rose water, French pink clay, aloe, and coconut milk. I rate this 5 out of 5 too and I've already re-ordered!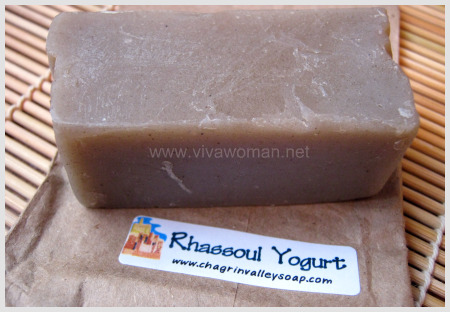 Rhassoul Clay & Yogurt Complexion Soap US$6.75
I do like rhassoul clay quite a bit and thought I'll try this since it's described as a gentle soap that deep cleans, gently exfoliates, and removes impurities without drying our skin. I figured out that I probably won't like it on my face and so I've used it on my body only. I didn't like it very much initially because it doesn't smell as great as the Shea Rose Clay Soap. But after using it a few times, it sort of grew on me and I'm liking it too.
Full bar vs sample bar
The good thing about Chagrin Valley is that they offer sample bars for customers to try out. I ordered two full bars and the rest in sample bars. Sample bars cost around US$2.60 each and is about a third of the full size. In fact, I thought the sample bar is a bit easier to handle plus the wastage is lower. So I re-ordered the Shea Rose Clay Bar in sample size, along with Lemon Lavender Soap, Patchouli Herb Soap, Orange Creamsicle Soap, Juniper Comfrey Mint Soap and Cucumber Lime Yogurt Soap.
Vegan formulas
Besides being completely natural, most of the soaps are also made with vegan recipes so it should make many people happy too. As a whole, I find their prices fairly reasonable too. And most important, of the lot I've tried, they deliver what they promise. So I would highly recommend you to try them if you're into handmade soaps with benefits. 
Chagrin Valley ships internationally but those in Singapore might want to try ordering via sprees.  The one I participated is msshopalot at livejournal.
Comments