Review: Yuan handmade natural soaps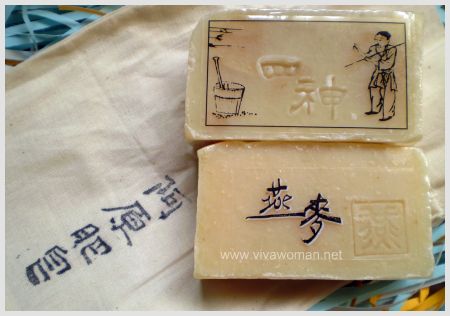 I've always love using soaps when it comes to bathing. So my interest was piqued when I saw Yuan Soap (阿原肥皂) in Living Pharmacy at AMK Hub. However, I found them a tad expensive especially in view that they are made in Taiwan. It didn't help that I haven't heard nor read about them and so was naturally uncompelled to spend like S$9.90 – $12.90 on a piece of soap.
Then Paris Beaverbanks of My Women Stuff who has reviewed the soaps sent me the Sishen Chinese Herb and Organic Oats soaps for testing. I started using the Sishen Chinese Herb and found it mild and gentle enough even for my 5-year-old son. So I contacted the distributor here who sent me a few more of their samples for more testing and review.
Specially selected ingredients, herbs & water
The reason why Yuan Soaps are costlier than most commercial soaps is because they contain 100% natural ingredient, with some made with more than 13 Chinese herbs using 12 complex processes. I was very touched when I read the story of Yuan Soap especially how these soaps are "made with the heart." The founder of Yuan Soap has a lifelong interest in Chinese medicine and I understand through an article on Taipei Times that the ingredients are specially selected for their supposedly curative effects and the key raw material is fat made from edible oils renowned for their therapeutic powers. Even the water used to produce the soaps were specially selected from Wanli because those would produce the finest soap.
A great variety of soaps in various series
According to information from their website, the soaps are favored by more than a million users in Taiwan and exported to Singapore, Malaysia and Hong Kong in the two years they have been in existence. They have quite a huge variety of soaps – broken down into the recovery series, the special series, spirit series, cleansing series, protection series and moisture series. I saw 23 soaps depicted in their brochure but based on their website, there seems to be more. There is even a Laundry Soap for undergarments!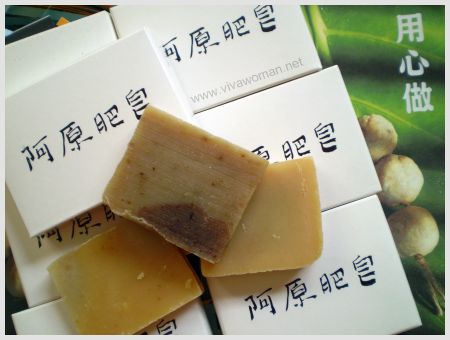 Very strong herbal smell
All in all, I tried 7 varieties. Because the sample sizes were small enough, it was possible to try them all out in a matter of weeks. The soaps come in a variety of colors. Some are darker, grainer and harder than others. Because they are made from herbs, all of them come with herbal smell but some like the Women's Yuan Soap is a lot stronger in scent than others.
Each soap comes with specific healing properties
Each variety of soap is formulated differently and comes with specific healing properties. Some are good for acne and some are even good for ezcema or atopic dermatitis. I can't say for sure that these soaps really deliver what they promise since I've only used them for a couple of weeks but of the lot I tried, the difference was most noticeable with Houttuynia Cordata Soap (魚腥草). I have some red itchy spots on my body the size of coins and I noticed that the redness faded a fair bit when I started using this. I also like Women's Soap a good deal because it cleanse really well and is said to be good for detoxification. I actually like the strong herbal smell. Heh!
Great for cleansing of the body & mild enough for the face
Personally, I would say Yuan Soaps are great for the body because they really cleanse well and don't leave the skin dry. Most of them also appear to work on the facial skin too and I read that the best are Organic Mung Bean & Job's Tears Soap, Purpose Gromwell & Roselle Soap and Organic Lemon Soap. Besides the Organic Lemon Soap, I did not get to try the other two. However, I don't like using soap on my face. I've tried Yuan Soaps on my face and although they don't leave my skin dry or taut, I dislike the overly squeaky feeling on my nose.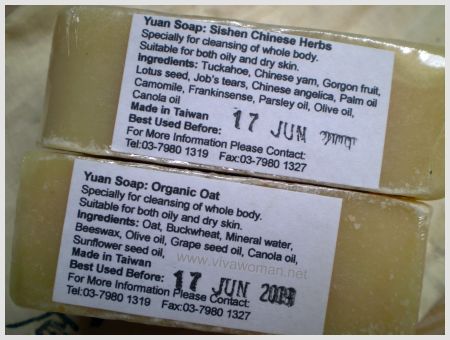 Darker and harder soaps last longer
All the soaps I've tried under Yuan Soap lathered very well. In terms of lasting power, I think Yuan Soap fare averagely which is actually a good thing. One thing I learnt during my DIY skin care workshop is, it may not be a good thing if your soap last forever because the soap base used may not be all that natural. So far, the Sishen Herb Soap is still around so I estimate that a full bar can last about a month if you use it once or twice a day. Anyway, the darker and harder ones definitely last longer than those fairer and smoother counterparts.
Top 10 bestsellers of Yuan Soap
Okay, here are the top ten bestsellers according to the Yuan Soap online store. Note that they are not listed according to any order.
Oats Soap (燕麥皂)
Pine Tree Soap (檜木皂)
Wild Sage Soap (馬櫻丹皂)
Women's Soap (清肌玉膚皂)
Organic Lemon Soap (檸檬皂)
Licorice Hair Soap (ç"˜è‰æ´—é ­çš')
Wild Mugwort Soap (野生艾草皂)
Wild Patchouli Soap (左手香潔膚皂)
Purple Gromwell & Rosell Soap (紫草洛神皂)
Organic Mungbean & Job's tears soap (ç¶ è±†è–ä»çš')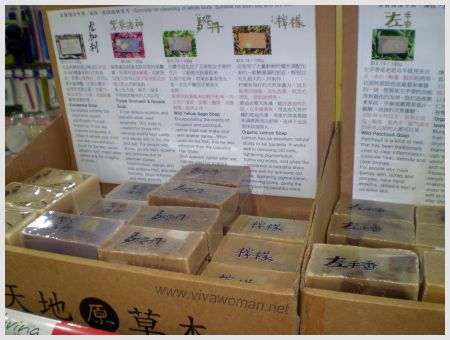 Where to buy Yuan Soap
In Singapore, you can find the Yuan Soap at Living Pharmacy and various organic stores. I've even seen it sold at some of those mobile carts. Details of where they are sold here in addition to locations in Taiwan, Hong Kong and Malaysia are listed on their website. Based on what I've seen at the shops, you should be able to find a detailed product description of the soaps as well as their healing properties in both English and Chinese. So no worries about wondering which to get if you are interested.
Would I recommend buying Yuan Soap?
Yes, but only if you're into herbs because some of the scent can be rather overpowering. If you're someone who prefers soaps with aromatic fragrance, then these are not for you. However, based on what I've used so far, I'll say these soaps are very promising based on their healing properites as they don't just cleanse. I would definitely be buying the Oats Soap for my son again and probably continue with the Houttuynia Cordata Soap for my body. And I may even want to try the Organic Mungbean & Job's tears soap later.
Comments