Artego Extracto Care oily hair treatment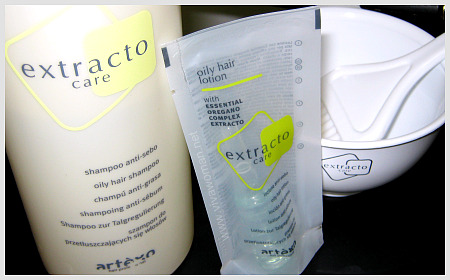 Altas Venture, the company who set up my last coloring using Eva Professional Hair Color Series, also distributes the Artego range that comprises mostly natural botanical extracts to treat hair and scalp problems.   They arranged for me to try their new Extracto Care Oily Hair products at Cyrenena, a hair salon located at Tampines which specializes in scalp treatment.
Affordable hair treatments from hair loss to hydration
I have had hair treatments done before at various locations some years back.  However, the sessions were expensive at over S$100 each and I didn't see much improvement.    This is hence, my first hair treatment after at least 8 years!  The first thing I found out was that their various treatments using the Artego Extracto Care range – from hair loss, anti-dandruff, oily scalp, hydration, reconstruction, protection to colored hair – were quite affordable at S$65 each session. 
Hair loss treatment seems very effective
In fact, I met two customers at the salon who were there for their hair loss treatments. One was a man who had developed a coin-sized bald patch and after diligently going for the treatments and using the products at home, had experienced new hair growth. It was pretty impressive because I actually saw new hair spouting out of the patch! The other was a lady, who signed on a package of seven sessions and she indicated that she was already quite happy with the progress after just two sessions. In fact, I didn't think she needed any treatment because she has long thick mane to begin with! Well, if I ever think of going for any hair loss treatment, I'm definitely inclined to visit Cyrenena again. However, I'm currently more obsessed with my oily scalp and hence, decided to try that treatment instead.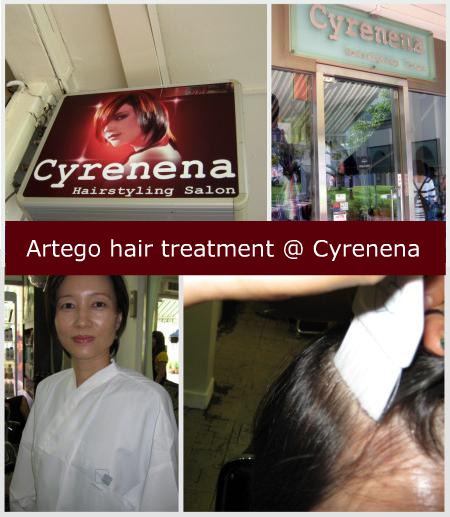 Oily hair shampoo include Oregano herbs and mineral salt
The entire oily hair treatment session took me about two hours beginning with a hair and scalp analysis. Even though it was a neighbourhood salon, the process was very systematic. See – they even put me in a white Artego kimono! But what was more interesting to me was how they dabbed the Extracto Care Oily Hair Shampoo which included Oregano herbs and mineral salt onto my scalp by sections, before massaging my head for 3 minutes. I was told this is done to allow better absorption of the product, which will in turn regulate the sebum production. This was then followed by a rinse and another thorough shampooing before the oily scalp serum was massaged on. The session ended with an application of sunscreen for the hair from the Extracto Care Protection series.
Oily scalp may improve with a series of treatments
The experience was very refreshing literally because of the Oregano herbs. My hair felt immediately lightened and I definitely didn't need my dry shampoo to control my oily scalp for that day. However, the effects did not last until the next day. I was told that my oily scalp may come under control if I continue with a series of treatments and usage of the Extracto Care Oily Hair products but since I didn't take that on, I can't vouch for sure.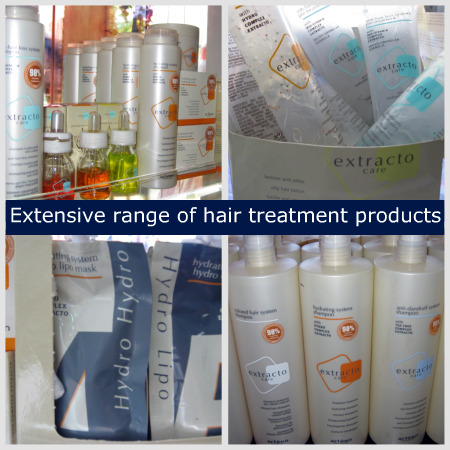 Formulated specially for Asian hair and scalp problems
But I did enjoy the treatment process and the after effects. I also like the fact that the products are mostly botanical. While I was at the salon, I saw that the Artego Hair & Scalp range are indeed quite extensive. The products are designed in Italy and are said to be popular in Europe. Those available here are under the Extracto Care series, which are formulated specially for Asian hair and scalp problems and made mostly with natural ingredients, special vitamin complexes plus essential oils.
Hydration series to soften and moisturize dry hair
Actually, besides the oily hair products, I did try the Artego Extracto Care Hydration series while I was at Kelture Hair Salon @ Paragon. They had used the Hydrating System Hydro Lipo Mask, which included the Hydrating Treatment A&B with hydro complex extraco plus ingredients like aloe vera and honey to provide moisture to my hair after the coloring. It was perhaps why my hair felt so soft and less dry too.
Where to find Artego Extracto Care products and treatments
Artego Extracto Care products are available at a number of hair salons in Singapore. The ones I have tried are Kelture Hair Salon at #05-07 Paragon, and Cyrenena Hairstyling Salon located at 820 Tampines St 81, #01-530. Alternatively, you may like to call Altas Venture at 6733 8154 to find out details of other locations convenient to you.
Comments