Instant Results With KIN Kinessences Beauty Hair Treatment: Maximum Hydration, Natural Softness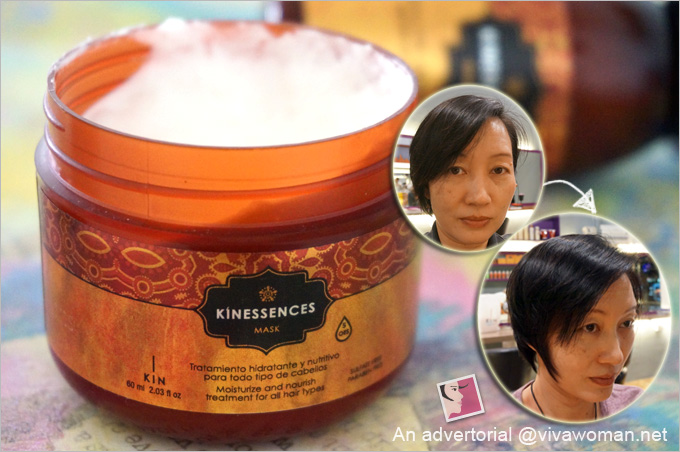 I've always thought that my limp and fine hair does not need any nourishing treatments. I mean, wouldn't such treatments just weigh down my hair and cause it to look lifeless? Plus, no matter how soft my hair becomes, I just don't have the length to swish my hair around. So really, isn't hair treatment a complete waste of money for me? Anyway, I don't have frizzy or very dry hair to begin with. So I don't think I've missed out anything not going for hair treatments right? Or have I? o.O
Well, it seems I have. In fact, my entire misconception about hair treatments, especially how it'll weigh down my fine hair was thrown out of the window recently when I experienced the KIN Kinessences Beauty Hair Treatment. I learned some new things about hair treatments and why such treatments are not just meant for those with dry, damaged hair. In fact, it seems everyone can benefit from having a hair treatment from time to time. I'll show you in a bit what I mean by this but first, let me tell you about KIN Kinessences.
Premier hair treatment using 5 nutritive oils
KIN Kinessences is a complete premier treatment using three products—KIN Kinessences Shampoo, KIN Kinessences Mask and KIN Kinessences Oil—to repair and deeply nourish hair, giving it maximum hydration and a natural softness.
The products are free of sulphates, parabens and silicones, and hence they are gentle to your hair. Yet, they are effective for any types of hair as they are formulated with 5 nutritive oils including argan, macadamia, camellia, kukui and grape seed, to strengthen hair capillary, eliminate frizz and protect hair from heat. End result? You'll get hair that feels light and soft, looks silky and shiny, and is easy to comb and style—after just one single treatment. Check out my most recent experience and see if you're convinced.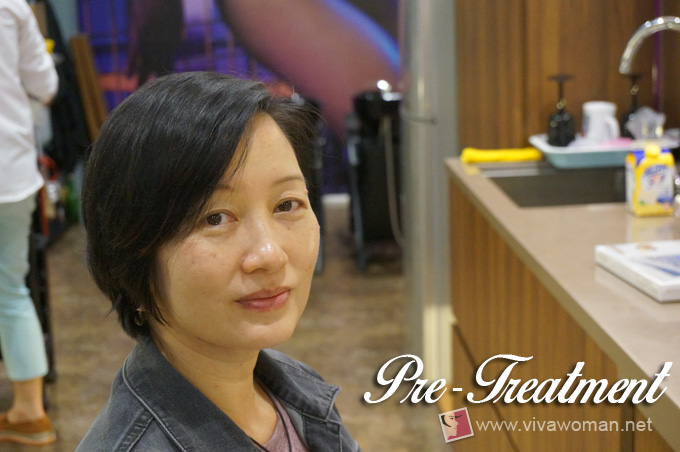 Taking the instant hair treatment to the test
So here I was, waiting for my KIN Kinessences Beauty Hair Treatment to begin at Hairhaus, located at 263 Tanjong Katong #01-02. This is my hair in its pre-treatment state.
Now, I've always paid a lot of attention to how my hair looks in terms of style and shape but I've never really bothered about its condition. The ends do look dry and if I were to be more critical, I suppose I can say it's kinda lacklustre but overall, I don't think it looks that bad. So how can a hair treatment like KIN Kinessences make a difference for my not-too-bad-looking hair?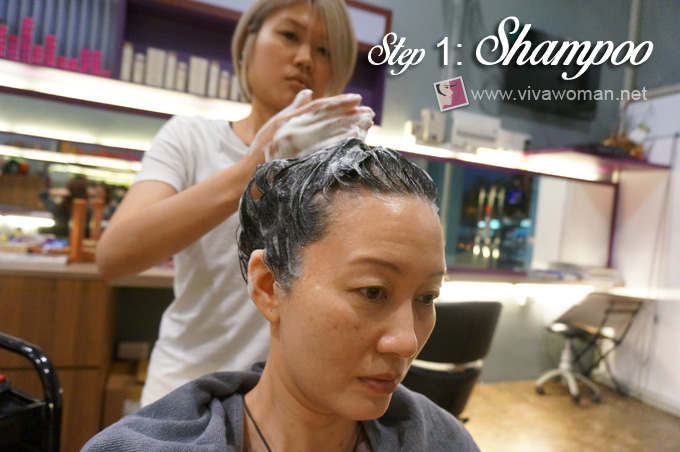 Using a non-sulfate shampoo
The first step is a deep cleanse using the KIN Kinessences Shampoo. Other than the fact that this shampoo doesn't contain sulfates nor silicones, there is nothing unusual about the shampoo (so I thought). However, I later realized that just using this shampoo alone actually softens my hair quite a bit without even using a drop of conditioner. Now, I've used a number of shampoos to know that this one is quite different from my usual slate even though it looks, feels and smells quite ordinary.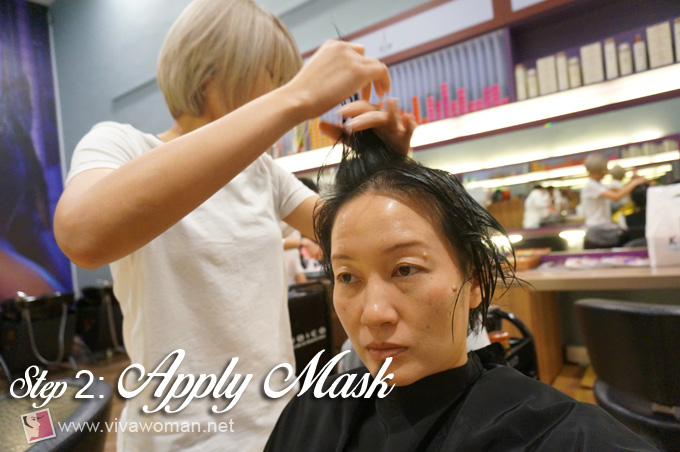 Using a nourishing hair mask
Now onto the second step, which is applying the hair mask. So right after my hair was shampooed, KIN Kinessences Mask was massaged into my damp hair. No, the mask wasn't just rubbed on my entire hair randomly but there was a certain methodology and sequence to ensure that every strand of my hair was coated with the mask. My hair isn't thick or long and so the whole process was done quite quickly. I'll imagine that this may take something like 15 minutes on those with longer and thicker hair?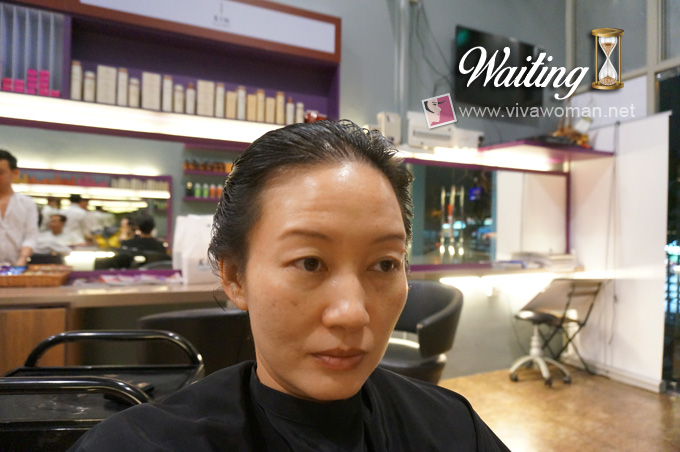 Waiting for the oils to deeply nourish
After that, I sat there for about 10 minutes while the mask penetrated my hair, deeply moisturizing and nourishing my hair. Following that was a wash to cleanse away the mask. There is a third step to the treatment and that is using the KIN Kinessences Oil. However, because of my concern that it may weigh down my hair, that part of the treatment was omitted for me.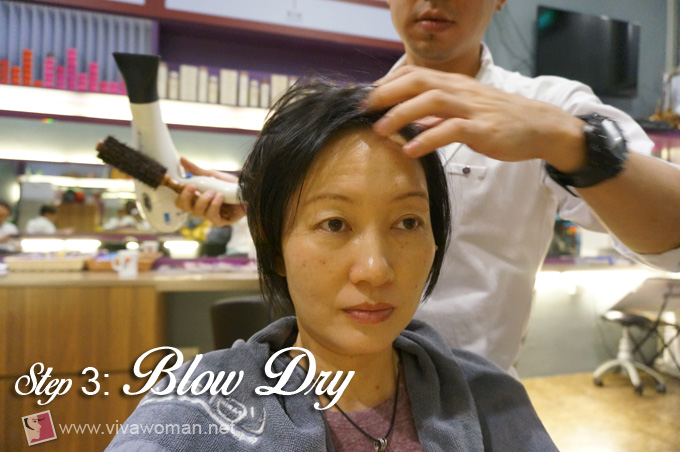 No special styling
Here's me having my hair lightly blown dry. No other products were applied on my hair during the blow dry. Neither was high heat applied from the hair dryer (which is a trick hairstylists usually use to cause hair to look shiny temporarily).
I also want to highlight that I didn't change my hairstyle (no cut or trim) although it seems to look slightly different. The difference is really because of the hair treatment.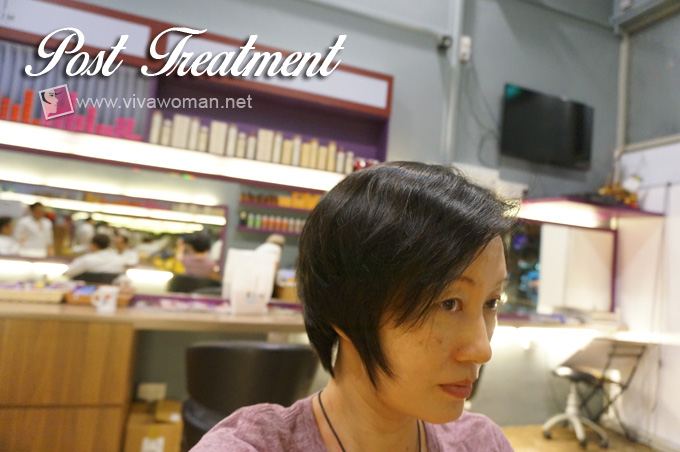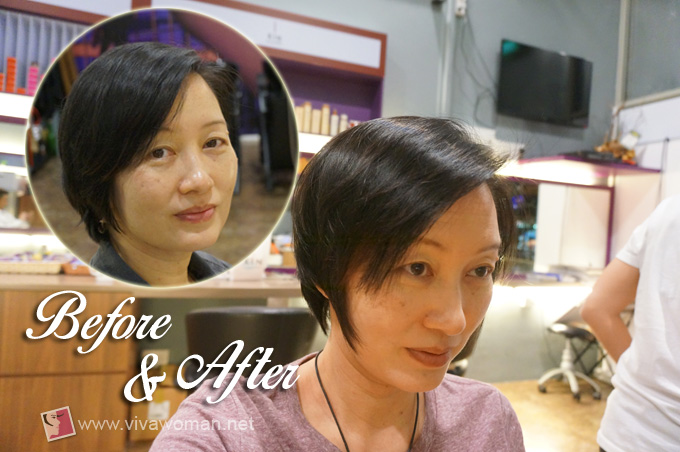 Non-silicone-based
And I'm done! My hair definitely looks a lot shinier and healthier. In fact, it felt so light and I noticed some extra volume to my hair even without application of any volumizing products. That was a huge surprise to me because I'd thought the hair mask would weigh down my hair. Apparently, it didn't and that's because KIN Kinessences products do not contain silicones, which tends to coat the hair. Now, silicone-based hair products usually provide great shine but they are also inclined to weigh down the hair especially with continual usage.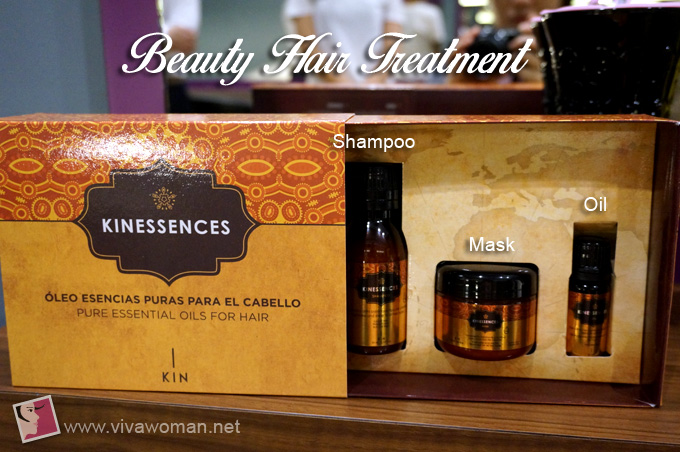 My overall thoughts
The KIN Kinessences Beauty Hair Treatment is a premier and unique treatment offered at selected salons in Singapore. The price of one treatment is S$250 and above, depending on the length of your hair. It's not something affordable for everyone to go on a frequent basis, but it's definitely well within market rate and you'll actually get instant and long lasting results for that amount!
For someone like me who doesn't believe in hair treatment at all, I'm sold on the KIN Kinessences Beauty Treatment completely. As you can see, my short hair looks a lot healthier and I reckon the results are even more apparent on longer hair. In fact, it's been two weeks since my treatment and my hair still look as glossy and fantastic. I also like that the entire treatment is based on products that use lesser chemicals. Also, the effects are pretty long lasting and the treatment will work to protect as well as enhance hair color.
However, I'll probably say this is a treatment I won't mind indulging in—seriously, who doesn't want glossy looking hair that looks like a million bucks? But given limited time and funds, I'll go for a scalp treatment that can remedy my hair thinning concerns first. Once that is outta the way, then spending my money on such hair treatments makes more sense for me.
But if you've got dry and damaged looking hair, and are in need of some professional nourishing hair treatment, I would highly recommend this one because you'll see instant results after one session. Your hair will feel rejuvenated and moisturized; frizzy hair will become smooth and sleek; and even flat hair like mine can gain some va-va-volume that is least expected. The effect of this hair treatment can last for three to six months if you follow through by using the prescribed products and after care routine. So the price of $250 and above isn't too high if you factor this in.
For more information on the salons to receive the KIN Kinessences Beauty Hair Treatment, check out Kin.sg or use their salon locator at http://www.kin.sg/salon-locations/. Alternatively, call them at 6258 0118 or drop them an email on their website for a free consultation. In case you've missed, I've recently reviewed their KIN Kinactif Calm Shampoo For Sensitive Scalp. Check that out if you haven't already done so.
Oh, Hairhaus, the salon I did my treatment is a newly furnished, spacious and cosy salon tucked along Tanjong Katong. Gin, the director at Hairhaus, came across very knowledgeable and hospitable. His staff are also very friendly. So if Katong is convenient for you, check them out at 263 Tanjong Katong #01-02 or call 9667 5257 for your appointment.

KIN Kinessences Beauty Hair Treatment at Hairhaus Salon
Comments