Viva Challenge: slap slap your face every day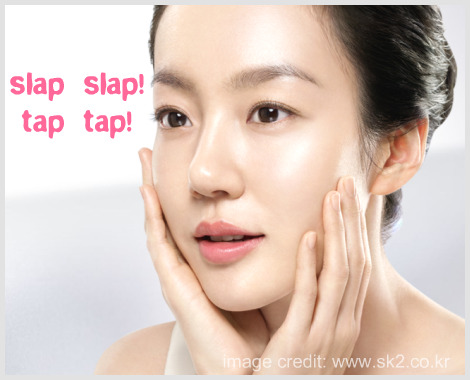 This week's Viva Challenge is to slap your face and I mean it literally.  Okay, no need to slap your face hard.  What I really mean to say is to lightly tap your face whenever you're applying your skin care products.   Remember some of those SK-II ads?  Did you notice how some of the models lightly tap the treatment essence into their skin?  That's what I'm talking about.  And what does this do for your skin you ask?  Well, I learnt that this helps your skin care products to penetrate into your skin more effectively.
Beauty tip from a Korean expert
I remember doing this some years back when I was using Creme de la Mer and I was still doing so when I was using L'Occitane's products. Then I forgot all about it since I was mostly massaging oil into my face. Last week, when I visited Spa Scene at Raffles City Shopping Centre, the Beauty Team Director Han Myung Ok, who did a Korean Traditional Anti-Aging Facial for me reminded me to do this often. I also realized that instructions on the Korean products stated the same technique.
Helps our skin absorb our skin care products better
We all know that our facial skin is particularly delicate and we should apply our skin care products gently while ensuring that the goodies penetrate into our skin. However, we can't be rubbing the lotion or cream into our skin as that would stretch our skin and promote sagging. So what can you do?
Steps to gently tap your skin care products
First, apply your products using short, firm strokes to your skin using your middle finger. Next, gently tap that lotion or cream for a few moments to help your skin absorb them. You can tap for half a minute if you like and do it with every single layer of products you apply. With a more watery product like a toner or lotion, you can pour the required amount into the cupped palm of your hand and then use your fingers to dab and then tap on your skin directly. However, I don't do this with my sunscreen application though.
Important to apply skin care products correctly
One of the information I picked out when reading The Japanese Skincare Revolution from Chizu Saeki is that the success of using a skincare product is actually in how we apply the product. You may be using the best product, but if you're not applying it correctly, you may not get the best results. So it's actually important that we pay attention to how instructions are given before we begin using our skin care products. For example, instructions for Creme de la Mer state that to activate the broth and release its key ingredients, warm a small amount between your fingertips before application. In the application of SK-II Facial Treatment Essence, the instructions is to sprinkle the essence into the cupped palm, rub hands together and press gently and evenly onto face and neck.
Quest for glowing, beautiful skin
I did find that my skin glowed a lot more during the days when I used this tapping technique. So yes, I'm definitely going to be more mindful about doing this consistently. And I'm pretty sure that there are some of you who are already tapping your face on a daily basis so do share your thoughts on it. For the others who are not, would you take up this challenge and join me in the quest for more beautiful skin?
© www.vivawoman.net copyright notice ☺
______________________________________________________________
Comments